CMA stands for Certified Management Accountant. It's a professional certification obtained by people who have an interest in finance and accounting, as well as executive leadership.
Unlike Certified Public Accountants, accountants who get the CMA designation tend to hold positions that involve executive decisions and strategy. There are numerous benefits to becoming a CMA, and it can be a great investment in your career.
Read on to learn more about what a CMA is, what they do, and the next steps in how to become a CMA.
How Do You Define CMA?
A Certified Management Accountant is a professional known for having expertise in strategic management accounting. They are equipped to understand underlying principles behind financial decisions and offer strategic leadership in business.
CMA certifications are granted by the Institute of Management Accountants (IMA). This governing association issues the certification based on passing the CMA Exam, as well as some education requirements and CMA experience requirements.
What Does a CMA Do?
What is the CMA in terms of different positions within an organization? You will still deal in numbers, but most jobs a CMA can gain also have a leadership component. Some of the high-paying CMA roles you can hold:
Accounting Manager
Corporate Controller
Chief Financial Officer (CFO)
Senior Accountant
Staff Accountant
Cost Accountant
Management Accountant
Financial Analyst
Many people pursue the CMA certificate to get a better shot at a powerful, high-earning position in a prestigious company.
What is a CMA Certification?
A CMA certification qualifies you to work in business leadership and financial accounting. CMA is a global designation, recognized worldwide. It is obtained by taking a two-part test and gaining necessary work experience. Like most professional certifications, it must be maintained through ongoing education.
CMA certifications are granted by the IMA. To be eligible for a CMA certificate, you will need to have completed numerous steps. These are:
Fulfill the CMA exam educational requirement. Before you become a CMA, you will need to hold a bachelor's degree or equivalent professional certification from an accredited college. While you can start pursuing accounting certification without a college degree, you must complete the degree to get certified. These standards are set by the IMA.
Apply and study for the CMA exam. Once you have the right prerequisites, you will put in an application to take the CMA exam. Most students invest in a prep course and some coaching or tutoring to prepare for this intense test. Check out these top-rated CMA courses to find a good fit.
Pass both parts of the CMA exam. Once you've studied for it and are prepared, you will need to take both parts of the CMA exam and get a passing grade of 360/500 or higher.
Fulfill work experience requirements. After you pass the CMA exam, you still must fulfill work requirements to become a CMA. This requirement is two years of verified, relevant work experience.
Apply for the CMA certification. Once all of the requirements have been accomplished, you may apply for a CMA certificate through the IMA. They will gather relevant records and proof that you've completed all of these steps before granting a CMA certificate.
Maintain the designation. Once you have your CMA certificate, you will have to take CPE credits on an annual basis to keep your certificate current.
We'll cover some of these important steps in more detail in a minute. But first, the journey to becoming a CMA requires a clear vision of your career goals.
Because it is a lot of work and some investment, it's good to envision where you can work and what you can do with this prestigious credential to your name. While you can become an accountant without the CMA, it will definitely add to your earning potential and career opportunities.
Where Does a CMA Work?
There are many jobs a CMA can hold. As a management accountant, you can work for three kinds of companies:
Private businesses: One of the few areas that even smaller companies must outsource is accounting. Privately owned businesses may have a CFO or internal accountant that handles the financials. This position can be held by a CMA. Private business accounting is an attractive niche for many CMAs and one that can be very interesting and profitable.
Public companies: Some CMAs only aim to work for publicly held companies. If your interest lies in stocks, exchanges, markets and investment, being on-staff at a public company could hold exciting prospects. Public companies also have CMAs and are often well-staffed with teams of accountants who handle their finances and disclosures.
Government agencies: CMAs serve federal and state agencies. In the United States, they may serve as cost accountants, industrial accountants, managerial accountants and more. There is a diverse range of opportunity in government contexts that may be fulfilling and lucrative.
Certified Management Accountants are well-known for a good combination of accounting and business acumen, which makes them eligible for unique and fulfilling careers. In fact, some workplaces will encourage and assist employees in going after the CMA designation.
The knowledge and skills the CMA certification develops is a benefit to organizations as well as an individual's career prospects.
How to Become a Certified Management Accountant
You can become a CMA by following these steps:
Get a degree or meet alternative CMA educational requirements.
Take and pass both parts of the CMA exam.
Fulfill two years of verified work experience.
Apply for, receive, and maintain your CMA certification through the IMA.
Note that part of your ongoing education to maintain a CMA certificate includes ethics training.
Taking the CMA exam
The CMA exam is a rigorous, two-part test that requires intense study and helps prepare you for what a CMA does. Most people take between 16-20 weeks to study for each part. If you're hoping to cut that down, you need to arm yourself with the best CMA study materials.
The CMA exam covers a broad range of accounting topics and finance concepts. Part 1 is on Financial Planning, Performance, and Analytics. Part 2 is on Strategic Financial Management.
With a 45% global CMA exam pass rate, it's notoriously difficult. Almost all serious students purchase a CMA review course. Many go on to purchase additional CMA practice questions or hire a CMA coach. All of this is a worthwhile investment, with the IMA estimating a $1,696 or higher return on every hour you spend studying.
Once you pass the CMA exam, you will have to complete work requirements before you are eligible for certification.
Covering the Certified Management Accountant requirements
Once you've obtained your CMA certification, you will have to maintain it. Continuing Professional Hours, known as CPEs, are required annually. It's important that you understand how to fulfill your CMA CPE requirements.
Each year, you will need 30 hours of CPEs. These can be completed by taking courses to stay current on topics like management, business law, financial management, or accounting. You will also have to complete two hours of ethics courses.
CMA Benefits
There are numerous benefits to becoming a CMA. It can be a life-changing move that sets you up for a long and successful career in accounting and business. Here are some of the more relevant perks that are part of what the CMA is:
Salary: In 2019, the fifth annual CMA Salary Survey was conducted. In this survey, the IMA gathers data about CMA earnings. If you live in the U.S., the mean salary for a CMA is $118,439 a year. Many CMAs occupy the C-suite and can become high-powered executives in top companies.
Job Opportunities: CMAs have open doors when it comes to opportunity. CMAs are qualified for and frequently chosen for executive-level accounting positions, including as Corporate Controllers and CFOs.
Highly Qualified: Many accountants go further to pursue CMA certification because it better illustrates their broad qualifications. With this designation, you may be able to advance more rapidly through the ranks of an organization.
Job Security: CMAs enjoy elite jobs and are sought-after. People with these unique skills and qualifications are essential in all types of organizations. CMA careers are typycally longer and have ample opportunities to grow, even when switching between companies.
FAQs
Here are some answers to frequently asked questions about what a CMA is and what they do.
What is the work of a CMA?
People with a CMA designation can fulfill a variety of roles in an organization. These may include corporate finance, accounting, financial projections, financial analysis, and more. It is common to see a CMA at the executive level in a business.
Is CMA a good career?
The CMA certification comes with job security, higher-than-average salaries, and a plethora of job opportunities. This globally recognized certification can set you up for a great career. Being a CMA opens a lot of doors and is a great line of work for people who want to pursue both business and accounting.
What does CMA stand for?
CMA stands for Certified Management Accountant. People with a CMA certification can provide accounting and strategic business leadership in a variety of organizations.
Have more questions about what the CMA is or what you can do with it?
Comment below! I'm here to help coach people like you through this exciting (and challenging) process. I can answer your questions and set you on a course for success!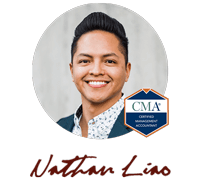 Hi, I'm Nathan Liao (aka the CMA Coach)! In the past 7 years, over 35,000 CMA candidates came knocking at my door seeking guidance. And just like them, I'm here to show you how you can pass the CMA exam on your first attempt without wasting money or time. Click here to learn more about me and the awesome team behind CMA Exam Academy.