---
BECOME A CERTIFIED MANAGEMENT ACCOUNTANT – ON YOUR FIRST TRY!
Hi, I'm Nathan (aka the CMA Coach)! I'm here to help you pass the CMA exam on your first attempt without wasting money or time. 82,000+ accounting and finance pros downloaded my free CMA exam cheat sheet. Get yours too!
Get your free exam secrets cheat sheet + video training:
---
Trusted By Employees From: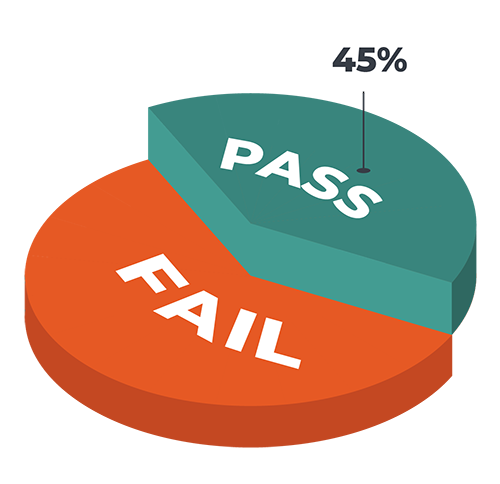 The Global Pass Rate of the Certified Management Accountant Exam is Just 45%
With the odds stacked against you, it's too risky not to properly prepare.
As the number one resource for the CMA exam, I'm here to drastically improve your chances of passing the exam on your first try.
Start with these three resources if you are new here or feel a bit lost:
QUICK ANSWERS
How do I start?
What's the cost?
Will I pass the exam?
Start Here
CMA STUDY TOOLS
CMA Textbooks
Training Videos
CMA Coaching Support
Learn More
CMA COURSES
Side-by-Side Analysis
Features Comparison
My Recommendations
Find Out
The CMA designation is a certificate awarded by the Institute of Management Accountants to Certified Management Accountants who have demonstrated their expertise in financial planning, business strategy, and analytics as well as strategic financial management through education, relevant work experience, and passing the certification exam.
If you are a finance professional and your career goals include management accounting leadership, increased job opportunities (access to higher paying positions), and international prestige, the CMA certification is right for you.
The CMA is a professional certification for financial professionals who have leadership skills and want to diversify their accounting skills to work in strategic management, typically in an executive position where they make strategic business decisions.
Educational CMA Requirements
You can meet the CMA educational certification requirements either by having a bachelor's degree or by earning an approved professional certification.
Professional CMA Requirements
To earn the CMA professional certification, you must have two years of professional work experience (working in a financial management role is required).
Part One of the exam covers the following: External financial reporting decisions, Planning, budgeting and forecasting, Performance management, Cost management, Internal controls, Technology and analytics.
Part Two of the CMA exam covers the following: Financial statement analysis, Corporate finance, Decision analysis, Risk management, Investment decision, and Professional ethics.
This two-part exam is considered challenging, but with diligent exam prep, a personalized study plan, and a solid understanding of the material, you can increase your chances of success and advance your career in accounting.
"

In less than 6 months, Nathan & the CMA Exam Academy helped me achieve my goal of becoming a CMA

! Your support team is incredible, and 

I loved being held accountable

 for reporting back status updates as I neared my exam. I will be forever grateful for the new doors this opportunity will open for me."

Nick Buscemi, CMA