CMA Discount Codes and Coupons
Do you need a CMA discount code right now? You are in the right place. Get the best CMA review course discounts and coupon codes to save money on your CMA exam preparation today!
While the best CMA study materials and review courses aren't free, if you know where to find a CMA promo code, you can save a lot of money. Because every little bit counts as you budget for the CMA exam, I want to help you out.
CMA coupon codes may be available for a limited time, give you a percentage off, or give you a dollar amount off of your purchase. And besides CMA coupons for your exam prep, you can also save money with IMA discounts on membership and entrance fees.
Read on to find the latest IMA promo code, CMA promo codes, and direct links to some of the best CMA discounts you can find.
CMA Review Course Discount Codes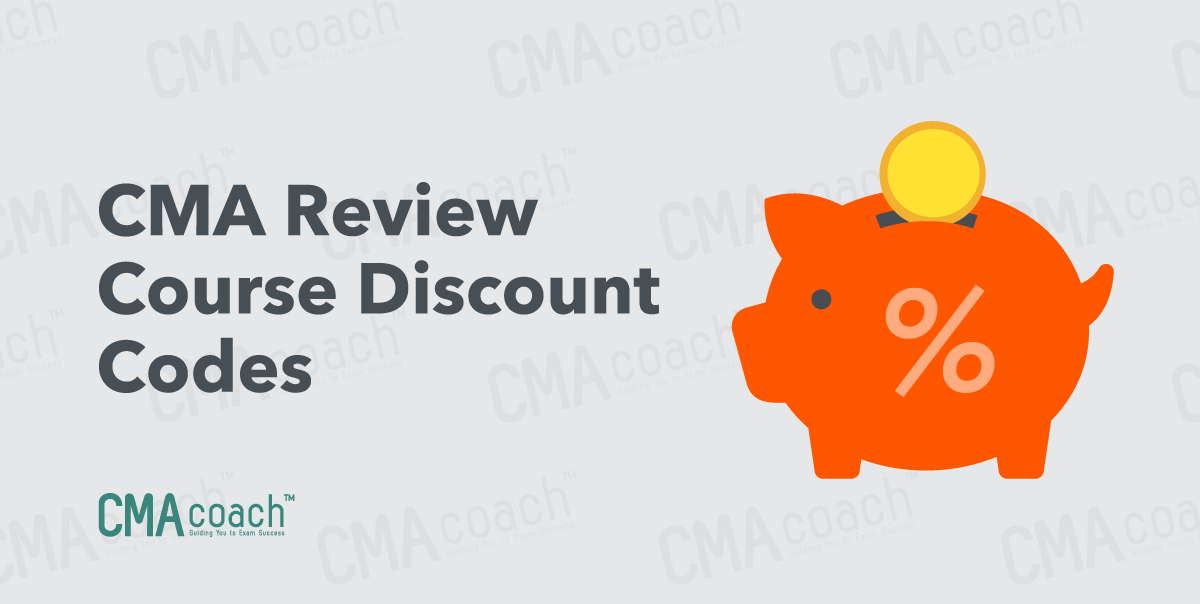 Here are the latest CMA Discount codes from two top-rated CMA exam review courses.
CMA Exam Academy Discount
The CMA Exam Academy was founded to accelerate your progress toward passing the CMA exam. It's a guided 16-week program for each exam part, with every resource you need to pass on your first try.
When you buy the course, you'll get comprehensive materials, which include expert-led video lessons, audio lessons, CMA textbooks, CMA test question banks, a customized study plan, and more.
One of the best perks of CMA Exam Academy is that you get access to unmatched coaching support for the CMA. This personalized experience can go a long way in addressing gaps in your understanding, pinpointing areas for improvement, and giving you a clear plan for test prep.
Get 10% Discount Now
Gleim CMA Discount
Gleim CMA review is a well-known program that has helped thousands of students pass the CMA exam. Gleim has a few CMA review course options, which may include instructional videos, CMA textbooks, a test bank, and personalized support.
If you already have a high level of accounting knowledge and experience, Gleim provides enough study and practice materials to get you exam-ready. Getting a discount can offset the cost of buying a full course from Gleim.
Get 10% Discount Now
Other CMA Course Discounts
In addition to these two top CMA course providers, there are many CMA discounts available. Often, you'll find CMA promo codes or CMA course coupons on individual provider sites. You can compare some of the more popular CMA exam prep courses here.
As you look for discounts, you'll probably also stumble on a lot of free CMA study materials online. While these can support your CMA studies, the free stuff you find online is probably not sufficient if it's all you use to prepare for the CMA exam.
Also, don't forget that the IMA website is going to be an important resource the entire time you prepare for the CMA exam.
IMA Promo Codes and Discounts
The Institute of Management Accountants is the body that grants CMA certifications. The IMA not only administers the CMA exam but provides CMA study resources, continuing education to fulfill CMA CPE requirements, and plenty of professional development content.
It's important to know that you must hold an IMA membership to take the CMA exam and become a CMA. The IMA will receive your test scores. This body will also be the one to whom you report the work experience requirements for your CMA certification.
Then, of course, you will maintain that certification by getting your CPE credits each year.
Lastly, it may interest you to know that IMA collects data on the CMA exam every year, which is why the test is regularly rewritten to include new content or tweaked to be more relevant for the profession.
When you go to sign up for the CMA exam, you will have to become a member of the IMA. There are a few types of membership, each with a different price point:
Student members: $39 for one year or $78 for two years.
Professional members: $245/year and get access to LinkUp IMA (your online portal), an IMA member social network, research, job boards and more.
Academic members: $135/year and get access to curriculum, webinars, mentoring programs and research grants.
In addition to membership, you have to pay the CMA entrance fee and an exam fee for each part. While the cost depends on which type of IMA membership you have, these fees add up to several hundred dollars. But, if you pay attention to seasonal discounts and sales, you can save a lot on IMA fees.
Check this page regularly for the latest IMA discounts:
Aug 21st – Sep 25th: 40% off CMA entrance fee and IMA membership.
May 10th – Jun 5th:  40% off CMA entrance fee and IMA membership

.

Mar 28th – Apr 11th: 50% off CMA entrance fee and IMA membership
Jan 5th – Feb 14th: 50% off IMA membership and CMA entrance fee + 2nd year membership free.
50% off IMA membership and CMA entrance fee (sale ended March 30, 2021)
May 6th – June 1st: 40% off IMA membership and CMA entrance fee. Discount code: CMASPRING
Aug 18th – Sep 26th: 40% discount on new Membership + Entrance fee
Nov 21st – Dec 2nd: 40% discount on new Membership + Entrance fee
While it is sometimes possible to find an IMA promo code online, also check if your course provider offers any additional IMA discounts.
CMA Exam Academy includes 15% off of both the IMA membership and the entrance fee. 
Check it out today, and see how it will save you money — not only on CMA exam prep, but with extra bonuses and discounts as you work towards your CMA certification.