With the CMA exam pass rate at a mere 45%, passing both parts of the Certified Management Accountant exam can feel like a daunting task. In other words, 55% fail the CMA exam each year.
With odds in favor of failure, it is important to know what to do if you fail the CMA exam, because giving up should never be an option.
Originally published in March, 2020, this article was updated and republished on January 8, 2021.
Your Options If You Fail the CMA Exam
To be candid, you only have two options if you fail the CMA exam: give up or try again.
Timing your do-over correctly is important because the CMA exam is offered in specific testing windows. After a careful review of your score, you may find that you need a few more weeks of study. On the other hand, you may find that you barely missed passing. Either way, you don't have to give up.
You are not alone if you have failed the CMA exam. Many people need more than one attempt to pass this rigorous exam and become a CMA. There are plenty of reasons to try again.
Why You Should Retake the Exam as Soon as Possible
There are a few reasons that CMA exam retakes should happen sooner rather than later:
You are already an IMA member.
You've already bought CMA study materials.
The knowledge and test are fresh in your mind.
If you put it off, you might never retake the CMA exam.
Registering for your CMA exam retake in the next available testing window is the best option for most candidates. If you delay, you will have to work twice as hard to refresh and build on your knowledge when you get back to studying.
How to Improve Your CMA Exam Preparation If You Failed The First Time
A CMA exam failure is not the end of the road. There are plenty of tried-and-true tactics you can employ to get a passing score on your next try.
1. Identify Your Weaknesses
Start by identifying your weak areas and get honest with yourself. The best way to do this is to get clear on what needs improvement, where you should drive more focus, and when to ask for help.
If you've taken the CMA exam during the latest testing window, the topics that were difficult are still fresh in your mind. Write them down for future reference. The IMA will also send you a letter in a few weeks, letting you know the areas that need improvement.
Finding your weaknesses will be your greatest strength. Once you know your sore spots, you can start to focus on the areas you find most difficult or frustrating. Break them down to a simple foundation and build on them. Spend as much time as you can practicing CMA exam questions on hard topics, and less time on the ones you easily answered.
Ask yourself what could you have done differently? Perhaps you didn't allot enough study time, were not disciplined enough to thoroughly prepare yourself, or didn't use study techniques that were designed for your style of learning. Perhaps the review course was not the adequate one for you.
By determining where you went wrong and what you can do to fix it, you can save yourself from wasting time focusing on the wrong topics and study methods. Remember that you are only as strong as your weakest link.
2. Stay Positive
Staying positive is the most important element to your future success. Easier said than done, I know.
If you fail the CMA exam on your first try, don't beat yourself up over it. Thousands of others just like you didn't pass either.
It only takes one look at the global pass rate to put things into perspective. After all, you are one of the 58% that did not succeed.
Take this time of self-doubt to reflect on what you could have done better, use it to your advantage to dig deeper and keep yourself determined to try again.
Keeping a positive attitude not only helps throughout the study process but also during the exam. Keep telling yourself you can do it, and you will!
3. Correct Poor Study Habits
You will need to assess and correct any bad studying habits that you may have acquired over the years. Studying for the CMA requires a regular study regimen. If you are a last minute studier, you will need to channel your inner self-discipline and throw out those old and useless study techniques.
For proper preparation, you are going to need a good four months to sufficiently absorb and learn all material. Make sure to follow a well-structured CMA study guide.
4. Get Yourself a Study Coach
If you struggle with self-motivation and finding the time to study, you may want to consider investing in a CMA coach. They will surely be an asset and drastically increase your chances of success.
A coach provides more than just help. They are there to provide you with expert advice and proven methods to ensure you don't fail the CMA exam again.
I have over 15 years of experience in the accounting/finance field, and have developed a comprehensive review course with proven techniques to help candidates retain at least 80% of the materials they are learning and much more.
Coaches like myself can help you pass both parts of the exam on your first try. I set candidates up for success by providing a weekly study plan that will keep you on track and disciplined.
If you self-studied the first time or used a course without coaching support, make sure you choose the best CMA prep course this time around. With a step-by-step review course highlighting the areas that need the most focus, you won't waste your valuable time studying topics you won't be tested on.
Understandably, failing can be frustrating, but pick yourself up. Let's figure out where you went wrong, and learn from your mistakes.
Remember, you're not alone. Many candidates have been in your shoes, and you will get through this. Just start by taking baby steps and stay consistent.
Retaking the CMA Exam
If you got the bad news that you need to retake the CMA exam, there are a few basic steps you'll take to get back in the game. While it's disappointing to fail the CMA exam, don't let it discourage you from trying again. Plenty of people pass their second CMA exam just fine.
Here's what you need to do to retake the CMA exam:
Register for the Next Testing Window
Register for another attempt at the same exam part as soon as you can. If you failed CMA Part 1, it's better to pass it before you start studying for CMA Part 2, which covers completely different material.
Get on the IMA website, login to your account, and find out when the next CMA exam testing window is. Take into account how much time you'll need to study areas of the CMA exam you failed and then pick the next best testing window for you.
Register for the CMA exam right then and there to give yourself a firm timeline.
Pay the Exam Fee Again
The cost of failing the CMA exam is that you'll have to pay the exam fees over. Of course, these are a small price to pay when compared to your earning potential as a CMA.
If you're committed to improving your CMA exam score, you'll no doubt do better and pass the CMA exam this time. Go ahead and pay the price and move on with your plans.
Schedule Another Appointment With Prometric
Once you've got your CMA exam test date and have studied again for the CMA exam, you'll have to make sure you have your Prometric test site selected and scheduled.
The good news with retaking the CMA exam is that you've already done this, so you've got the process down. You'll know better than anyone what to expect on test day and how to prepare physically and mentally for the exam retake.
Have more questions one what to expect if you fail the CMA exam… or what to do next? Drop them in the comments below and I'll give you answers!
Until next time,
Back to Frequently Asked Questions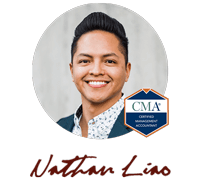 Hi, I'm Nathan Liao (aka the CMA Coach)! For the last 10 years, over 82,000 accounting and finance pros came knocking at my door seeking guidance and help. If you're also aiming to conquer the CMA exam on your very first try—without wasting away time or money—you've found your ultimate guide. Dive in deeper to discover more about me and the dedicated team that powers CMA Exam Academy. Click here and let's embark on this journey together!