Wishing to pass the CMA exam or not having concrete steps to take can be frustrating and will not actually help you pass the exam.
You need to take massive action and be determined if you want to reach exam success. Stop doing the things that are a waste of time, and start focusing yourself on what works.
Today, I'm going to make it easier to take action by providing you with 6 quick actions that will set you up for exam success. Are you ready?
Action #1: Pick the Best CMA Review Course
In order to take the CMA exam, you need to purchase a review course. Without one, the likelihood of passing is too low. It's not worth the risk.
The money spent on a review course will pay for by itself. If you were to calculate the cost of your time and of the exam, it'd be a lot higher than the cost of a review course. Imagine if you don't purchase one and fail? You will have to take it again and spend even more time and money.
Action #2: Purchase a Financial Calculator for the CMA Exam
The right financial calculator will become your best friend for the CMA exam. It'll help you move from one multiple-choice question to the next faster than a faulty calculator.
The one I used and really like is the Texas Instruments calculator. I even continue to use it today at work. I highly recommend it.
Action #3: Mark On Your Calendar the Days that You'll Study per Week
If you are not intentional about studying, it'll be difficult to pass the exam. The only way that worked for me was to mark on my calendar the days that I'd be studying each week for the following 12 weeks.
By seeing them on my calendar as appointments, it helped me commit to studying. I studied almost each day. It helped with the load and also helped me assimilate the content better.
Cramming on weekends may seem to work for some, but I discourage this method. After all, you are not studying to only pass the exam, but to become a CMA. If you learn only to pass, what will happen at work when you are required to apply your CMA knowledge? You guessed it right, it won't take you very far.
Create a study plan. Mark your calendar. Stick to your schedule. Study each day.
Action #4: Tell Family & Friends of Your CMA Goal
Although this action may not seem important, believe me, it is! Your family and friends play a huge role in helping you reach your CMA credential.
Imagine that you marked your calendar and plan to study each day for 2 hours. If your friends and family don't know about your goal, they may ask you to do something else instead. Of course, not ill-intentioned. They just love you and want to spend time with you. Who can blame them.
It'd be very easy to push studying to the side and spend time with them, but that won't help you reach your goal of passing the exam. However, if they knew from the beginning what you are up to, they will be understanding and won't distract you as much or at all. Wouldn't that help you stick to your schedule and increase the likelihood of passing the exam?
I'm not advocating to cut off relationships with your loved ones. I'm simply suggesting to share with them that you will be preparing for the most rigorous exam of your life,  and that you'll need to block certain hours each day to study.
The easiest way to do this is to send a mass email to your friends and family. They will be excited for you, and don't be surprised of all the encouragement you'll receive from them.
Action #5: Register for the CMA Exam
Sometimes having a deadline helps us stay on track and motivated. I know that's true for me.
Before I began studying for the exam, I paid for the exam registration and also booked my exam date 12 weeks from that date.
This action helped me understand that there was no turning back. It didn't matter what I did, the date was set and I would either pass or fail. It was all up to me. It worked because I was disciplined and passed on my first try. The study plan, tips and tricks of how I passed can be found in my study guide.
This method may or may not motivate you. But if you think it could work, it's worth a try. If you are not sure how to register for the exam, check out the Become a CMA page.
Action #6: Pre-Determine Your Study Breaks
Taking breaks is very important. If you get burnt out, it'll be more difficult to stay on track.
Taking breaks is a double-edge sword. Taking too many breaks can derail you but not taking enough can burn you out.
What's the solution? Determine ahead of time when you'll take breaks each week. Why? Because you'll be committed to studying and also committed to relaxing.
Knowing when it's OK to relax will actually help you enjoy it more. If you take breaks without order, you may feel stressed out during your breaks because it'll feel like you are wasting time.
Pre-determine when you'll take breaks and mark it on your calendar. For me, it was always Sundays. I spent the whole day with friends and family.
-test-
Final Thoughts
These are all quick actions you can take today. These actions will set you up for exam success, which is my ultimate goal.
Don't procrastinate any longer! Becoming a CMA will open many doors for you in your career that will ultimately bring prosperity to you and your loved ones.
As your CMA coach, I'm here to guide you to the best of my ability. My only goal is to see you pass the exam on your first try.
Share this post with others who may benefit from it. All the social icons are right below this post.
If you have any quick actions that have worked for you and that are not listed here, feel free to drop them in the comments section.
Back to Frequently Asked Questions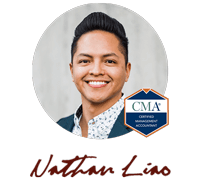 Hi, I'm Nathan Liao (aka the CMA Coach)! For the last 10 years, over 82,000 accounting and finance pros came knocking at my door seeking guidance and help. If you're also aiming to conquer the CMA exam on your very first try—without wasting away time or money—you've found your ultimate guide. Dive in deeper to discover more about me and the dedicated team that powers CMA Exam Academy. Click here and let's embark on this journey together!