How to Become a CMA: Everything You Need to Know About
Back to Frequently Asked Questions
Making the choice to become a Certified Management Accountant is exciting. But understanding all the requirements and figuring out how to become a CMA can be overwhelming.
Below, I have broken down the key information you will need in order to earn your designation in Certified Management Accounting.
The CMA program lets you proceed at your own pace. You can earn a CMA certification in as little as eight months, or stretch your CMA exam prep up to 3 years. Busy professionals will find the CMA program to be time-efficient.
6 Steps to Become a CMA
Become a Member of the IMA®

Becoming an IMA member is simple. Here are the membership options available to you:
IMA Professional Members
The Professional membership fee is $260 annually + a one-time-only application fee of $15. This membership is for individuals who already have or aspire to a career in accounting or finance.
With a professional membership you can take advantage of the IMA's cutting-edge resources to further expand and hone your knowledge and skills in all areas of management accounting.
IMA Student Members
If you are a current student at an accredited college or university, then you are eligible for the Student membership.
Students have the option of choosing a One- or Two-Year membership. The fee is $45 per year (or $90 for the two-year option). Student members have access to many of the benefits of regular Professional members but at a significantly discounted price.
IMA Academic Members
If you are a full-time faculty member of an accredited institution, you can get the Academic membership for $135 annually + a one-time-only application fee of $15.
Unlike other membership options, Academic members get access to the IMA's ethics curriculum, webinars, case studies, mentor program, research grants, and various other teaching resources.
Staff Enrollment Discount Program
If your organization signs up 5 or more staff members, you will receive a 15% discount on your membership rate, or $195 per member.
Members who are enrolled in the Staff Enrollment Discount Program have full access to all IMA amenities, including CMA certification, continuing education, networking and more.
This discount is run under one company organizer name and paid as a lump sum each year. When adding new members to the program, fees are calculated on a pro rata basis.
If a new employee has already paid their IMA membership for the year, no refund will be provided for unexpired months remaining in their current membership.
For full details on eligibility and pricing of each IMA membership, check out IMAnet.org.
Fulfill the CMA Education Requirements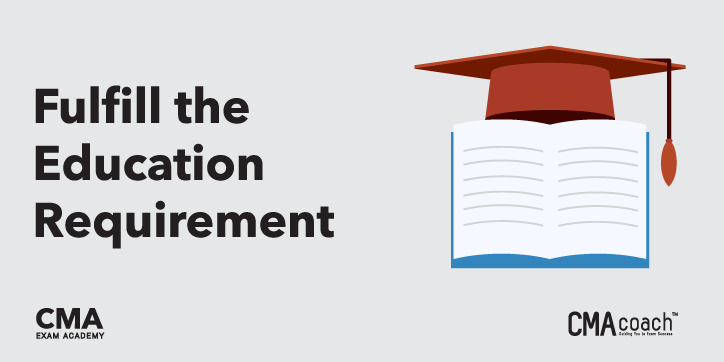 Candidates must earn a bachelor's degree from an accredited university or college. You may also choose to earn a professional certification in order to qualify.
Most often, CMA candidates earn degrees in accounting, finance, economics, and general business. However, as long as your degree is from an accredited school, you can pursue this accounting certification without a degree in accounting or finance.
You must fulfill the education requirement either prior to taking the CMA exam or within 7 years of passing the CMA exam.
Learn more in our in-depth article on the CMA education requirements.
Fulfill the CMA Work Experience Requirements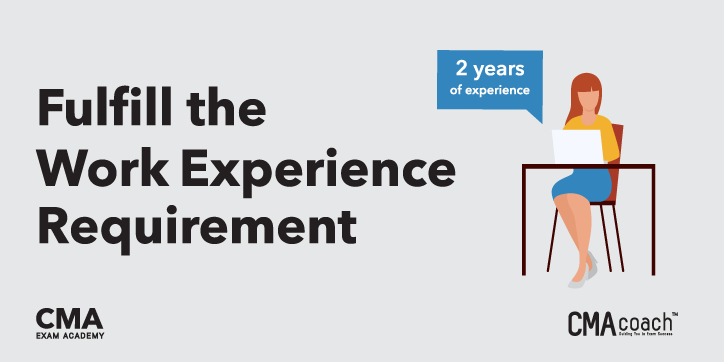 CMA candidates are required to complete 2 consecutive years of full-time professional experience.
You must fulfill the experience requirement either prior to taking the CMA exam or within 7 years of passing the CMA exam.
The time flexibility of this requirement allows all candidates the opportunity to either study for the exam or earn their professional experience first. I encourage taking the CMA exam even if you don't have work experience yet. Why? Because the CMA will open doors for you faster than not having it.
Regardless of how you choose to fulfill the experience requirement, you will need two years of experience in management accounting and/or financial management. This means having a professional, full-time position.
If you are unable to work full-time, you can work part-time at 20 hours per week for 4 consecutive years in the same field.
If you are an academic and 60% or more of your courses are accounting and corporate financial management courses above the fundamental level, you also meet the experience qualifications.
Qualifying experience may include working as a staff accountant to a CFO in roles such as financial analyst, senior accountant, etc. To find out if your role qualifies, check out this guide to the CMA work experience requirements.
Join the CMA Program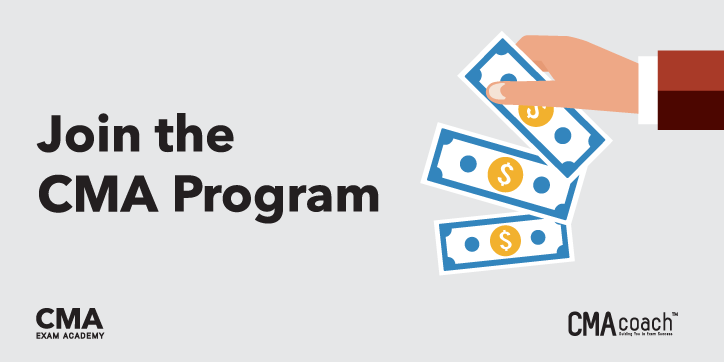 Once you're an IMA member, you can become a CMA candidate by entering the CMA program.
The CMA Program Entrance fee depends on your IMA membership:
Professional members: $280
Student and Academic members: $210
This is a one-time, non-refundable fee that must be paid before taking the exam.
It expires within 3 years of entering the CMA program, and if both exam parts are not completed and passed within this timeframe, any passed part will expire and the CMA entrance fee will have to be repaid.
The CMA Entrance fee includes credential review for educational and experience qualification, 6 months access to CMA Exam Support package, final score report, performance feedback reports for those who do not pass, personalised certificate for office display, and congratulatory notifications to employer or others.
Pay the CMA Exam Fee and Book an Exam Date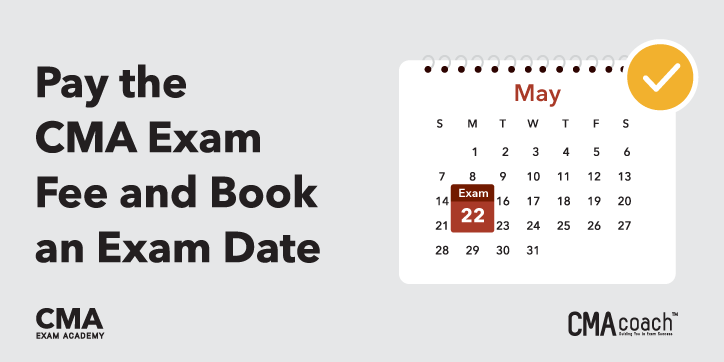 Now that you've joined the CMA program, you will need to decide when you want to book your exam and pay for the exam fee.
CMA Examination Fees
In order to be able to book your exam date, you'll need to pay the exam fee first, which is $460 per part.
But if you have the Student or Academic membership, you'll only need to pay $345 per part.
CMA Exam Windows
Exams are offered according to the following schedule:
January and February
May and June
September and October
To schedule exam appointments, visit www.prometric.com/ICMA. Registrations close after the 15th of February, June, and October.
There is no fee to reschedule your exam IF you do so 31 days or more before your scheduled exam date. If there are 30 days or less remaining until your scheduled exam date, it will cost you $50 to reschedule.
Note that you can only reschedule within the same exam window, and you cannot push your exam date to another exam window or cancel it altogether.
For more information, read the complete instructions for candidates.
CMA Exam Locations
Exams are administered through the worldwide network of Prometric Testing Centers and are available in accordance with local customs.
There are many locations throughout the U.S. and internationally. To locate a Testing Center and schedule exam appointments, visit www.prometric.com/ICMA.
CMA Exam Retake Policy
An exam part may be taken only once in a testing window. All exam retakes require a new registration along with payment of appropriate fees.
ICMA's Relationship with the IMA
The ICMA is the examining body for the CMA exam and they do not share any insider tips or secrets with the IMA. They are a completely independent entity responsible for impartial grading of all CMA exams.
The IMA is an administrative association that manages memberships and provides support to those individuals.
Developing, administering, and grading the CMA exam
Establishing policies and procedures for the CMA exam
Ensuring the overall integrity of the CMA exam
Pass the CMA Exam Part 1 and Part 2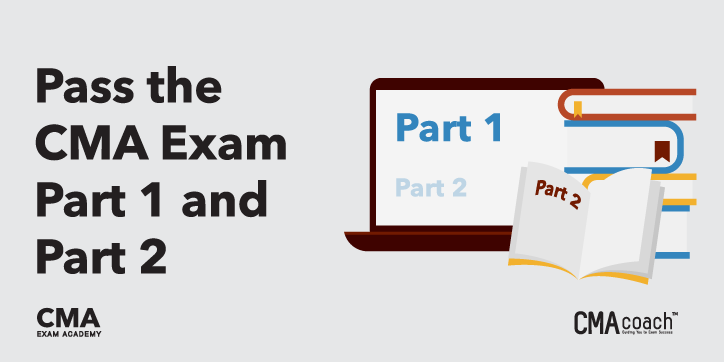 A full breakdown of the Content Specification Outlines for both CMA exam Part 1 and 2 can be found below, but what's not mentioned is how crucial it is to use a CMA review course to prepare you for success.
There are plenty of CMA study guides and review courses to choose from, but not all courses are designed the same.
CMA courses that come with the following resources will guarantee your exam success:
One-on-One Expert CMA Coaching
One-on-one coaching gives you unparalleled insight into the CMA exam, and the chance to work directly with someone who has taken the exam. An experienced CMA understands what study material is most important and can answer your most pressing questions. Most candidates get stuck when the study material gets difficult. Having a CMA Coach to turn to is crucial to exam success.
Accountability Check-Ins and Assignment Tracking
Maintaining a study schedule can be difficult, so it's incredibly helpful to have an accountability partner to report to. An accountability partner can motivate you to stay focused when you feel overwhelmed or tempted to procrastinate.
Textbooks and Test Banks
Textbooks are a staple of any good CMA review course. Not all textbooks are created equal though. Some are filled with jargon and fluff that confuse candidates. This was the biggest reason why my CMA review textbooks were written in plain English and are super easy to understand.
CMA test banks contain thousands of practice questions that give you valuable insight into the exam format, and question structure. They will also help you discover which material you excel at, and areas where you need more work.
Video Lectures and Audio Reviews
Video lectures are a fun and interactive learning tool that can help you understand core topics better.
The advantage of video lectures is that you can see formulas and examples explained on the screen, which may help you retain the material better.
Audio reviews, on the other hand, are perfect for candidates that are trying to study on the go. Great for your commute to work or running errands, audio material can help you brush up on key concepts while multitasking.
Exam Formula Guides
The CMA exam has many key formulas, and you are required to know them all. Choosing the wrong formula could cause you to fail the exam.
Needless to say, having the formula guides for reference is essential.
Breakdown of the CMA Exam Syllabus
The CMA exam is made up of Part 1 and Part 2, both of which cover different material. Below is a full breakdown of what you can expect in each part.
CMA Part 1: Financial Planning, Performance, and Analytics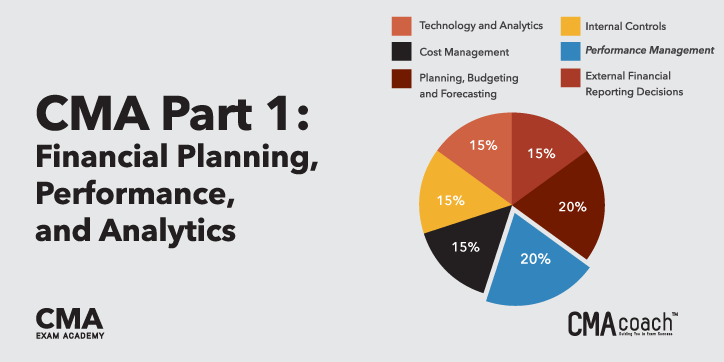 The percentages show the relative weight range given to each section in the exam.
A. External Financial Reporting Decisions 15%
Financial Statements, and Recognition, Measurement, Valuation, and Disclosure.
In terms of Financial Statements, you should be comfortable with:
Balance Sheets
Income Statements
Statement of Changes in Equity
Statement of Cash Flows
Integrated Reporting
For Recognition, Measurement, Valuation, and Disclosure, you need to understand:
Asset Valuation
Valuation of Liabilities
Equity Transactions
Revenue Recognition
Income Measurement
Significant differences between U.S. GAAP and IFRS
B. Planning, Budgeting and Forecasting – 20%
There are 6 core topics covered in this section, including strategic planning, budgeting concepts, forecasting techniques, budgeting methodologies, annual profit plan and supporting schedules, and top level planning and analysis.
1. Strategic planning
Understand what goes into strategic planning, such as identifying long term goals and aligning tactics to achieve those goals, as well as planning models and analytics techniques
2. Budgeting Concepts
This topic includes resource allocation, understanding performance goals, and the ability to characterize a successful budgeting process.
3. Forecasting techniques
Get up to date on your regression analysis and learning curve analysis to tackle this section.
4. Budgeting methodologies
Make sure you understand the different ways to budget, such as the difference between zero-based budgeting, project budgeting, flexible, and activity-based budgeting.
5. Annual profit plan and supporting schedules
This section will cover topics like operational budgets, as well as financial and capital budgets that you can use to create annual profit plans.
6. Top-level planning and analysis
Understand cash flow projections, pro forma income, and financial statement projects.
C. Performance Management – 20%
Performance Management covers three main areas:
Cost and variance measures
Responsibility centers and reporting segments
Performance measures
You will need to understand the ins and outs of actual vs. planned results, how to use flexible budgets to analyze performance, and be able to analyze cost expectations
Additionally, you must be able to differentiate between the different types of responsibility centers and how to analyze profitability well as return on investment using key performance indicators.
D. Cost Management – 15%
You must be able to complete calculations related to various costing methodologies.
The core concepts covered are broken down in 5 subsections below:
Measurement concepts – Cost behavior, concepts, and terminology
Costing Systems – Various systems for costing just as job order, process or life-cycle costing
Overhead costs – Fixed and variable overhead expenses and determination of allocation base
Supply Chain Management – Blend of management techniques as well as planning and analysis
Business process improvement – Analysis that leads to continuous improvement concepts to create more efficient accounting processes
E. Internal Controls – 15%
The concepts covered in this section are mostly conceptual, which makes it difficult for many candidates. The core components you should grasp are as follows:
Governance, Risk, and Compliance – Including risk control and policies for safeguarding assurances internally, as well as external audit requirements and corporate governance.
Systems Controls and Security Measures – Controls from network to backup controls, as well as business continuity planning.
F. Technology and Analytics – 15%
The final CSO of CMA Part 1 covers information systems, data governance, technology-enabled finance transformation, and data analytics.
The focus is on analytics and how accounting technology ties into it. You should feel comfortable with accounting information systems, data policies and procedures, process automation and applications, and business intelligence.
CMA Part 2: Strategic Financial Management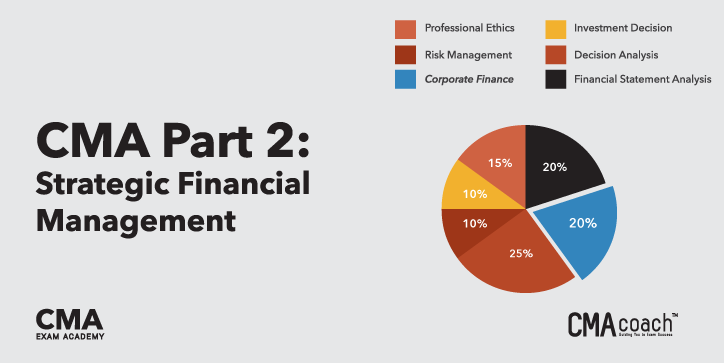 The percentages show the relative weight range given to each section in the exam.
A. Financial Statement Analysis – 20%
There is a lot of material to cover in this section, and your financial analysis abilities need to extend further than standard operating procedures. Here is a full breakdown of all the topics you need to understand:
Basic Financial Statement Analysis

Common size financial statements
Common base year financial statements

Financial Ratios

Liquidity
Leverage
Activity
Profitability
Marketing

Profitability Analysis

Income measure analysis
Revenue analysis
Cost of sales analysis
Expense analysis
Variation analysis

Special Issues

Impact of foreign operations
Effects of changing prices and inflation
Impact of changes in accounting treatment
Accounting and economic concepts of value and income
Earnings equality
B. Corporate Finance – 20%
Another big section here. Below are the core topics and their subtopics that you will need to master:
Risk and return

Calculation return
Types of risk
Relationship between risk and return

Long-term financial management

Term structure of interest rates
Types of financial instruments
Cost of capital
Valuation of financial instruments

Raising Capital

Financial markets and regulations
Market efficiency
Financial institutions
Initial and secondary public offerings
Dividend policy and share repurchases
Lease financing

Working Capital Management

Working capital terminology
Cash management
Marketable securities management
Accounts receivable management
Inventory management
Types of short term credit
Short term credit management

Corporate restructuring

Mergers and acquisitions
Other forms of restructuring

International finance

Fixed, flexible and floating exchange rates
Managing transaction exposure
Financing international trade
C. Decision Analysis – 25%
Lots of calculations in this section, so get familiar with your core formulas. This section tackles:
Cost/volume/profit analysis

Break-even analysis
Profit performance and alternative operating levels
Analysis of multiple products

Marginal analysis

Sunk costs, opportunity costs, and other related concepts
Marginal costs and marginal revenue
Special orders and pricing
Make vs. buy
Sell or process further
Add or drop a segment
Capacity considerations

Pricing

Pricing methodologies
Target costing
Elasticity of demand
Product life-cycle considerations
Market structure considerations
D. Risk Management – 10%
A relatively small portion of your exam mark, this section requires your understanding of the different types of risk and how to assess them. You are expected to know how to mitigate and manage the level of risk, specifically:
Enterprise Risk

Types of risk
Risk identification and assessment
Risk mitigation strategies
Managing risk
E. Investment Decision – 10%
Investment decisions require you to understand the capital budgeting process and capital investment analysis methods.
If you understand incremental cash flows, tax considerations, rate of return, and payback, then you should be good. Here's the topic breakdown:
Capital budgeting process

Stages of capital budgeting
Incremental cash flows
Income tax considerations
Evaluating uncertainty

Capital investment analysis methods

Net present values
Internal rate of return
Payback
Comparison of investment analysis methods
F. Professional Ethics – 15%
Finally, ethics makes up the final CSO of CMA Part 2.
You will need to understand all levels of ethics from basic business ethics, to ethical considerations for organizations and accounting professionals.
This includes knowing:
Business ethics

Moral philosophies and values
Ethical Decision making

Ethical considerations for management accounting and financial management professionals

IMA's Statement of Ethical Professional Practice
Fraud triangle
Evaluation and resolution of ethical issues

Ethical considerations for an organization

Organizational factors and ethical culture
IMA's Statement on Management Accounting, "Values and Ethics: From Inception to Practice"
Ethical leadership
Legal compliance
Responsibility for ethical conduct
Sustainability and social responsibility
For a fully inclusive, well-rounded review course, learn more about how the CMA Exam Academy can help you pass on the first try.
Until next time!