Back to Frequently Asked Questions
I've compiled all the information from the IMA website here on how to become a CMA for quick reference.
How to Become a CMA
The CMA program lets you proceed at your own pace. You can earn a CMA in just six months or over 3 years. Busy professionals will find the CMA program to be time-efficient.
What Are the Requirements to Become a CMA?
Membership in IMA®.
Bachelor's degree from an accredited college or university or an equivalent degree as determined by an independent evaluation agency.
Two continuous years of professional experience in management accounting or financial management.
Entrance into the CMA program.
Completion of Part 1 and Part 2 of the CMA exam.
CMA Exam Procedures & Registration
CMA Exam Locations
Exams are administered through the worldwide network of Prometric Testing Centers and are available in accordance with local customs. There are many locations throughout the U.S. and internationally. To locate a Testing Center and schedule exam appointments, visit www.prometric.com/ICMA.
CMA Exam Sessions
Exams are offered according to the following schedule:
January and February
May and June
September and October
To schedule exam appointments, visit www.prometric.com/ICMA.
For more information, read the complete instructions for candidates.
CMA Exam Retake Policy
An exam part may be taken only once in a testing window. All exam retakes require a new registration along with payment of appropriate fees.
Expiration of the CMA Exam Parts
All CMA candidates have three years to pass Part 1 and Part 2 of the exam. The time period will begin with the date of your entry into the CMA program. If you do not complete the two-part exam within three years, credit for the part passed will expire and you will have to retake the exam.
ICMA's Relationship with the IMA
ICMA is an affiliate of the IMA responsible for:
Developing, administering, and grading the CMA exam
Establishing policies and procedures for the CMA exam
Ensuring the overall integrity of the CMA exam
The ICMA Board of Regents is responsible for setting the policies, and the ICMA staff is responsible for implementing these policies.
CMA Examination Fees
Professional Member Fees
Certification Entrance Fee (nonrefundable)
$250*
Exam Fee
$415 per part
Prometric Rescheduling Fee: to reschedule your appointment within 30 days of your scheduled appointment
$50
Student/Academic Member Fees
Certification Entrance Fee (nonrefundable)
$188*
Exam Fee
$311 per part
Prometric Rescheduling Fee: to reschedule your appointment within 30 days of your scheduled appointment
$50
*The CMA Entrance fee includes credential review for educational and experience qualification, 6 months access to CMA Exam Support package, final score report, performance feedback reports for those who do not pass, personalised certificate for office display, and congratulatory notifications to employer or others.
CMA Part 1: Financial Reporting, Planning, Performance and Control
The percentages show the relative weight range given to each section in the exam.
A. External Financial Reporting Decisions 15%
Preparation of financial statements: balance sheet, income statement, statement of changes in equity, statement of cash flows; valuation of assets and liabilities; operating and capital leases; impact of equity transactions; revenue recognition; income measurement; major differences between U.S. GAAP and IFRS.
Topics Tested:
– Financial Statements
– Recognition, Measurement, Valuation and Disclosure
B. Planning, Budgeting and Forecasting – 30%
Planning process; budgeting concepts; annual profit plans and supporting schedules; types of budgets, including activity-based budgeting, project budgeting, flexible budgeting; top-level planning and analysis; and forecasting, including quantitative methods such regression analysis and learning curves.
Topics Tested:
– Strategic Planning
– Budgeting Concepts
– Forecasting Techniques
– Budgeting Methodologies
– Annual Profit Plan and Supporting Schedules
– Top-Level Planning and Analysis
C. Performance Management – 20%
Factors to be analyzed for control and performance evaluation including revenues, costs, profits, and investment in assets; variance analysis based on flexible budgets and standard costs; responsibility accounting for revenue, cost, contribution and profit centers; and balanced scorecard.

Topics Tested:
– Cost and Variance Measures
– Responsibility Centers & Reporting Segments
– Performance Measures
D. Cost Management – 20%
Cost concepts, flows and terminology; alternative cost objectives; cost measurement concepts; cost accumulation systems including job order costing, process costing, and activity-based costing; overhead cost allocation; operational efficiency and business process performance topics such as JIT, MRP, theory of constraints, value chain analysis, benchmarking, ABM, and continuous improvement.
Topics Tested:
– Measurement Concepts
– Costing Systems
– Overhead Costs
– Supply Chain Management
– Business Process Improvement
E. Internal Controls – 15%
Risk assessment; internal control environment, procedures, and standards; responsibility and authority for internal auditing; types of audits; and assessing the adequacy of the accounting information system controls.
Topics Tested:
– Governance, Risk and Compliance
– Internal Auditing
– Systems Controls and Security Measures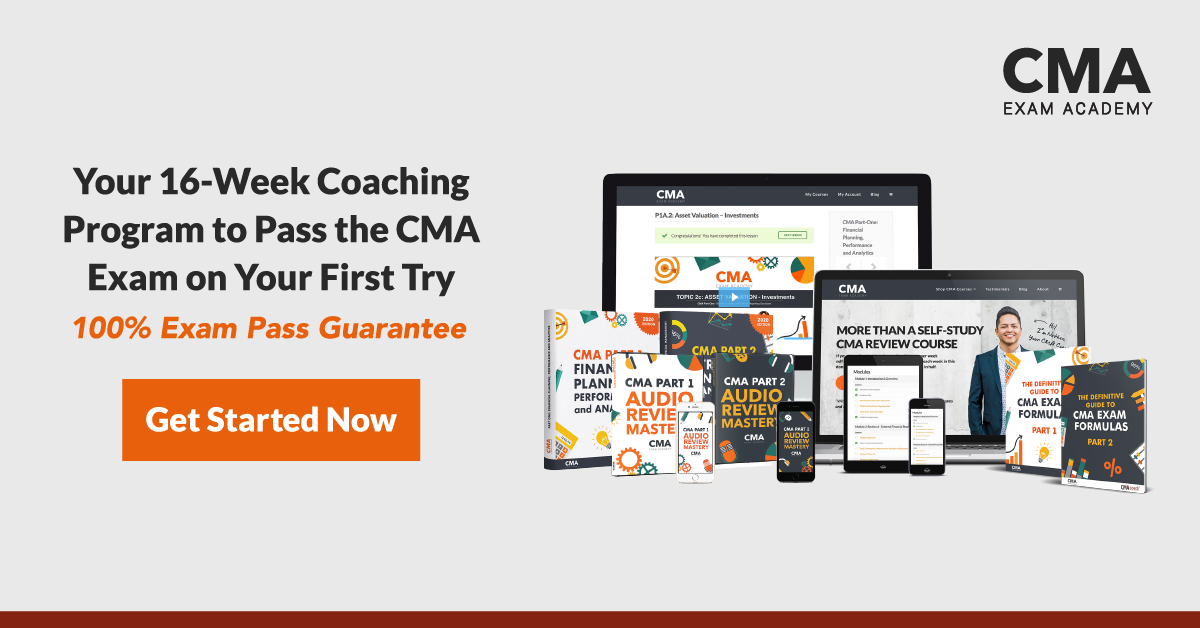 CMA Part 2: Financial Decision Making
The percentages show the relative weight range given to each section in the exam.
A. Financial Statement Analysis – 25%
Principal financial statements and their purposes; limitations of financial statement information; interpretation and analysis of financial statements including ratio analysis and comparative analysis; market value vs. book value; fair value accounting; international issues; major differences between IFRS and U.S. GAAP; off-balance sheet financing; Cash Flow Statement preparation, analysis, and reconciliation; and earnings quality.
Topics Tested:
– Basic Financial Statement Analysis
– Financial Ratios & Performance Metrics
– Profitability Analysis
– Special Issues
B. Corporate Finance – 20%
Types of risk; measures of risk; portfolio management; options and futures; capital instruments for long-term financing; dividend policy; factors influencing the optimum capital structure; cost of capital; raising capital; managing and financing working capital; mergers and acquisitions; and international finance.
Topics Tested:
– Risk & Return
– Long Term Financial Management
– Raising Capital
– Working Capital Management
– Corporate Restructuring
– International Finance
C. Decision Analysis – 20%
Relevant data concepts; cost-volume-profit analysis; marginal analysis; make vs. buy decisions; income tax implications for operational decision analysis; pricing methodologies including market comparables, cost-based and value-based approaches.
Topics Tested:
– Cost/Volume/Profit Analysis (CVP Analysis)
– Marginal Analysis
– Pricing
D. Risk Management – 10%
Types of risk including business, hazard, financial, operational, strategic, legal compliance and political risk; risk mitigation; risk management; risk analysis; and ERM.
Topics Tested:
– Enterprise Risk
E. Investment Decision – 15%
Cash flow estimates; discounted cash flow concepts; net present value; internal rate of return; non-discounting analysis techniques; income tax implications for investment decisions; ranking investment projects; risk analysis; real options; and valuation models.
Topics Tested:
– Capital Budgeting Process
– Discounted Cash Flow Analysis
– Payback & Discounted Payback
– Risk Analysis in Capital Investment
F. Professional Ethics – 10%
Ethical considerations for the organization
Topic Tested:
– Ethical considerations for management accounting and financial management professionals.
– Ethical considerations for the organization.
For a fully inclusive, well-rounded review course, learn more about how the CMA Exam Academy can help you pass on the first try.
See how it stacks up compared to over courses with this comparison chart that depicts the strengths and weaknesses of each one. Check it out when you have a minute and don't hesitate to ask if you have any questions. I'm here to guide you.
Until next time!
Nathan Liao, CMA