Hello Everyone:
I've received many requests for samples of essay questions and answers. After searching online for a while, I was lucky to find the following content absolutely free! I couldn't wait to share this with you. Although it's from 2009, it is a great way to familiarize yourself with the format of essay questions, and what complete answers look like.
As you know, the Part 1 and Part 2 exams allocate the last hour of each 4-hour exam to essay questions. Familiarizing yourself with essay questions now will be very beneficial during your exams. As with anything in life, the unknown can be a bit scary, but if you have an idea of what to expect, you'll be better prepared to succeed.
Please share this with your friends and family ,who may also be preparing for the CMA exams. Helping each other out is what it's all about.
CMA Essay Questions & Answers: Part 1
CMALS_v3_part1_practice_essay_questions_nov-6-09
CMA Essay Questions & Answers: Part 2
CMALS_v3_part2_practice_essay_questions_nov-9-09
Back to Frequently Asked Questions
👋 If you would like to receive free content and exam tips via email, please subscribe using the form below. I wouldn't want you to miss out on these golden nuggets.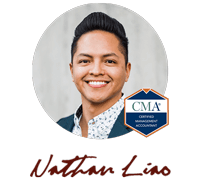 Hi, I'm Nathan Liao (aka the CMA Coach)! For the last 10 years, over 82,000 accounting and finance pros came knocking at my door seeking guidance and help. If you're also aiming to conquer the CMA exam on your very first try—without wasting away time or money—you've found your ultimate guide. Dive in deeper to discover more about me and the dedicated team that powers CMA Exam Academy. Click here and let's embark on this journey together!