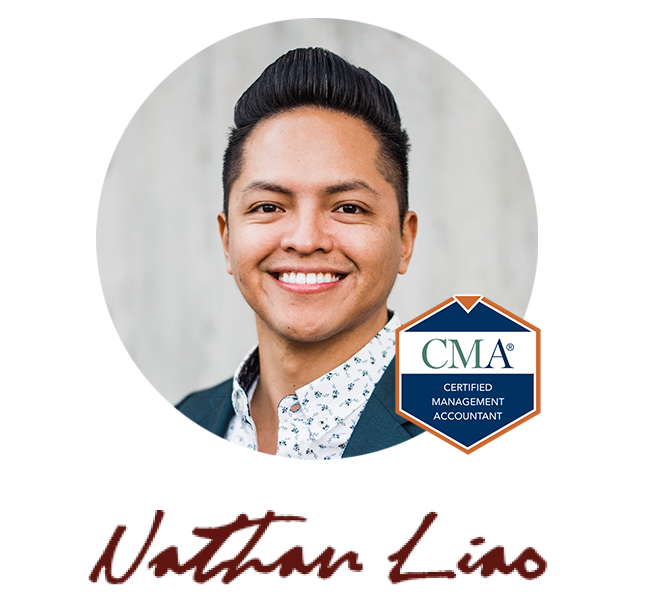 "I'm a Certified Management Accountant helping thousands pass the CMA exam. Now it's your turn!"
I'm thrilled you're here—because you and I, we're a lot alike. We're both looking to excel in our careers by increasing our knowledge, influence and income.
Which means neither of us can avoid one super important key to all of this… being a CMA.
As a professional, I'm sure you know firsthand how competitive and challenging it is to move up the ladder in the corporate world.
The only thing standing between you and where you deserve to be in your career is the CMA designation.
Well, not anymore.
I created CMA Coach as a resource to help you pass the exam in less time, while saving more in the long run.
I passed the CMA Exam when I was 27 years old while working full-time as a Corporate Controller, and running a side business on nights and weekends.
I know what it's like to study for the CMA Exam while trying to balance a full-time job, a side business, family commitments, friends, a mortgage, travel, etc.
Whatever your circumstances, I can probably identify with them.
When I made the decision to become a CMA, it seemed like such an impossible goal. With passing rates as low as 35%, I didn't feel very confident that I would pass, much less on my first try.
After developing a study plan and following it diligently while discovering studying and exam techniques, I sat for each exam and passed both on my first try.
It took me a total of 6 months to prepare for both exams.
Being a CMA has opened up so many doors in my career as a Corporate Controller and entrepreneur. I haven't only acquired advanced skills in accounting and finance, but also in business and strategy.
---
What are the intentions of this blog?
To guide you through your exam preparation and see you pass both parts of the CMA exam on your first try.

To be used as an online resource for all your CMA knowledge needs.

To provide reliable, informative and organized information about the CMA exam.

To create a community of CMA candidates.

To guide you to choose the best CMA review course by providing an in-depth analysis of each one.

To provide CMA Exam Videos that'll help you apply your knowledge and teach you how to answer questions on the exam.
---
Education
Undergraduate degree in Accounting from the University of Phoenix. I wasn't enrolled in their online program but rather attended one of their campuses in Southern California.
Obtained my CMA designation in 2010.
Scored 420 in Part 1, and 360 in Part 2.
---
Work Experience
I began my career in the accounting field as a clerk back in 2001. Later, I moved up the ranks until at 25 years old I was promoted to Corporate Controller at a multi-million dollar company in Southern California. I know firsthand that the knowledge gained from the CMA designation helped me thrive as a Management Accountant.
CMAExamAcademy.Com
When I learned that the CMA exam pass rate was 35%, I began blogging about the exam. Then, thousands of candidates asked me to teach them the CMA subject matter, so I listened and launched my online coaching program CMA Exam Academy. It's the only 1-on-1 exam prep coaching program in the CMA market with a 92% exam pass rate.
---
What I do for fun
During my downtime, I enjoy wine tasting, working out, reading business and personal development books, and go on thrilling adventures such as jetpacking, bungee-jumping, and skydiving.
I also love to travel, immerse myself in different cultures, and enjoy exotic cuisines. Follow me on Instagram for more.
So…What should you do next?
---