Here's a piece of global advice: If you want to pass the CMA exam, don't do the bare minimum. When people ask me how long to study for the CMA exam, I recommend at least 16 weeks.
This is based on my own experience studying for the CMA, plus the countless people I've coached to success at CMA Exam Academy.
As you may already know, the CMA exam is an in-depth test that covers a broad range of finance and accounting topics. 
Some people go into this exam having already worked towards an accounting degree and CMA experience requirements. However, thinking your previous education or professional background will make the exam a breeze is a mistake. Some of the content might be more familiar, but the CMA exam requires you to know, understand, and apply management accounting skills at a high level.
Even if you memorize everything you need to know for the CMA exam, it takes some time to work through the vast array of content. Not to mention, drills, practice tests, practice question banks, reading textbooks, etc.
For 2020, both parts of the CMA exam had a 45% pass rate. I can guarantee you that the remaining 55% included intelligent people who put in some effort. Just not enough. 

There are tips and tricks to pass the exam and, perhaps most crucially, a timeline you need to stick to. This article breaks down how long to study for the CMA exam so you have the best chances of passing on your first try.
Originally published in 2012, this article was updated and republished on January 29, 2021.
CMA Average Study Time
Obviously, not everyone goes into the CMA exam on a level playing field. Everyone does come in with prior CMA accounting knowledge or experience that can impact test readiness. That said, there is a minimum acceptable timeline, which in my experience, is 16 weeks. Beyond that, there are some high-achiever timelines you should be aware of. 
When approaching study plans, many people investigate how the CMA exam is graded. You need a 360 to pass each part of the CMA exam. 
The short story is that a CMA exam score could range from 0-500, with 500 being a perfect score. Once you pass the CMA exam, you'll need to complete the required work experience and educational requirements.
If you follow the procedures set by the IMA, you'll end up as a Certified Management Accountant, ready to move forward in your career. 
Your certification isn't really impacted by how well you scored on the CMA exam, as long as you pass. Getting a passing grade means you understand the concepts you were tested on and you are qualified to apply them in a professional setting.
Bottom line: The goal isn't as much to get a perfect score as it is to dedicate yourself to understanding and applying the concepts on the CMA exam.
Below you'll find some strategies on how to study for the CMA exam if you're a full-time working professionals:
 
Excellent
If Necessary
Not Recommended
CMA Exam Part 1
16 weeks:
160 hours
17-20 weeks:
160-200 hours
21+ weeks:
200+ hours
CMA Exam Part 2
16 weeks:
160 hours
17-20 weeks:
160-200 hours
21+ weeks:
200+ hours
Most people have a full scope plan for studying for the CMA exam. The most common timelines are these:
4 months to study for each part of the CMA exam
5 months to study for each part of the CMA exam
6 months to study for each part of the CMA exam
You can already imagine that your work schedule, family obligations and other lifestyle considerations impact how long you can take to study for each part of the CMA exam. There will be a tipping point on either end. 
Study for too short a time, and you simply won't have time to cover all of the content. Study for too long a time (say, over the course of a couple of years even) and you will definitely forget important information.
It may be useful to find a CMA coach who can help you decide on the right timeline for you, based on your background.
How to Reduce CMA Study Time
The goal is not to spend years studying for the CMA exam. CMA exam prep should be a fairly distilled process, concentrated into a few months of your life. This is the best way to optimize understanding and retain the right information. 
Here are a few tips for reducing or capitalizing on the time you do have to study for the CMA exam:
Create a Schedule and Stick To It
The first step for most people is to buy a CMA review course, but this only helps if you spend enough time with the course materials. Whether or not you've already bought a course, you can definitely start researching CMA study schedules. 
Although online CMA classes gives you flexibility, it's easy to spend more time than you need.
Consider the pros and cons of different timelines. Consider what your own lifestyle will permit in terms of study hours per week, and an ideal daily or weekly study schedule. Use that to determine how many weeks it will take to reach your target of total hours.
Then (and this is the most important part): create a schedule and stick to it.
While that may sound simplistic, you'll be amazed at how life will get in the way of your studies. Things will always come up and feel urgent. A schedule that you stick to at all costs is probably the only way to really achieve your test prep goals in the timeline you've set.
Don't Multitask
It's an ultimate mistake to think that CMA studies are something you can do "on the side." This will, in fact, end up taking way more time and could cause you to fail the exam the first time. 
Don't risk it. 
Figure out how to set aside time so that you are studying for the CMA exam during dedicated hours each day, week, and month. It's important that you minimize distractions and kick procrastination to the curb. 
Focus will give you everything you want. Speaking of which…
Take Regular, Planned Breaks to Clear Your Mind
Even the most brilliant minds can't think deeply 24/7. Part of getting the most out of your CMA study time is to establish the right pace. 
Sometimes, stepping away from a difficult or troubling concept can provide clarity. Other times, you simply need to give your brain and subconscious time to let ideas sink in and assimilate before you achieve true understanding. 
The CMA exam will require you to apply the things you learn as you study. This is a higher order of thinking. Regular, planned breaks and approaching your studies with a clear head will go a long way in helping you meet your goals.
Take Advantage of Online Courses and Advanced Tools
The right CMA course makes all of the difference. Not all CMA courses are designed to work the same way. Most include basic components, which are:
Video tutorials/lessons
CMA textbooks
Digital flashcards
Practice tests and practice question banks
Syllabus and study schedule
Some CMA courses also have:
Audio lectures
Coaching support
Live options
Guides for formulas
Answer explanations
Discounts for IMA memberships or CMA entrance fees
Shop CMA courses online from CMA Exam Academy.
Hire a CMA Coach
Not everyone learns best in a static environment. Because most CMA courses offer online or virtual experiences, this can be problematic if that's not how you learn best. 
If you are a highly interactive learner, or you find you have a lot of questions, hiring a CMA coach or tutor may be helpful. 
Many courses come with options for live support from instructors or tutors. This may be an important facet of a course, when you are choosing which to buy. 
One-on-one, individualized support may go a long way in helping you avoid major mistakes or conceptual missteps.
Reward Yourself When Reaching Certain Milestones
Studying for the CMA exam is tough, yes, but it shouldn't feel like punishment. It is a challenge. If you are successful, it will open a ton of doors for you in terms of career opportunities and the CMA salaries to match. 
Put some milestones or benchmarks in place. When you reach them, celebrate a little. 
Acknowledge all of the good you're doing and how it's an investment in your future. This is important and will help you regather the energy you need to keep going.
Measure Test Readiness
Lastly, there are plenty of systems in CMA courses that will measure test readiness. This is important. When you go to take the CMA exam, you want to be ready and have a reasonable expectation that you will pass. 
Even if you've put in the right amount of CMA study time, you might not be ready. Or, you may be ready sooner than you expected to be. Taking a full-length, timed practice test (or several, throughout the course of your studies) will help you measure your progress and know when you're truly ready.
Check out our guide on where to find Certified Management Accounting practice tests online.
Ask Questions
Whether you are coming into the CMA cold, have tried it before, have a background in accounting or not, it's important that you ask questions if you have them. 
There are plenty of online message boards where you can find answers to frequently asked questions about the CMA exam. Obviously, make sure that you're asking people with some credentials or experience and cross-check their answers. 
If you do a little digging (and some due diligence), you can gain a lot of important info and meaningful insight from other people.
Have questions for me? I provide resources that help people pass the CMA exam every year. 
Join our community of thousands of students who have passed the CMA exam using my courses and materials. And ask your questions below!

Back to Frequently Asked Questions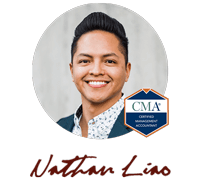 Hi, I'm Nathan Liao (aka the CMA Coach)! For the last 10 years, over 82,000 accounting and finance pros came knocking at my door seeking guidance and help. If you're also aiming to conquer the CMA exam on your very first try—without wasting away time or money—you've found your ultimate guide. Dive in deeper to discover more about me and the dedicated team that powers CMA Exam Academy. Click here and let's embark on this journey together!