Practice makes perfect. If you want to become a CMA, you're going to spend a concentrated season studying for the CMA exam, best done with the support of a CMA review course. The best CMA review courses include plenty of Certified Management Accountant practice tests.
Regularly using certified management accountant practice tests as part of your study plan is the surest way to track your progress and understand areas of weakness and growth.
The CMA exam covers a broad range of accounting and finance concepts. The more you practice, the better you'll do. In addition to covering all of the right topics, knowing the structure of the test—and practicing as much as possible—will ensure optimal test readiness.
Originally published April 11, 2016, this article was updated and republished on Aug. 24, 2021.
Why You Should Take Practice Tests Before the CMA Exam
One of the first steps you'll take to study for the CMA exam is to take a certified management accountant practice test. The score you get on a diagnostic test like this will provide a baseline and framework for your CMA study schedule. This is key. Knowing where you already excel (or fail) will accelerate your journey.
You can hone in on areas that need improvement and not waste time on things you already know. You can also get additional CMA study materials based on your priorities for improvement or rewatch the CMA online classes you need more time with.
In addition to the initial CMA diagnostic test, you'll want to take practice tests as you study for the CMA exam. These are essential pulse checks. Ongoing CMA practice tests will monitor your progress.
You may be surprised at areas in which you're growing quickly and other areas that need continued improvement.
All of this will be clear as you interact with real CMA test materials.
The CMA is a tough exam. Going in with your eyes wide open, having practiced as much as possible, is your best bet to succeeding.
Don't forget to check out my free CMA exam study guide for more expert advice on getting exam-ready.
CMA Test Bank Mistakes to Avoid
Online test banks are a super important part of CMA exam prep, but they aren't error-proof. 
If you don't know the best way to use this important study resource, you won't get the most out of it — and you can waste a lot of precious study time.
Here are the six biggest mistakes people make when using CMA practice tests, and how to avoid them.
1. Endlessly Drilling with Practice Exams
Spending all your study time drilling practice exams, and thinking that will be sufficient to pass on your first try, is mistake number one.
It's essential that you analyze your would-be score, and drill down into the topic areas you haven't mastered yet. Answer analysis is almost as important as exposure to the questions because it ensures understanding.
Instead, use the practice tests to identify which topics you need to spend more time studying.
2. Memorizing Test Bank Answers
Shooting for memorization without understanding is the wrong way to use a CMA test bank.
The CMA exam is designed to challenge your critical thinking skills, your understanding of concepts, and your ability to apply everything you've studied. This level of mastery involves much more than rote memorization.
Some people just cram test bank questions and memorize answers, but test banks are just representative — they aren't the same questions that will be on your test. 
If you don't take the time to get to know the concepts, you're going to be in trouble.
3. Not Going Deep Enough
Confusing familiarity with mastery is another common mistake. There are giant test banks for the CMA exam. If you just immerse yourself in one of these, you may generate a false positive in your self-assessment. 
In other words, you trick yourself into thinking you know more than you actually do. 
Again, go deep in understanding the concepts and spending time on answer explanations when you get a question wrong. This is how you will improve and be prepared for the real exam.
4. Misunderstanding the Practice Exam Passing Score
A score of 50% on a practice exam does not automatically translate to a passing score on exam day. Misunderstand your test exam passing score.
People think that a 50% practice exam score is a passing grade, but keep in mind that 50% on the real test is the bare minimum. This score on the multiple-choice section simply allows you to move on to the essay section.
It's a major risk to skirt that low line. Make sure you have a healthy cushion in your practice score to ensure you're fully prepared.
5. Focusing on Quantity Instead of Quality
Using the biggest test question bank possible, without considering quality, is another mistake that can cost you a passing grade. In some cases, bigger isn't better. 
The quality of a CMA test bank is critically important. If questions are sourced from very old CMA exams, or even from dubious sources, they aren't going to help you prepare for this year's test.
6. Using a Test Bank as Your Only Study Resource
Using only a test bank, and not much else, will not be enough.
While a test bank is a key component of your CMA exam study materials, it isn't the whole package. You need CMA textbooks, video tutorials, coaching, and the whole gamut if you really want to succeed.
For a deeper dive on how to avoid these test bank mistakes, check out the video.
Best CMA Practice Test Providers
Finding a CMA practice test provider is priority number one. CMA tests from previous years will provide the most realistic material. It's important that you get these from legitimate sources. It would (obviously) be a total waste of time to study with inaccurate or outdated materials.
Here are some checkpoints to use as you look for an online Certified Management Accountant practice test or test bank:
Do they use officially retired questions, like the ones included in the IMA's support package? These will be CMA exam questions used on real exams, which will have the highest degree of authenticity and similarity to the current test.
Do the questions have a high degree of quality? Although some course providers focus on a high volume of questions, more does not always equal better. A more important metric to focus on is how well the practice questions will prepare you for the exam. The opportunity to interact with real CMA materials from previous years and a wide range of multiple choice and CMA essay questions that truly reflect the exam difficulty is what will help you the most.
Does it accurately predict exam-readiness? Some test banks provide a lot of practice, but don't give you much guidance on when you are ready to take the exam. Look for a test bank that gives you an indicator of your exam-readiness. It's important that the practice tests you use mimic the computer-adaptive format of the real CMA exam, and can give you an accurate representation of your performance over time.
Are the answers and explanations helpful? In addition to knowing that the certified accountant management practice tests or CMA practice questions are authentic, it's most helpful to buy a program that provides answer explanations. This way, as you use CMA practice materials diagnostically or to study, you'll get to the heart of wrong answers and avoid making the same mistakes twice.
There are a few companies that have CMA practice tests you can count on. One of the best options is the test bank from CMA Exam Academy.
Certified Management Accountant Practice Tests from CMA Exam Academy
CMA Exam Academy is the platform for my top-rated CMA review course. Because certified management accountant practice tests are such an important part of exam preparation, we include them in our course packages.
However, if you've purchased a review course elsewhere, or you're self-studying, our CMA Test Bank is an essential supplement.
Here's what you can expect from the CMA Exam Academy Test Bank:
Feature
Specifics
Number of Practice Exams
You can create an unlimited number of practice exams from CMA Exam Academy's huge test bank.
Number of Practice Questions
4,000 unique multiple-choice practice questions, including retired official exam questions and 30+ essay questions with model answers.
Full Course Option
The full CMA review course includes the test bank, and is a cost-effective way to bundle every study resource you will need. The course uses a simulated exam mode to help you prepare for the test while practicing questions from the test bank. The course also comes with high-quality textbooks and a CMA formula guide you won't find anywhere else.
Design and Content of Online Test Bank
CMA Exam Academy gives students access to a realistic model of the exam while they are in simulated exam mode. You'll be able to practice in a timed environment to improve your speed. Questions are similar in structure and content to those on the exam, 100% unique, and include real retired CMA exam questions. The PassRate metric provides an accurate gauge to self-assess when you are ready to take the exam.
Model answers for essay questions are helpful for constructing essay responses on the exam.
Test Bank Pricing
$299 each for CMA Parts 1 and 2, or $499 for both.
Free CMA Practice Tests
The CMA Exam Academy has helped thousands of students pass the CMA exam. Our expansive test bank has all you could possibly need to practice for the CMA exam.
Using authentic CMA content and CMA practice test simulations, users can get a real feel for the test and flex their exam skills on a regular basis. Doing this in advance of test day will go a long way in improving the skills you need to excel.
Certified Management Accountant Practice Test FAQs
Here are some answers to frequently asked questions about Certified Management Accountant Practice Tests and exam prep.
How Many Practice Exams Should I Take?
Well, the answer is as many as possible, but it will depend on your schedule and time constraints. Taking one or two practice exams is obviously better than none. But in general, the more practice tests you take, the better prepared you will be when you take the actual CMA exam. If possible, take several practice tests early on in your studies so that you can identify knowledge gaps and address them in your overall study plan.
If you have time, try to take at least 6-10 full-length practice exams. That may seem like a lot, but research shows that the more practice you get, the faster and better you will become at answering questions correctly, which is the key to passing the exam. Most quality test review companies give students access to a test bank with a few thousand questions, providing the opportunity for an unlimited number of practice exams in a simulated test environment.
Can I Take the CMA Exam Doing Only Practice Tests?
Some people are mavericks. However, this isn't the time to go it alone. The CMA exam is an intense test that covers a ton of subject-matter in a short amount of time. You need to put the right amount of effort into preparing.
No matter how independently you learn, it's probably impossible to use practice tests alone to prepare for the CMA exam. While practice tests and CMA practice questions do help immensely, they aren't the only resource you're going to need. Video lectures, CMA textbooks, study methods and test-taking strategies are all going to be part of a great CMA review course. And it's worth it to buy one.
Are Certified Management Accountant Practice Tests Expensive?
You can get one-off Certified Management Accountant practice tests for free. Many companies will offer preview versions or let you see a few questions. However, buying a CMA test bank is your best move, to get enough practice for the exam. This will give you full access to a huge quantity of CMA test questions, many with answer explanations. An investment like that goes a long way in helping you prepare for the CMA exam.
Have more questions? I will be checking back to keep tabs on what you're asking, and providing you with expert answers!
Get real insight to help you in your CMA journey by adding a question below.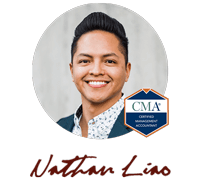 Hi, I'm Nathan Liao (aka the CMA Coach)! For the last 10 years, over 82,000 accounting and finance pros came knocking at my door seeking guidance and help. If you're also aiming to conquer the CMA exam on your very first try—without wasting away time or money—you've found your ultimate guide. Dive in deeper to discover more about me and the dedicated team that powers CMA Exam Academy. Click here and let's embark on this journey together!