The Institute of Management Accountants, or IMA, hosted a webinar about the Essay portion of the CMA exam. It was very insightful and informative.
I'd like to share with you the specific topics they covered and also what I've done to successfully answer the essay questions on the exam.
If you are worried about this section of the exam, take what I'm about to share and you'll be in a much better position to pass on your first try.
 What Will You Learn from this Post?
Why Should You Become a CMA?
If you are reading this post, probably you have already decided to become a CMA. Kudos to you! But if not, let me tell you why becoming a CMA will do wonders for your career and success.
First of all, being a CMA confirms that you have a mastery of the critical skills and knowledge in planning, analysis, control, and decision support. This is in the realm of accounting, finance, and business management.
Lastly, salary surveys continue to show that CMAs earn substantially higher than their non-certified peers. On average, CMAs earn over $115,000/year.
Understand the CMA Exam Format
Part 1 – Financial Reporting, Planning, Performance and Control
4 hours, 100 multiple-choice questions, and two 30-minute essay scenarios
External Financial Reporting Decisions (15% of the exam)

Planning, Budgeting, and Forecasting (30% of the exam)

Performance Management (20% of the exam)
Cost Management (20% of the exam)
Internal Controls (15% of the exam)
Part 2 – Financial Decision Making
4 hours, 100 multiple-choice questions, and two 30-minute essay scenarios
Financial Statement Analysis (25% of the exam)

Corporate Finance (20% of the exam)
Decision Analysis (20% of the exam)
Risk Management (10% of the exam)
Investment Decisions (15% of the exam)
Professional Ethics (10% of the exam)
CMA Exam Structure and Feedback
3 hours of multiple-choice questions – 75% of score

1 hour of essay scenarios – 25% of score
Must earn at least 50% on multiple-choice section in order to advance to essay section. If in the exam you are not advanced to the essay section, it means that you failed the exam.
Cannot return to the multiple-choice section once you've advanced to the essay section of the exam.
CMA Exam Testing
Exams administered at Prometric testing centers
Schedule your exam date and time online, only after receiving your exam authorization from the IMA.
Three exam testing windows offered: January & February, May & June, September & October
The 12 Best CMA Essay Questions Strategies
Stay positive and don't be afraid of this section
If you show your work and assumptions, you can earn partial credits
Expect 3 to 6 questions for each essay scenario
You can scroll between questions and scenarios within the essay section. This will help you assess how much time you'll need for responses
Pay close attention to verbs. If it says compare or contrast, don't spend your time defining something. Only do what is asked on the question
Read the entire question to understand all requirements
Focus is on the use of standard English, organization and clarity
Graders are looking for effective writing skills
Be brief and to the point. Bullet points are OK
Don't leave questions blank. If short on time, at least write an outline of your main points
Graders are looking to give you points, not take them away. Make it as easy for the graders to give you points by showing your work.
Be sure to use all the time available to you
What the CMA Exam Essay Section Looks Like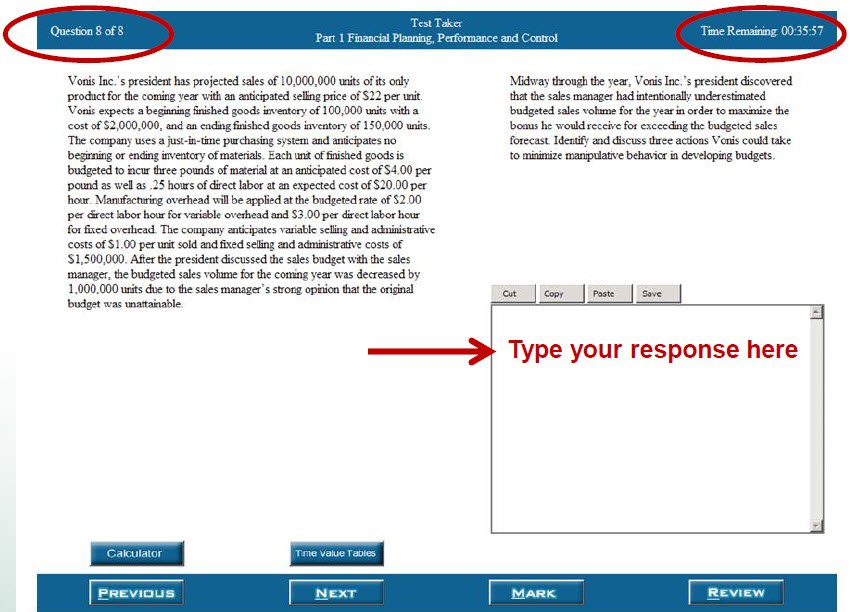 Type your responses into the text box. This is similar to MS Word but easier and simpler. If you are familiar with MS Word, this won't be an issue at all.
As you can see, the module shows you the number of questions on the top left hand corner, and your time remaining on the top right hand corner.
Don't be afraid of this section of the exam. Many, including myself, have gone through it with success. If others could do it, you can too!
If you are new to this community and to the CMA journey, let me point you to a resource page that will help you get started. The CMA Toolkit page is packed with the best resources to make your CMA journey a total success.
Already know what you're looking for? Head to the CMA Coach Shop and grab your study  materials now!
Best of luck on your CMA exam!