The CMA Exam essay questions stress a lot of people out. After all, Certified Management Accountants typically have a background in accounting or finance — we're not writers!
As long as you've mastered the exam content enough to do well on the multiple-choice questions, some simple strategies will help you succeed on the essays, too.
I'd like to share with you some specific tips and strategies to practice as you study for the CMA exam, that will help you sail through the essay sections. These are all the things that worked for me and thousands of CMA candidates in my coaching program.
If you are worried about the CMA essay questions, take what I'm about to share, and you'll be in a much better position to pass on your first try.
What will you learn from this post?
Understanding the CMA Exam Format
CMA Essay Questions Part 1
CMA Essay Questions Part 2
The 12 Best CMA Essay Question Strategies
What the CMA Exam Essay Questions Look Like
Sample CMA Essay Questions
Originally published in 2018, this article was updated and republished on March 4, 2021.
Understanding the CMA Exam Format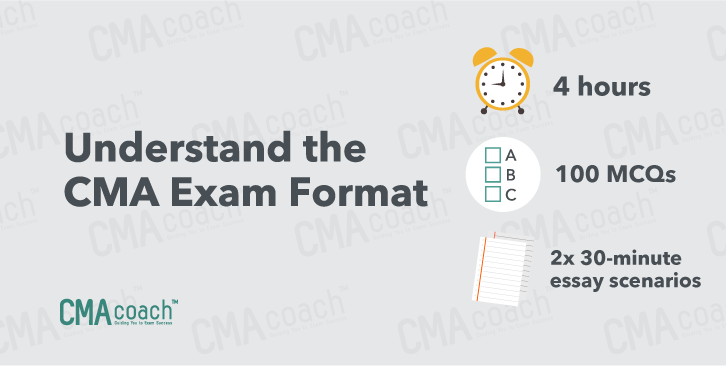 Understanding the CMA exam format is crucial to performing well on the test. There are two parts to the CMA exam, which will be taken separately after discrete seasons of CMA exam preparation.
You can take Part 1 and Part 2 in any order, and they cover unique topics. Both tests will be composed of multiple-choice questions and essays.
When you are deciding how long to study for the CMA exam, remember that each part has a different syllabus. It's best to study for and pass one of the exam parts before moving on to the next.
The CMA essay questions are based on the same content you need to know for the multiple-choice questions. They are just in a different format, requiring not only application of knowledge and skills, but also explanation.
This means a deep understanding of all the topics is crucial — make sure you choose a CMA prep course with thorough study materials and answer explanations.
Here is a breakdown of the topics covered on each part of the CMA exam and the format:
4 hours total, 100 multiple-choice questions, and two 30-minute essay scenarios
External Financial Reporting Decisions (15% of the exam)
Planning, Budgeting, and Forecasting (20% of the exam)
Performance Management (20% of the exam)
Cost Management (15% of the exam)
Internal Controls (15% of the exam)
Technology and Analytics (15% of the exam)
4 hours total, 100 multiple-choice questions, and two 30-minute essay scenarios
Financial Statement Analysis (20% of the exam)
Corporate Finance (20% of the exam)
Decision Analysis (20% of the exam)
Risk Management (10% of the exam)
Investment Decisions (15% of the exam)
Professional Ethics (10% of the exam)
CMA Exam Structure and Feedback
3 hours of multiple-choice questions – 75% of score
1 hour of essay scenarios – 25% of score
You must earn at least 50% on multiple-choice sections in order to advance to the essay section. If you are not advanced to the essay section, it means that you failed the exam.
You cannot return to the multiple-choice section once you've advanced to the essay section of the exam.
CMA Exam Scheduling & Testing Procedures
Exams are administered at Prometric testing centers.
The exam is entirely computer-based, including the essay questions.
Schedule your exam date and time online, only after receiving your exam authorization from the IMA.
There are three exam testing windows offered: January & February, May & June, September & October.
CMA Essay Questions Part 1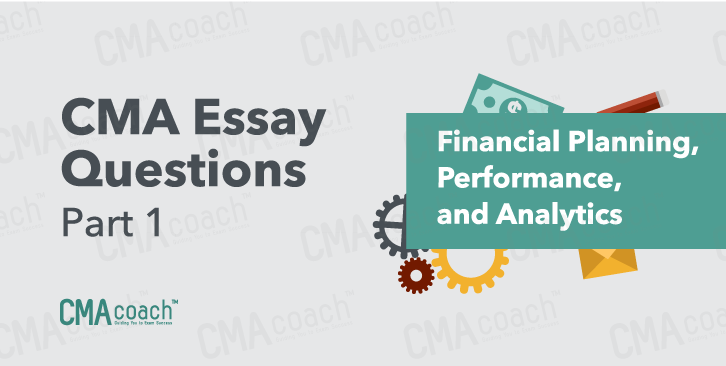 Part 1 of the CMA exam has two essay questions. You will read a scenario or passage of text and then use a word processor to type out your essay response.
The essay questions on the exam are meant to test your ability to articulately explain the application of relevant financial concepts and principles.
In part 1, the essay questions will revolve around related exam content and could include anything related to Financial Planning, Performance, and Analytics.
It's important that you write clearly and concisely. During CMA exam prep, you'll refine this skill.
The essay portion will account for 25% of your CMA exam score for part 1.
CMA Essay Questions Part 2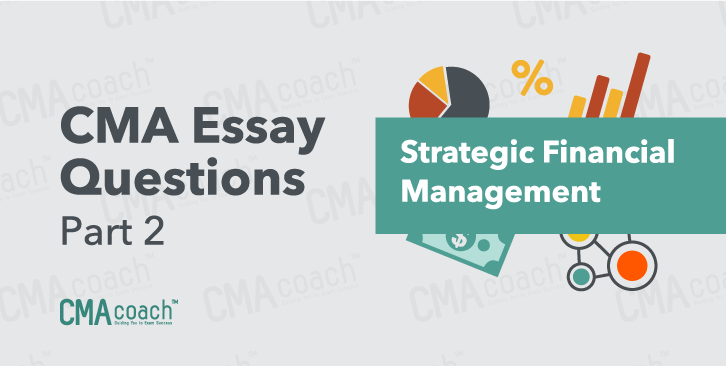 Similar in format and requirements, part 2 of the CMA exam will also include two essay questions. These, too, will account for 25% of your score.
It's important that you learn how to take the CMA exam by practicing essay questions. You'll get a rhythm down that caters to your strengths and enables you to thoroughly read, reflect, and then craft meaningful responses for your essays.
Part 2 CMA exam essays will cover the topics from that part of the CMA exam, including anything related to Strategic Financial Management.
The 12 Best CMA Essay Questions Strategies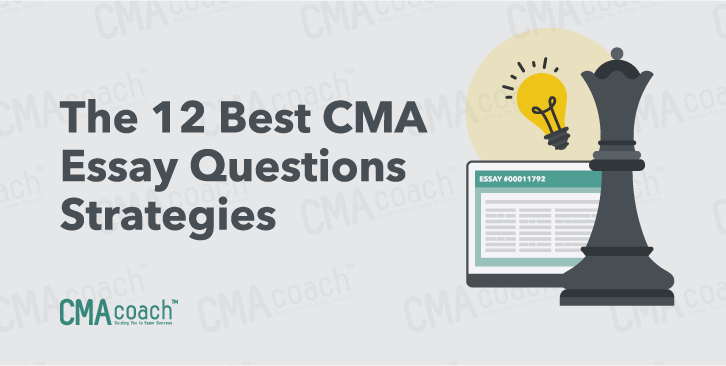 The IMA offers some tips on how to do well on the CMA essay portion. Over my years of coaching thousands of CMA students, I've created my own list. I've also put together a free CMA study guide, where you'll find a lot more information to help you pass the exam and get certified.
These tips cover some common concerns and questions people have about how to approach the essay questions. They also include some super-effective strategies to help you get the most possible points in this section.
Here are my best CMA essay question tips and strategies:
Stay positive and don't be afraid of this section
Not everyone is a writer. That doesn't mean you can't do well on the essay section of the CMA exam. You need basic, plain, and straightforward English, and a competent understanding of financial concepts. Anyone can learn enough to do well on this.
If you show your work and assumptions, you can earn partial credits
The IMA straight up says that graders want to give you as many points as possible. Because a human will be reading this, you have some room to explain yourself in an authentic way. Doing so (and showcasing that you really do know what you're talking about) can earn you more points.
Expect 3 to 6 questions for each essay scenario
With each essay question on the CMA exam, you'll read a brief scenario and then be asked as many as six questions. The questions will require you to use the information presented and apply financial concepts and principles to it. You'll practice this as you study for the CMA exam.
You can scroll between questions and scenarios within the essay section
Scanning through the questions will help you assess how much time you'll need for responses. You don't have to answer the questions in order. You may see that the fourth question is a doozy and will take you a little more time. You can get a global view and then manage your time accordingly.
Pay close attention to verbs
Action words may be descriptive or directive. They are definitely clues. For instance, if the essay question says, "compare or contrast," don't spend time defining something. Only do what is asked in the question.
Read the entire question to understand all requirements
Details are your friends. Don't miss one by skimming or jumping away once you think you "get the idea." Take your time and read everything. All of the data, information, connections, and other content you need to form an articulate response are contained in the text.
Use good standard English, organization, and clarity
The IMA cites these metrics as what test graders are looking for in this section. People whose native language isn't English often get anxious about the essay portion of the CMA exam. They needn't be. It doesn't require you to be verbose, rather to get to the point and state your meaning as plainly as possible.
Graders are looking for effective writing skills
Again, good English is simple. There are a finite amount of rules and you can master the kind of writing graders are looking for in CMA exam essays. Showcase your ability to use the right vocabulary, punctuation, grammar, and more.
Be brief and to the point
It's tempting to think that writing a lot will get you the most points, but (as always), less is more. Don't start waxing eloquent. Bullet points are acceptable. You are on the clock, after all.
Don't leave questions blank
You should have looked ahead but even so, you can't always anticipate exactly how long a response will take. Sometimes you just get hung up and run out of time. If you are short on time, at least write an outline of your main points.
Graders are looking to give you points, not take them away
Make it easy for the graders to give you points by showing your work. Sometimes, you can get carried away with the narrative. Having jotted down an outline or bullet points of your main ideas will help your case with graders.
Be sure to use all the time available to you
Maybe you aren't in danger of running out the time at all. If you are a lightning fast writer, you don't get extra points for speed. Take your time. Pace yourself. Practice this.
What the CMA Exam Essay Section Looks Like

Type your responses into the text box. This is similar to MS Word but easier and simpler. If you are familiar with MS Word, this won't be an issue at all.
As you can see, the module shows you the number of questions on the top left-hand corner, and your time remaining on the top right-hand corner.
Sample CMA Exam Essay Questions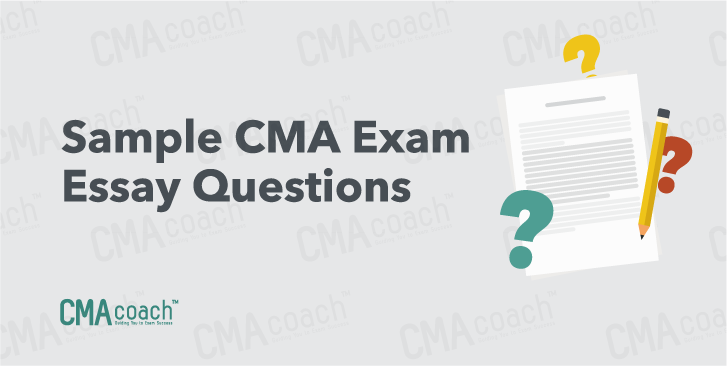 It may be helpful to see what a CMA exam essay question looks like. If you buy a CMA review course, you should get access to a test bank that will include plenty of sample essay questions. Practice questions are an essential piece of your CMA study material toolkit.
When you're ready to start, check out what my course has to offer, including coaching, a huge test bank, and lots of CMA essay questions to practice. It's all available in the CMA Coach Shop.
Don't be afraid of this section of the exam. Many, including myself, have gone through it with success. If others could do it, you can too!
Still feel anxious or have questions about CMA essay questions? Drop a comment below and I'll give you advice and guidance for how to sharpen your essay skills!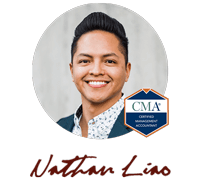 Hi, I'm Nathan Liao (aka the CMA Coach)! For the last 10 years, over 82,000 accounting and finance pros came knocking at my door seeking guidance and help. If you're also aiming to conquer the CMA exam on your very first try—without wasting away time or money—you've found your ultimate guide. Dive in deeper to discover more about me and the dedicated team that powers CMA Exam Academy. Click here and let's embark on this journey together!