On the fence about taking the CMA exam in 2022?
I understand more than you could possibly imagine. When I was thinking about taking the CMA exam I procrastinated big time.
The truth is, I nearly talked myself out of it several times until I realized the only thing holding me back was fear and the sense of overwhelm I was experiencing about preparing for the exam.
I'm going to be honest with you: the road to becoming a CMA requires a lot of time, effort and determination, but it is absolutely achievable.
I am living proof of that.
And to help you join the elite (and ever growing!) population of individuals with their CMA certification, I am breaking down my roadmap to CMA success.
Step #1: Understanding How to Become a CMA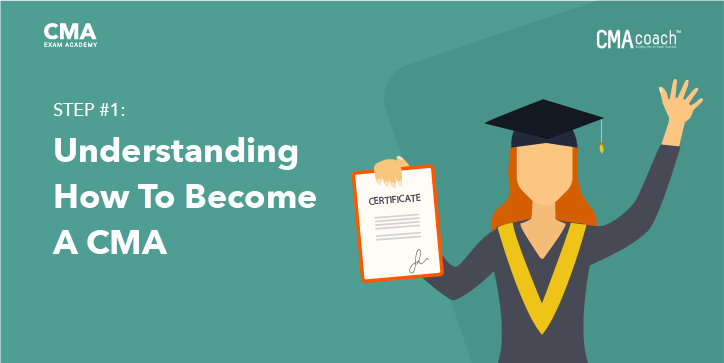 Unsure of what exactly it entails to become a CMA?
Understanding what you're about to take on is incredibly important if you want to succeed.
There are several key things you must do in order to become a CMA:
Earn your bachelor's degree from an accredited University
Become a member of the Institute of Management Accountants (IMA)
Fulfill 2 years of consecutive management accountant work experience (or 4 years of part time consecutive employment)
Register and sit for both CMA Exam Part 1 and CMA Exam Part 2
There are stipulations to many of these requirements. For example, does your work experience qualify?
For a full breakdown of all the CMA requirements check out my comprehensive post here: Certified Management Accountant Requirements.
Step #2: Which IMA Membership Should I Pay? Student or Professional?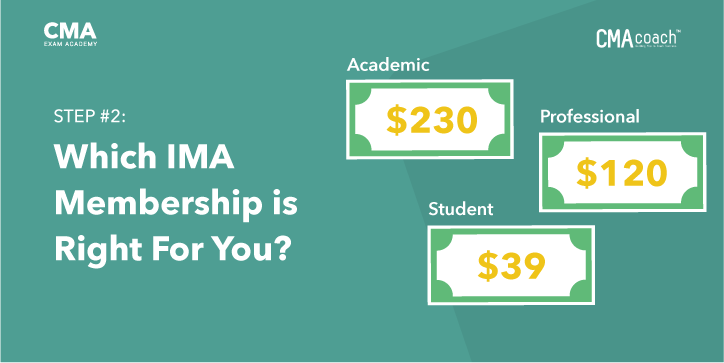 There are essentially 3 different types of IMA memberships available and each have an annual fee:
Professional – $230 annually + one-time $15 fee – for individuals already in the finance/accounting field
Academic – $120 annually + a one-time $15 fee – for faculty members
Student – $39 for one year or $78 for two years – for students currently enrolled in college or university (recent graduates excluded)
Choosing is relatively simple based on your status. Once you decide on a membership, pay your fee and that's it. Easy!
Step #3: What Options Do I Have to Prepare for the CMA Exam?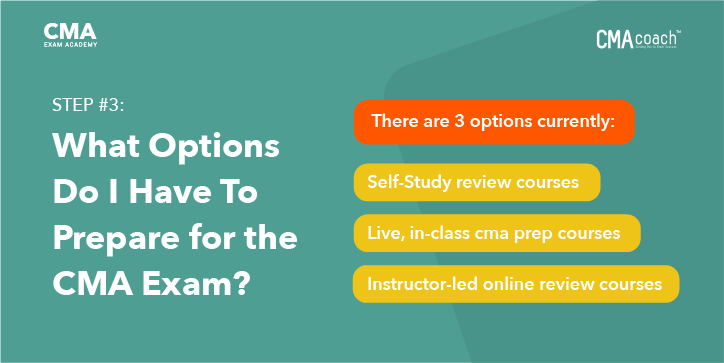 There are several ways you can prepare for the CMA exam and if you plan on succeeding then choosing a CMA review course is critical.
Self study and instructor-led review courses are available and choosing the right one for you will be dependent on your personal learning style and budget.
There are 3 options currently:
Self-study review courses
Live, in-class CMA prep courses
Instructor-led online review courses
CMA Self-Study Method
Self-study, as the name implies it, is a method of studying where you teach yourself the CMA subject matter with the aid of a CMA exam review course designed for self-studying.
If you prefer to study on your own, take matters into your own hands, and have had previous success with this method in college or elsewhere, self-study may be right for you.
I highly recommend allotting 4-5 months of study time, including 25-30 hours of study per week, to ensure you understand all the essential material if you are going the self-study route.
Why so long?
Simply put, you will not have a support system to help you through the tough concepts or assist you with questions. The extra time allows you time to work through issues and still come out on top.
Live, In-Class CMA Prep Course Method
Many Universities, Colleges and Institutes around the USA and the world offer CMA prep classes in a classroom setting with a live instructor. We were raised learning in this type of environment so it can be difficult to change to a self-study method for example.
If this is the case, a live course may be the right fit for you. This option is great for candidates who need an instructor in the same room.
However, from personal experience, live classes are very accelerated lasting between 5 to 9 weeks and meeting only once per week for 4 to 6 hours per session.
After coaching thousands of candidates and from personal experience, the minimum time required to adequately prepare per part is 16 weeks, and definitely many more hours of instruction.
Live prep courses can also be costly, ranging from $1,250 to $2,000 per part.
If you absolutely need an instructor to be in the same room with you, have the time to drive to/from school and can afford the cost, then taking a live prep course may be the right fit.
Remember that the classes are very accelerated. If you have the time and can commit to such a pace, this is the right method for you.
Online Instructor-led CMA Prep Course Method
Online instructor led CMA review courses like CMA Exam Academy are a hybrid of self-study and live classes. You get the best of both worlds in one packaged review course.
These types of CMA online classes offer the convenience of studying from the comfort of your own home with the same resources and guidance that you would expect from an in-class prep course.
If you need an instructor but don't have the time to attend a live class nor feel ready for an accelerated program, this may be the right fit for you.
The cost for these courses can range anywhere from $699 to $1800 for both parts.
Not sure which one is right for you? Take a look at my ultimate CMA Review Course comparison post here.
Remember, not all review courses are built the same. For example, CMA Exam Academy offers everything from video and audio reviews to accountability check-ins, weekly assignments, unlimited coaching support, test banks with thousands of questions, plus a full suite of resources that ensure you learn all the essential content and components.
This may be why my student pass rate is above 90% which is a lot higher than <45% global pass rate. Read what past students had to say about their experience in the Academy.
Other courses may offer the same number of test bank questions, but lack in a structured step-by-step study program, accountability and coaching support.
It all comes back to what you need personally in order to succeed.
Step #4: How do I Study to Guarantee I Pass the Exam?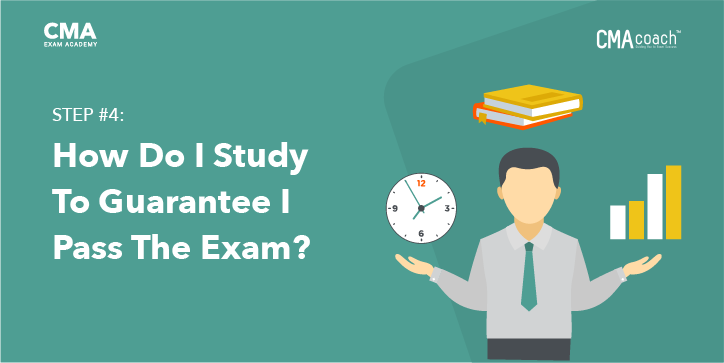 Now that you have chosen your method of study, the next big concern is about the preparation itself.
If you have chosen to take a live class or an online prep course, then this step won't be useful to you as those programs will provide you with the framework to follow. However, if you have chosen to self-study, then this step is critically important.
Regardless of your prep method, my general rule of thumb is to block a minimum of 16 weeks to study for each part. With self study, put in 25+ hours weekly and for guided, instructor-led courses 15+ hours should be good.
A great studying technique that can help you better retain the CMA subject matter and study more effectively is: Survey – Question – Read – Recite – Review, or SQ3R. You can read about it in this post.
And one of the best ways to test your knowledge is to take mock exams until your score is above 80%.
Step #5: How to Kick Procrastination to the Curb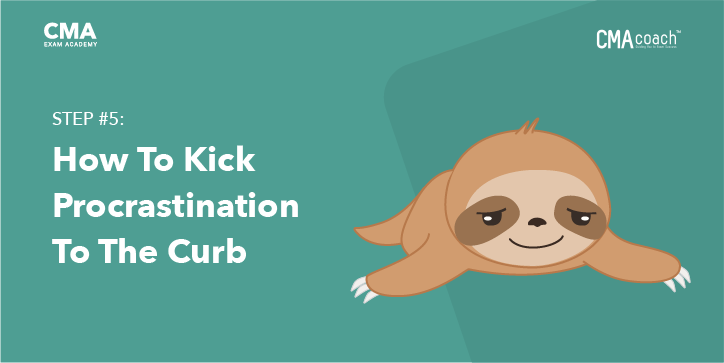 Don't underestimate the negative power of procrastination. It swoops in when you least expect it and can totally derail your efforts.
A great way to overcome procrastination is to set a small goal – one that you feel you can accomplish today. Once you've achieved it, you'll feel more motivated to continue.
When you begin your exam prep, make sure to track your progress daily and record all the little wins, they will encourage you to keep going and not break the streak.
If you get bored, turn on your creativity and think of ways to gamify your exam prep. Reward yourself often. Think of funny associations to help you retain a difficult formula or a concept. And don't insist on a schedule or study routine that you're struggling with – modify it, adapt it to fit your personality and lifestyle, experiment, and find what really works for you.
For more tips on how to overcome procrastination, you can check out this post.
Step #6: My Exam Is in One Week. What Do I Do?
Candidates begin to feel their stress levels go up in the week leading up to their exam. Not only is this expected, but totally understandable.
Most of this stress comes from not knowing what to expect on exam day. There are a few key ways you can avoid this though. For starters, take several mock exams. These mock exams are designed to give you the most realistic exam-day experience.
Additionally, taking the time to understand and acquaint yourself with the exam format is priceless. Mastering multiple-choice questions and essay questions is key.
Looking for even more exam tips and strategies? Grab them here.
Step #7: How to Pass the Exam in 2022
First of all, make sure you have the updated textbooks that reflect the new 2020 CMA exam changes.
The next step is to create a study plan if you self-study, or follow the study plan in your review course if it provides one.
I recommend a 16-week study plan as the optimal plan. Taking 16 weeks to study for each part of the exam (16 weeks for part one, and 16 weeks for part two) gives you ample time to learn everything you need to know for the CMA exam without dragging on so that you forget everything you learned at the beginning of your studies by the time the exam comes around.
The best strategy when it comes to preparing for the CMA exam is to study one section at a time and then practice on MCQs related to that section.
An indicator that you're done with a section and are ready to move on to the next one is when you consistently score above 80% on 50-MCQ practice exams of that section only.
Repeat this strategy for all sections and then take a final exam simulation to assess what topics you need to go back to review.
When you consistently score above 80% on the final exam simulation, you'll be ready to crush your real exam
I've said it before, but I'm going to say it again – now is the best time to become a Certified Management Accountant. While this designation is growing in popularity, we are still in relatively low supply, but high demand.
If you want to earn a higher salary than your non-certified peers, become an integral part to your company and learn a valuable and unique skill set, then earning your CMA certification is a must.
Still have questions? Drop me a line in the comment section below and ask away.
More by Nathan
CMA Essays – Everything You Need To Know
Proven Learning Techniques For The CMA Exam
20 Ways To Kick Procrastination To The Curb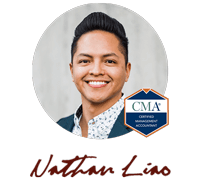 Hi, I'm Nathan Liao (aka the CMA Coach)! For the last 10 years, over 82,000 accounting and finance pros came knocking at my door seeking guidance and help. If you're also aiming to conquer the CMA exam on your very first try—without wasting away time or money—you've found your ultimate guide. Dive in deeper to discover more about me and the dedicated team that powers CMA Exam Academy. Click here and let's embark on this journey together!