Are You Taking the CMA Exam in 2018?
…Or are you still thinking about it? I remember when I was "thinking" about taking the CMA exam. I procrastinated big time!
Thought about it.
Talked myself out of it.
Thought about it.
Talked myself out of it. 
And I realized, what as holding me back was quite simply, FEAR. 
I overcame this "fear" by taking action and the results were amazing! 
I want to coach you to a successful 2018 by providing you with an exam roadmap that will guide you every step of the way. It won't be easy like walking on a flat surface. Rather, it'll feel more like climbing up the stairs. But there's a HUGE reward at the top if you work hard for it. 
Know that I am here for you and that this step-by-step roadmap will guide you to the top. 
Step #1: Understanding How To Become A CMA
I often get asked what topics are tested on the exam, how long the exam is, how much does it cost, when the exam windows are, etc. 
These are very important questions that every candidate should know the answers to by heart before taking any furthers steps. The good news is that I have all that information compiled in an easy to understand format, and you can find it all here: How To Become A CMA. Once you are done reading it, come back and continue with..
Step #2: Which IMA Membership Should I Pay? Student or Professional?
OK, this one is an easy one but can be a bit confusing at first. I won't over complicate this so I'll keep it short and sweet.
The answer is: If you are still in College or in a Graduate program, pay for the student membership. Otherwise, pay for the professional membership. And this leads us to….
Step #3: What Options Do I Have To Prepare for the CMA Exam?
This question is key as it will in grand part determine whether you will pass the exam or not. Don't take this step lightly. Take a few days to think about this one before making a final decision. 
There are 3 options currently, and it's your job to decide which one will fit you best. Only you know your circumstances, budget, and preferred method of learning. Take all that into account before making a decision. 
The 3 options are: (a) Self-Study (b) live prep course (c) or online prep course. Let's go over each one in more detail:
(a) CMA Self-Study Method:
Self-study, as the name implies it, is a method of studying where you teach yourself the CMA subject matter with the aid of a review course designed for self-studying.
Examples of CMA self-study review courses include Gleim and Wiley CMAexcel. From my experience, these two are the best in the market. But we'll get to that in a bit. 
If you prefer to study on your own, take matters into your own hands, and have had previous success with this method in college or elsewhere, self-study may be right for you.
Just be aware that you will not have a support system to help you through the tough concepts or whenever you have questions. Statistically speaking, the passing rate of the CMA exam is below 35%, and most of the candidates who take the exam self-study.
But if you have the discipline and resilience to go at it alone, then the next bit of information will be important to you..
..Now, the next step in this method is to choose the CMA review course that is best for you based on your professional and academic background.
This step is super important, but don't stress out. After coaching thousands of CMA candidates, I'm able to break it down into two options that will make it crystal clear which one is the right for you.
Option #1: Gleim CMA Review Course
Gleim CMA has a well rounded review course with a laser type focus. It is not as in-depth as Wiley CMAexcel but it is more than enough for those who meet the following criteria:
 

5+ years of Management Accounting or Financial Management experience. This means working in positions such as Sr. Accountant, Accounting Manager, Finance Manager, Controller, CFO, VP of Finance.

Or someone with a Bachelor's and/or Master's degree in Accounting, Finance, or Economics. 

Or someone with an inclination to study on their own, aka self study. 
If you meet this criteria, Gleim CMA is a good choice for you. Your strong accounting/finance background will help you move along the course. What's great is that the course will not bog you down with too much detail which can slow down the process significantly. It'll be a great fit for you.
The link above will provide you with a 10% discount should you choose to go this route. 
Option #2: Wiley CMAexcel Review Course
Wiley CMAexcel is probably the most in-depth self-study review course in the market, today. It is the go-to course for those candidates who need extensive support material and in-depth coverage of the CMA subject matter. This self-study course is excellent for those who meet the following criteria:
0 to 5 years of Accounting or Finance experience. Meaning that if you don't have work experience in accounting or finance, but would like to make a career change into this field, Wiley is your best bet, if you choose to self-study. This is also for accounting and finance professionals at any level who already work in the field and have 5 or less years of experience.

Or someone with a bachelor's and/or Master's degree in Accounting, Finance, Economics, or any other field. 

Or someone with an inclination to study on their own, aka self study. 
If you meet this criteria, Wiley CMAexcel is a good review course if you plan to go for the self-study method. Take advantage of a 10% discount by using promo code: CM14C during checkout. 
(b) Live CMA Prep Course Method:
Many Universities, Colleges and Institutes around the USA and the world offer CMA prep classes in a classroom setting with a live instructor. We were raised learning in this type of environment so it can be difficult to change to a self-study method for example.
If this is the case, a live course may be the right fit for you. This option is great for candidates who need an instructor in the same room. 
However, from personal experience, live classes are very accelerated lasting between 5 to 9 weeks and meeting only once per week for 4 to 6 hours per session.
After coaching thousands of candidates and from personal experience, the minimum time required to adequately prepare per part is 12 weeks, and definitely many more hours of instruction. 
Live prep courses can also be costly, ranging from $1,250 to $2,000 per part! It is understandable though as they need to pay for classroom space, parking, instructor fees, and overhead costs.
If you absolutely need an instructor to be in the same room with you, have the time to drive to/from school and can afford the cost, then taking a live prep course may be the right fit. 
Remember that the classes are very accelerated. If you have the time and can commit to such a pace, this is the right method for you. 
Live courses may use Gleim or Wiley CMAexcel. In this type of learning setting, both review courses work quite well. 
For a list of live classes near you, try searching using Google. Alternatively, Wiley has a list of partners offering live prep courses around the world. 
(c) Online Instructor-led CMA Prep Course Method:
Online instructor-led prep courses are the "new kids on the block". They began appearing in the market a few years ago and are picking up a lot of steam.  Why?
Because this method is a hybrid of self-study and live classes. You get the best of both worlds in one packaged review course. 
Online courses offer the convenience of studying from the comfort of your own home and/or office. Some offer pre-recorded video lectures to watch at your convenience and others live webinars that you must attend at a specific date and time each week. It boils down to a matter of preference when it comes to those two options.
Online courses are more expensive than self-study options but more cost effective than live classes. This is due to access to an instructor via email and other support systems to help candidates successfully complete the program. If you need an instructor but don't have the time to attend a live class nor feel ready for an accelerated program, this may be the right fit for you.
The cost per part for an online class ranges from $1,000 to $1,150.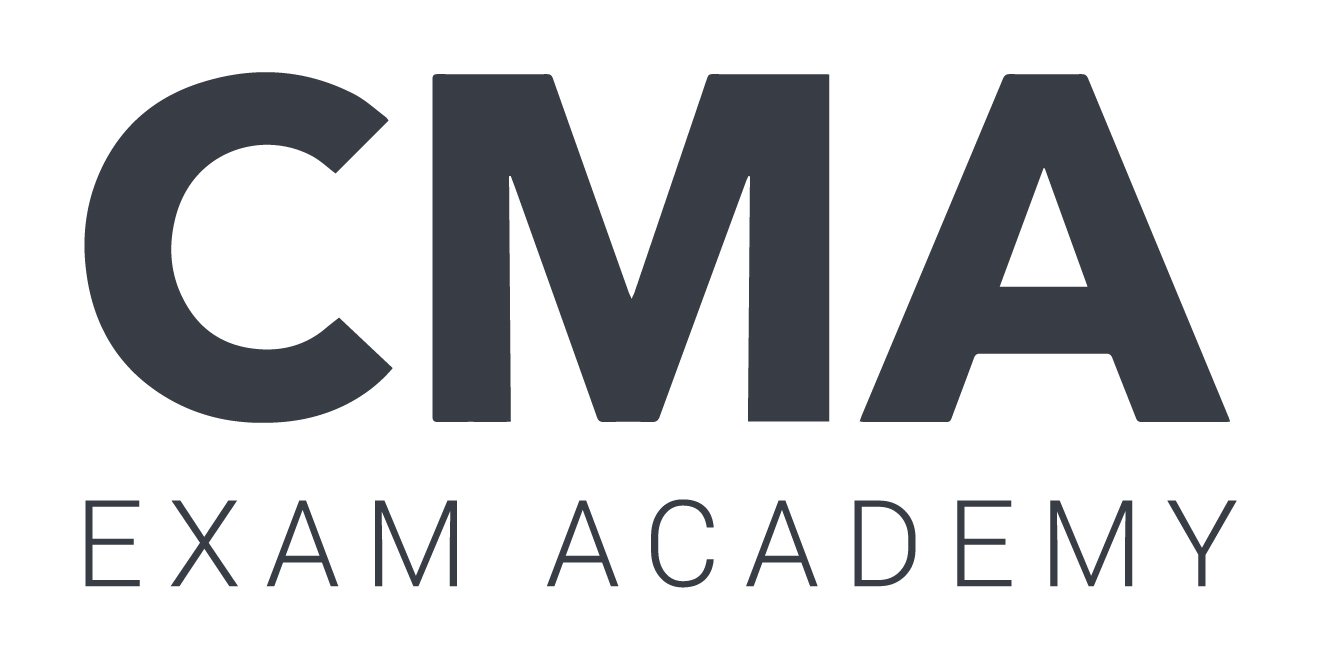 At the request of thousands of CMA candidates, I've launched my #1 CMA online coaching program, CMA Exam Academy. If you are interested in working with me, I invite you to check it out. My student pass rate is 72% which is a lot higher than <45% global pass rate. Read what past students had to say about their experience in the Academy.
Step #4: How Do I Study To Guarantee I Pass The Exam?
Now that you have chosen your method of study, the next big concern is about the preparation itself. 
If you have chosen to take a live class or an online prep course, then this step won't be useful to you as those programs will provide you with the framework to follow. However, if you have chosen to self-study, then this step is uber important. 
First of all, you will need to block 12 weeks to study for each part. Don't try to study both parts simultaneously. That's a recipe for disaster. I see so many candidates doing the opposite and unfortunately fail. Learn from their mistakes.
Study 2 to 3 hours a day, and more if you can on weekends. Take mock exams until your score is above 80%. If you need a solid study plan plus the most important study and exam strategies, check out my study guide. This guide has helped hundreds of candidates who opted to self-study. It'll cut your learning curve in half, at least. 
Step #5: How To Kick Procrastination To The Curb
Don't underestimate the negative power of procrastination. It swoops in when you least expect it and can totally derail your efforts. I won't go into detail on this post, but to learn how to overcome it, check out this post. After reading it, come back and continue to….
Step #6: My Exam Is In One Week. What Do I Do?
Candidates begin to feel their stress levels go up 1 week leading up to their exam, and it's totally expected and understandable. Their stress goes up because they don't know what to expect on exam day. It's the fear of the unknown. I know because I was there too and experienced those exact same feelings and thoughts of worry. 
The best way to relieve some of the stress is to get familiar with what you could expect on exam day. For that reason, I've written this post on exam tips and strategies. 
In Closing
I felt that going into the new year, an extensive post on how to prepare for the CMA exam was in order. I covered most, if not all, of the bases. If you have any questions about the exam after reading this post, drop them in the comments section below. I answer to every single comment and may even update this post with answers to those questions. 
2018 is looking positive and a great year to achieve this much regarded designation. The CMA, after all, is the Gold Standard in Management Accounting and Financial Management.
Will you earn up to $130,000 dollars in 2018 by becoming a CMA? It's possible, but only you can decide. 
I coach accountants who are frustrated with their careers and with their salaries pass the CMA exam, earn a much higher salary, advance their career into the executive ranks, and gain respect from their peers and bosses. 
If you want to work with me, I invite you to visit CMA Exam Academy, the #1 online instructor-led CMA program with a student pass rate of 72%. 
I wish you a happy new year and a successful 2018! Together, we are going to climb to the top and see you become a CMA.
Until next time,