What does it take to become a CMA?
Passing the CMA exam requires discipline, commitment, but most of all, an unwavering dedication to study. You have to pass the CMA exam to gain a CMA designation and become a Certified Management Accountant. Being a CMA is a great career choice with tons of earning potential and work opportunities. But this journey begins with a single step: the test.
Passing the CMA exam requires discipline, commitment, but most of all, an unwavering dedication to study. You have to pass the CMA exam to gain a CMA designation and become a Certified Management Accountant. Being a CMA is a great career choice with tons of earning potential and work opportunities. But this journey begins with a single step: the test.
The latest reported worldwide CMA exam pass rates by Institute of Management Accountants (IMA) were:
Part One – 45%
Part Two – 45%
What does this mean?
It means that the CMA exam has earned its reputation as a difficult professional accounting exam, with less than half of candidates passing the CMA on their first try.
The good news? The IMA reports a record high number of brand new CMAs in the last fiscal year (2018-2019). 11,530 CMAs (89% against the last year) joined the club. The better news is? There's room for you, too. If you're willing to work.
You need a good study plan, good material to study, and a coach to help you understand the material – that's why I'm here, to coach you during your studies.
In an earlier post, I talked about what I did to pull off passing on the first try. Get a backstage pass to my process by clicking here.
Let's dive a little deeper into what these numbers mean and how they should fuel your passion to study hard and pass the CMA exam on the first try.
Worldwide CMA Exam Pass Rates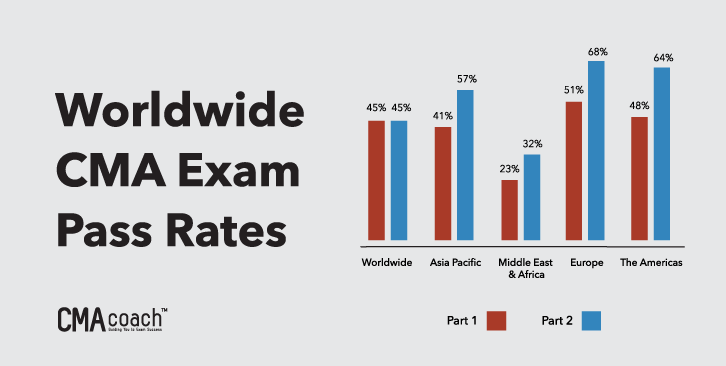 CMA exam pass rates in the U.S. sit beneath 50%. Turns out, worldwide averages are a little lower or much higher depending on where candidates take the test. Here are the CMA exam passing rates for parts 1 and 2:
Worldwide
Asia Pacific
Middle East
& Africa
Europe
The
Americas
Part 1
45%
41%
23%
51%
48%
Part 2
45%
57%
32%
68%
64%
One of the key indicators of success could be native tongue. That issue alone could contribute to higher pass rates in Europe and the Americas, where English is frequently taught from a very young age. Next, let's look at the key issues that could contribute to some of these CMA exam pass rates.
Recent CMA Exam Pass Rates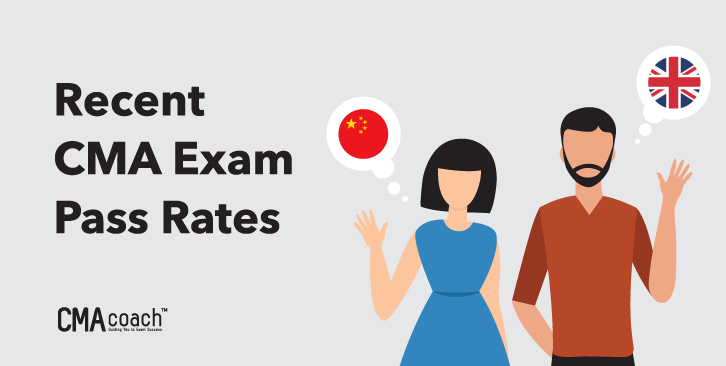 If you were an achiever in school, you may look at a "45%" and see an "F." We don't blame you. However, the low pass rates for the CMA exam should be taken with a grain of salt. There are numerous factors in play:
CMA exam requirements don't require a bachelor's degree before the test (although you will need one for certification)
Candidates aren't required to have educational credits in accounting or business
Professional experience may include financial management or management accounting
Without formal education in accounting, candidates may not have foundational knowledge that could activate higher success rates.
The CMA exam is only given in English and Chinese (and Chinese-language CMA exams aren't available at all locations)
With handwritten answers required in the half-hour essays, being a non-native English speaker could contribute to lower pass rates among certain groups.
FAQs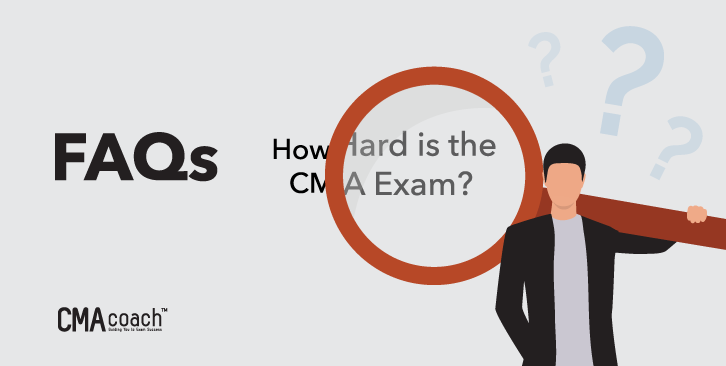 Here are some common questions about the CMA exam that may bring clarity to the exam passing rates.
How Hard is the CMA Exam?
The CMA exam is challenging because it covers a lot of topics and is highly specialized. Compared to the CPA exam, it focuses in more depth on management accounting and other aspects of financial leadership. The CMA exam requires intense study. It's absolutely vital that candidates pick a CMA review course that prepares them in the right way. Getting a coach or joining a program like ours may be the key you need to succeed.
What's on the CMA Exam?
The question types, topics, and scoring on the CMA exam are directly related to average success rates. There are two sections on this test:
CMA Exam Part 1 covers Financial Planning, Performance and Analytics
CMA Exam Part 2 covers Strategic Financial Management
In each of these parts, candidates will have to take up to 100 multiple-choice questions and write detailed answers to two essay questions. Each part of the CMA exam takes four hours. Candidates can take one section at a time and you have three years to pass.
How Do I Get More CMA Answers Right?
Whether you want to conquer the CMA exam for the first time or are retaking after a failed attempt, you must have a good strategy to answer all of the questions correctly and on-time. A lot of practice goes into this. For instance, I drill candidates on questions, showing you how to allocate the right amount of time, getting you familiar with the format and letting you practice as much as you need until you exhibit readiness.
What's on the CMA Exam?
The two broad categories of the CMA exam are related to various aspects of Financial Planning, Performance, Analytics and Strategic Financial Management. Within each of the two parts of the exam are numerous subsections, including:
Cost management
External financial reporting decisions
Performance management
Planning, budgeting and forecasting
Internal controls
Technology and analytics
Corporate finance
Decision an analysis
Financial statement analysis
Investment decisions
Risk management
Professional ethics
How are CMA Exam Questions Scored?
The content on the CMA is meant to test cognitive skills. Content Specification Outlines (CSOs) have to do with targeting a high level of comprehension. You will be put to test for the following abilities:
Comprehension: is it evident that you understand and can interpret content? You will need to perform actions like classifying, distinguishing between and explaining.
Knowledge: can you recall, identify, list and define material you saw before. This will extend to things like criteria, principles, facts, techniques and procedures.
Analysis: can you break a larger topic down into smaller parts? It's important that you can see causal relationships, identify relevant elements, estimate, put things in order, differentiate between two things.
Application: can you apply the material you've learned in proposed scenarios. You will have to relate, solve, predict, modify and demonstrate.
Synthesis: can you take discrete parts and put them together to make a new set of operations? You will have to relate, combine, revise and formulate ideas and hypotheses.
Evaluation: you will be asked to judge material: it is consistent and logically accurate? You will need to be critical, justify connections and make good conclusions.
How is the CMA Exam Graded?
The CMA exam is scored on a scale of 0-500. Each part is graded that way, with multiple-choice questions being worth 75% and essays worth 25% of the total score. Multiple-choice questions are graded equally and not weighted, so there is no penalty if you get an answer wrong. That's an important test tip: answer them all!
For essay questions, you can get partial credit if you show your work. Every step toward a correct answer can contribute to a higher score.
The minimum passing score on the CMA exam is 360 out of 500, which is 70%. This is a scaled standard. CMA exam candidates will get a performance report a couple of weeks after exam results. This can be immensely helpful if you need to retake.
How to Pass the CMA Exam
Let these exam passing rates encourage you to study even harder and reignite your commitment to becoming part of the elite group of CMAs. Set a study schedule and commit to passing both exams on your first try. I'm here to guide you through your exam preparations.
If you haven't signed up for our community, please do so using the sign-up box below. You'll receive my FREE CMA Cheat Sheet, with all of the inside info you need to pass the CMA exam. Don't hesitate to ask me questions using the comments section below this post.