As you know, to become certified you need to fulfill specific CMA experience requirements and education requirements.
In this article, we'll review the CMA experience requirements only.
As a candidate, you are required to have two continuous years of professional experience in management accounting or financial management.
Unfortunately, the CMA experience requirements can be quite confusing for many, particularly for those who aren't sure if their current job is considered eligible.
If you are unsure about the eligibility of your current position, here are a few ways to determine whether or not you fit the CMA experience requirement.
3 Tips to Determine if You Meet the CMA Experience Requirements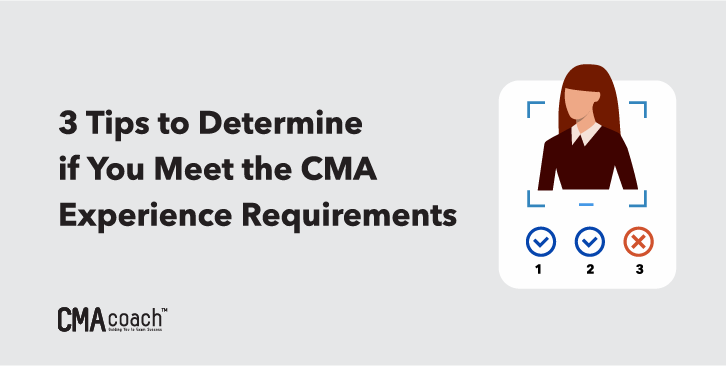 If you want to become a CMA then here are a few factors to consider if you are questioning the eligibility of your current work experience.
1. Is Your Work Experience Relevant?
Firstly, it may be helpful to review what the actual CMA Candidate Handbook deems to be appropriate work experience. The handbook states:
Qualifying experience consists of positions requiring judgments regularly made, employing the principles of management accounting and financial management.
Such employment includes:
Preparation of financial statements
Financial planning and analysis
Monthly, quarterly and year end close
Auditing (external or internal)
Budget preparation and reporting
Manage general ledger and balance sheets
Forecasting
Company investment decision making
Costing analysis
Risk evaluation
Chances are you're reading that and still thinking the definition is pretty broad. Well, that's because it is.
The truth is, as long as your work is in the capacity of an internal or external audit or financial analysis within a corporation, handling financial statements and how they affect the company, or analyzing and reporting on financial investments for a company, then your work can be considered eligible.
2. Does Your Experience Include Analysis?
A critical aspect of consideration for CMA experience is whether or not you are analyzing data.
If you are simply inputting data or preparing journal entries, but not actually analyzing or considering any of the data, then your experience will likely not be considered.
Additionally, if you are not in any sort of accounting or financial field, but rather in an area like HR, marketing or sales, then this will not be considered eligible either.
3. Are You a Permanent Employee?
Though internships and trainee programs are a great way to gain valuable experience, they are not considered the same as being a permanent hire in the eyes of the IMA.
You must be considered a permanent employee for two consecutive years for your experience to count.
There is one caveat here though – your two years can be made up of part-time work as long as you clock a minimum of 20 hours per week for 4 consecutive years. Two years of part time work is considered the equivalent of one year full time.
Some of you may be thinking to yourself, "But Nathan, I have a decade of financial experience running my own business" for example.
Well good news, the IMA does take special cases into consideration. In these cases you must submit a proposal containing your job description showing how your experience qualifies.
Just a reminder that your CMA experience requirements can be fulfilled prior to sitting for the CMA exam or within 7 years of completing the exam.
If you have any more questions regarding your work experience, I would encourage you to reach out to the IMA. They have a CMA Experience Requirement Form on their official website and you can email it to them at ima[@]imanet.org.
Until next time,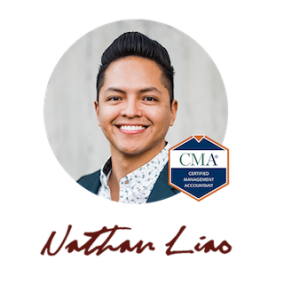 P.S. Did you know that my highly successful online CMA prep course is now open for enrollment?
Click here to learn more about how I can coach you until you become a CMA.