To become a Certified Management Accountant, you will take the CMA exam. This is a rigorous test that requires a lot of prep. Once you put in all the time and effort of preparing for the test, you await your results based on published CMA exam dates. Truth be told, sometimes the waiting is the hardest part.
The CMA exam is a complex test. CMA exam dates relate to when your CMA exam score will be released. Keep in mind as you wait that, while the multiple-choice questions are machine-graded, essay parts of the CMA exam are manually graded.
Want to know when you will get your CMA score? Read on to learn about CMA exam release dates and what you should be doing while you wait.
CMA Exam Score Release Dates for 2020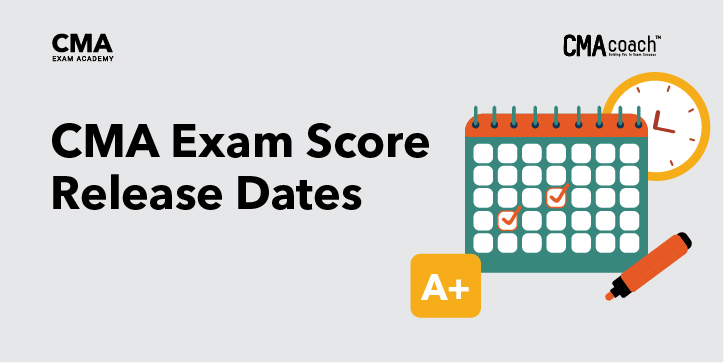 CMA exam release dates for 2020 relate to your testing month. Keep in mind that all CMA exam score dates are estimates. I'll add in the results that have dropped so far this year to help you wrap your mind around the typical timeline.
| Testing month | Predicted score release dates | Actual score release dates |
| --- | --- | --- |
| January 2020 | March 14 | March 14 |
| February 2020 | April 11 | April 13 |
| May 2020 | July 13 | July 9 |
| June 2020 | August 12 | August 11 |
| July 2020 | September 11 | September 14 |
| August 2020 | October 13 | Info not released yet |
| September 2020 | November 12 | Info not released yet |
| October 2020 | December 14 | Info not released yet |
How long do I have to take the exam?
Once you've registered and paid the CMA exam entrance fee, you will have three years to take and complete both parts of the test. These are 36 critical months to check all your boxes to study and prepare for the CMA Exam.
How long does it take to get my CMA exam results?
As you can see, it typically takes over a month (around 42 days) to get your CMA score. The IMA explains that you will get your CMA exam score an estimated six weeks after the last day of your test month.
How will I get my exam results?
When you register for the CMA exam, you will set up an account with the Institutes of Management Accountants. This online profile is where you will login to get your digital CMA exam results along with an email sent to your inbox the day results are published. They will also come a couple of weeks later in paper form via USPS.
Am I responsible for any other CMA requirements?
Additional CMA requirements—beyond taking and passing the CMA exam—are experience-related. You will need to complete all CMA certification requirements and you have seven years to do it.
CMA Exam Results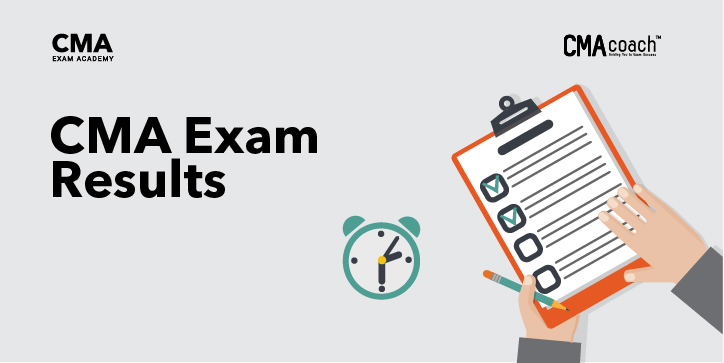 When you log in to your IMA profile to find your CMA exam results, here's what you need to remember:
75% of your score comes from the multiple-choice questions
25% of your score comes from the written essay
If you made it to the essay section, you know that you scored at least 50% on the multiple-choice questions.
Technically, you could score anywhere from 0 to 500 on the CMA exam. A minimum passing score is 360.
Want to learn more about the two parts of the CMA exam?
Click here to learn about the CMA part 1: Financial Reporting, Performance, and Analytics.
Click here to learn about the CMA part 2: Strategic Financial Management.
CMA Performance Report
In addition to getting your CMA exam scores a few weeks after your test, you will get a performance report. This comes earlier, even as soon as a couple of weeks after you take the CMA exam. The CMA exam performance report will come if you didn't pass the exam. Your performance will be ranked as satisfactory, marginal, or unsatisfactory. This can help you prepare to try again.
CMA Exam Dates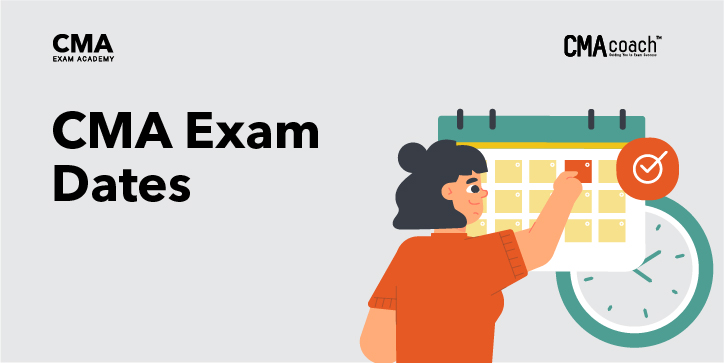 When you get your CMA exam score depends on when you take your test. If you have a tight timeline or just want to get your ducks in a row, be sure that you know when you are scheduling your CMA exam. CMA exam dates are available in three windows.
January through February
CMA exam dates in this window in 2020 were January 1, 2020-February 28, 2020
May through June
CMA exam dates in this window in 2020 were May 1, 2020-July 31, 2020
September through October
CMA exam dates in this window in 2020 are August 1, 2020-October 31, 2020
To schedule your CMA exam in one of these windows, you need to pay your fee and secure a spot.
Special Note: COVID-19 and the CMA exam score release dates
Because of the COVID-19 pandemic, CMA testing had some disruptions in 2020. As of this writing, most Prometric centers reopened with some health and safety protocol. If you have any questions about a scheduled CMA exam, you can get updates on Prometric's COVID-19 updates page.
For more insight into how the pandemic is impacting the CMA, read about how to formulate your COVID-19 action plan.
Waiting For CMA Exam Results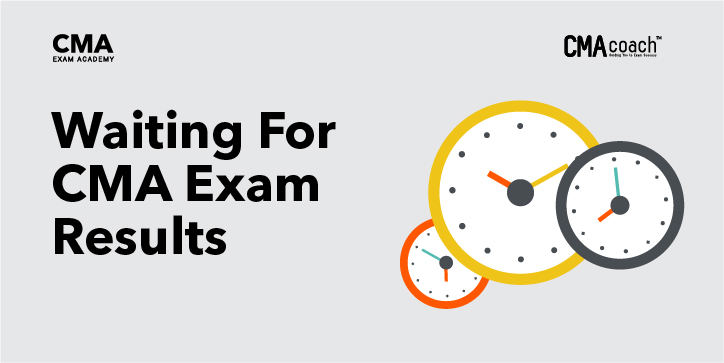 If you just finished one part of the CMA exam, you're ready to start studying for the second part. Even while you wait for your score, you can dive back into test prep and make sure you're ready to dominate the second part.
If you've just finished both parts of the CMA exam, it's time to relax. You read that right. There aren't additional steps you can take to move your CMA certification along until you know whether you have passed the CMA exam or not. If you committed yourself to study for the CMA exam, now is the time to take a break. Life will go on and the CMA exam results are out of your hands.
CMA Exam: Best Time to Study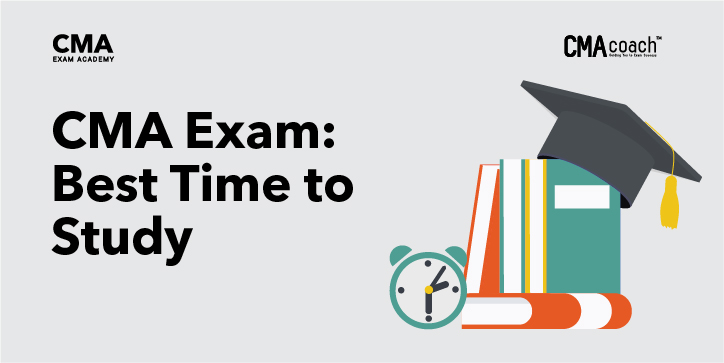 As you prepare for the CMA exam, you'll want to align with best practices for a CMA study schedule. This may include buying an instructor-led CMA course or going the self-study route. There are pros and cons to each. It's most important that you give yourself the right amount of time to prepare for the CMA exam. I recommend that you start a review course program and then book your CMA exam when you are about halfway through. This could optimize test readiness and ensure that you have enough time to access an available testing window and study hard.
If you come up to your CMA exam testing window too soon and realize you need more time, you can reschedule in the same testing window for a fee.
Start Your Exam Prep Today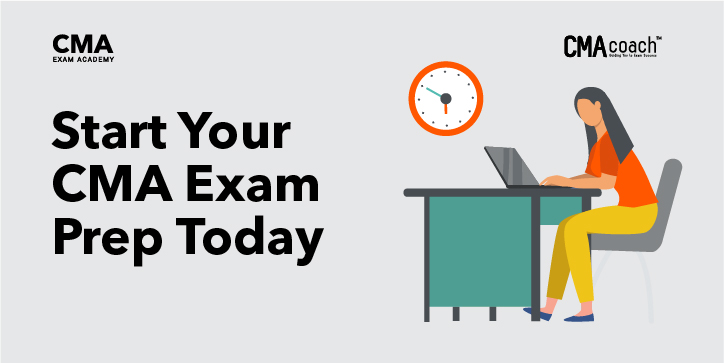 Your journey to becoming a CMA starts with dedicated test preparation. You have a lot of great online options to support your journey. Various platforms are optimized for different learning styles and have unique tools. You will want to buy a course that has the right mix of resources that appeal to you as a learner, fit your timeline and work within your budget.
Read here about the five best CMA review courses.
Thank you,