For the last several years, the Institute of Management Accountants (IMA) has conducted salary surveys. This is a great way to observe patterns and gain a realistic understanding of how much you can earn as a CMA, or member of the IMA. Because I equip Certified Management Accountants to pass the CMA and score high-earning jobs, the focus of this update will have to do with earning numbers for CMAs.
Each IMA salary survey examines several factors including compensation in relation to qualification, management-level responsibility, age, and gender pay differences, as well as many other salary trends and employment-related factors. They even take into consideration how global and national politics could be affecting the CMA salary data.
To become a CMA, you must be a member of the IMA. Only about 60% of IMA members are CMAs, so the IMA's 2021 Global Salary Survey has to be interpreted a little to pull out CMA-specific info.
Here are the basic details:
The 2021 survey numbers come from an October 2020 survey.
The IMA received 3,313 responses, all of which indicated full-time employment or self-employment.
The total number of filtered participants in this year's survey was 3,085.
79 different countries were represented.
A majority of participants were from the U.S. (39.2%) or China (29.5%).
44% of participants identified as female, 55% identified as male, and 1% preferred not to disclose.
97% of participants have a bachelor's degree, with 41% having a master's or doctorate degree.
62% of respondents have a CMA certification (66% of U.S. respondents), a number that increased from 53% the previous year.
Notably, 81% of respondents who do not currently have a CMA certification intend to pursue one in the future.
Obviously, a lot changes every year, so let's dive into some of the biggest highlights from the 2022 global CMA salary survey.
CMA Salary and Compensation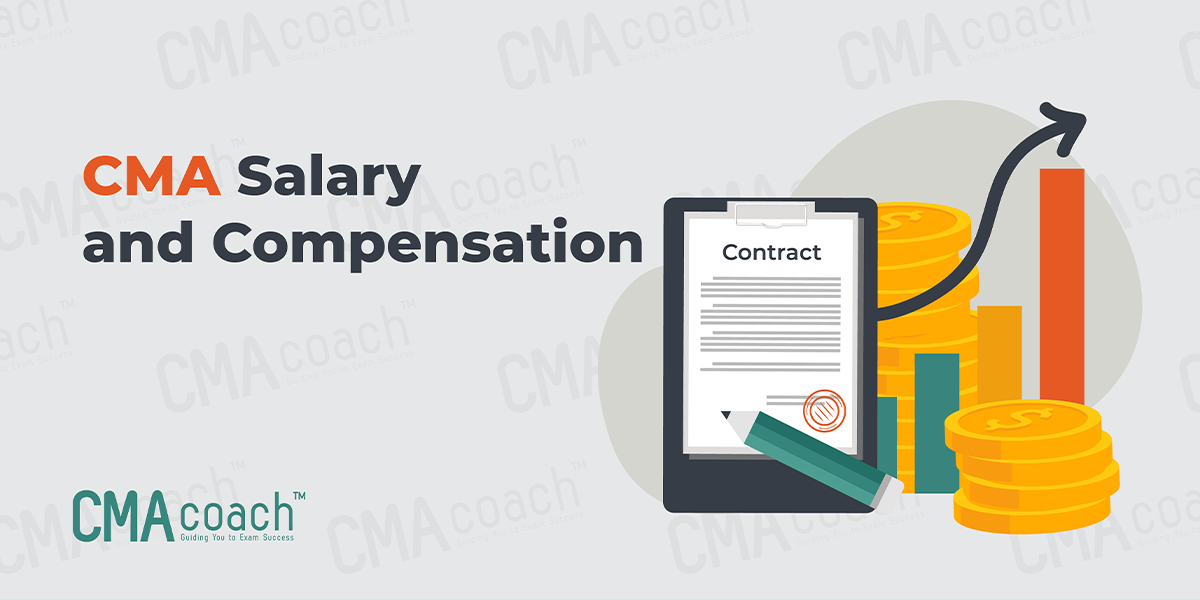 In the first-ever survey, in 2015, global mean and median base salaries for IMA members were $65,868 and $49,410 respectively. Now, global mean and median salaries for IMA members are $72,430 and $60,000.
These numbers vary significantly depending on where you live.
Salary and Compensation by Region
The location impact on IMA member salaries is evident:
Annual Base Salary
Annual Total Compensation
REGION
MEAN (USD)
MEDIAN (USD)
MEAN (USD)
MEDIAN (USD)
Americas
$115,707
$103,000
$138,993
$115,000
Asia/Pacific
$33,492
$22,000
$41,369
$29,500
Europe
$92,443
$75,000
$104,678
$81,700
Middle East/Africa/India
$36,958
$25,000
$43,189
$27,000
All Countries
$72,430
$60,000
$86,924
$67,500
COVID-19 Impact on Compensation for IMA Members
As with virtually any sector, COVID-19 has impacted the compensation of financial professionals. When asked, here is how respondents reported on the impact of COVID-19 on their compensation or upskilling:
| REGION | REPORTED COMPENSATION DECREASE | REPORTED LIMITED ABILITY TO WORK ON IMPROVING JOB-RELATED SKILLS |
| --- | --- | --- |
| Americas | 30% | 69% |
| Asia/Pacific | 36% | 91% |
| Europe | 33% | 77% |
| Middle East/Africa/India | 54% | 84% |
Professionals who hold a CMA reported a slightly less likely rate of compensation decrease (35%) compared to non-CMAs (38%). Respondents who reported having a job that impacts a company's strategic direction, who already have a competitive compensation package, and who love their job were better off financially during the pandemic than those without that level of skills or influence. In related facts, 79% of all respondents say they worked on job-related skills during the COVID-19 pandemic.
The Influence of the CMA Designation: CMA vs Non-CMA Compensation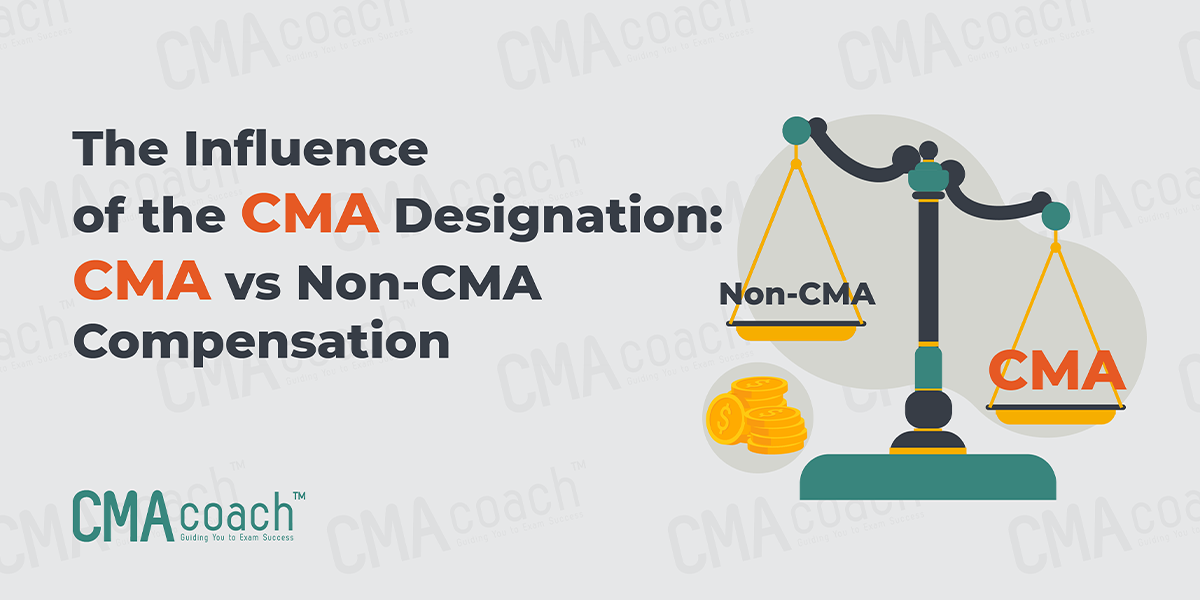 Here's the good stuff (and what you probably want to know if you haven't already signed up to take the CMA exam) — will earning your CMA designation actually affect your salary?
The answer is yes. Significantly.
Median Salary and Total Compensation by Region, CMA vs non-CMA
Here is an overview, by region, of the median salary and total compensation of CMAs vs non-CMAs.
CMA
Non-CMA
CMAs as a % of non-CMAs
Region
Base Salary (USD)
Total Compensation (USD)
Base Salary (USD)
Total Compensation (USD)
Base Salary (USD)
Total Compensation (USD)
Americas
$11,000
$124,000
$90,000
$99,000
122%
125%
Asia/Pacific
$24,902
$31,000
$20,000
$23,000
130%
135%
Europe
*insufficient survey data
Middle East/Africa/India
$31,600
$36,000
$18,000
$20,000
176%
180%
All Countries
$70,000
$79,000
$45,000
$50,000
156%
158%
The overall difference in compensation between CMAs and non-CMAs is $29,000. On average, someone with a CMA earns 58% more than someone without a CMA. Anecdotally, survey respondents report that it is easier to find a job and negotiate a higher salary with a CMA. CMAs bring a lot of value to the companies they work for, making them highly paid, essential members of a team.
CMA vs CPA Salary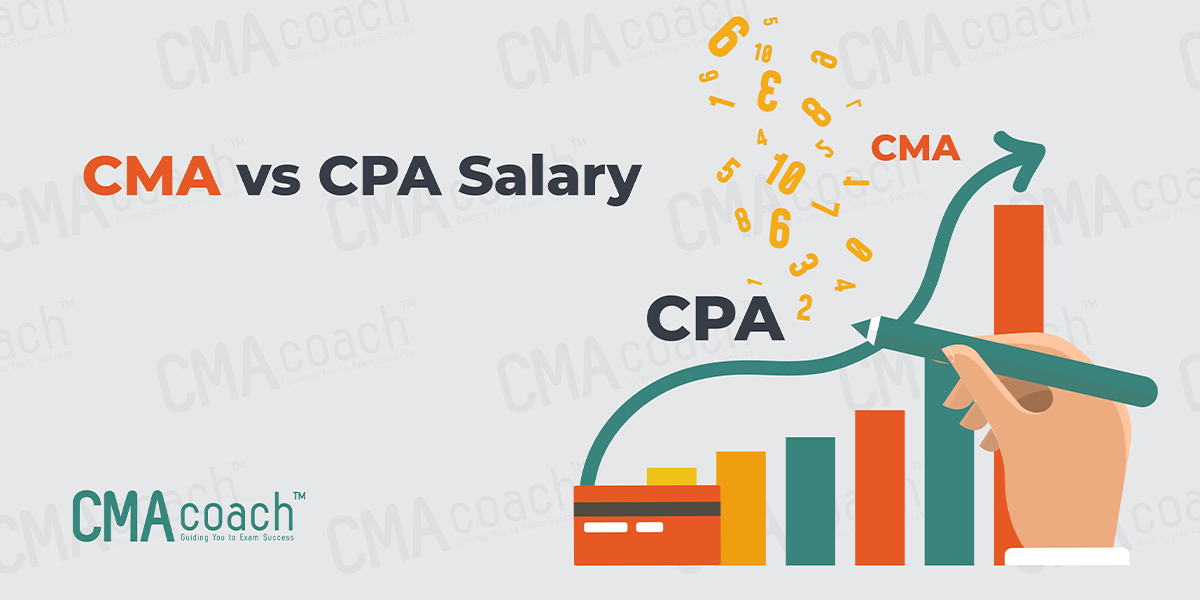 One area a lot of people assess when choosing an accounting credential is whether to become a CMA or CPA. Here's how the money stacks up:
People with only a CMA earn 59% higher median total compensation than people without a CMA or CPA.
People with only a CPA earn 106% higher median total compensation than people who have neither credential.
People with both a CMA and a CPA earn 149% higher median total compensation than people who have neither credential.
It's clear that people with these credentials stand to earn more money, especially those who are early in their careers:
Respondents between the ages of 20 and 29 who have both a CMA and a CPA earn 218% higher median total compensation than people without either. You would need a ton of ambition to earn a CMA and CPA around the same time you're getting academic degrees, but if you do it, the payoff can be good.
CMA Salary Depending on Management Level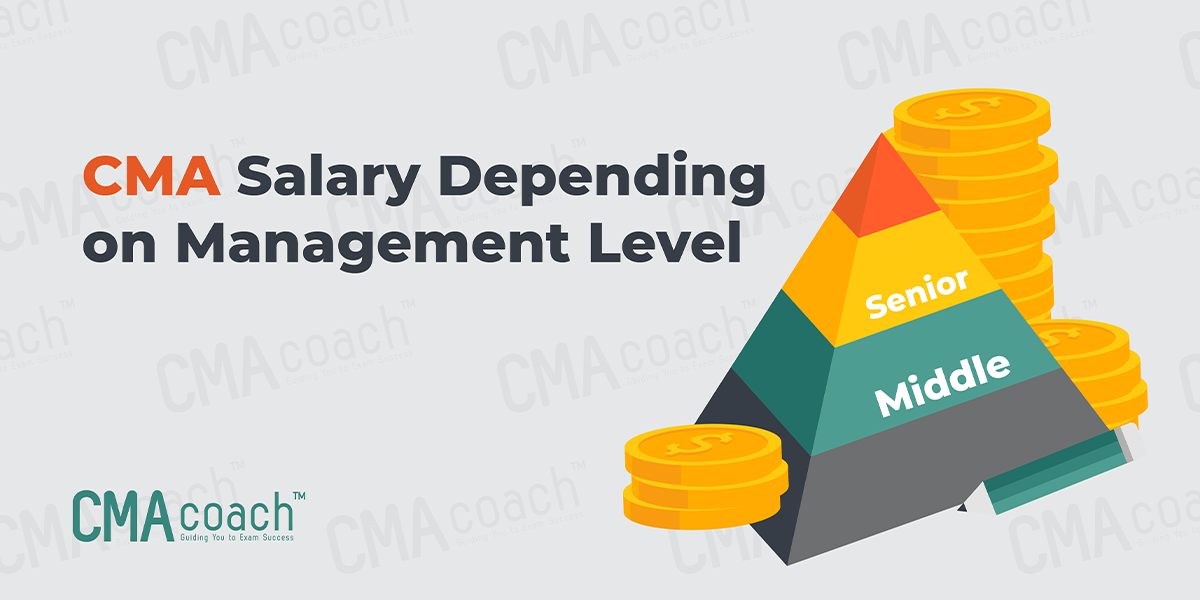 Statistics show that CMAs are often older than non-CMAs. This is in large part because they are required to earn a Bachelor's degree, earn years of work experience and, of course, pass the CMA exam.
CMA candidates also tend to have more experience in the field and are already in higher management level positions while they work towards their CMA certification.
That being said, even entry-level CMAs stand to earn a lot more than non-CMAs.
Median Salary and Total Compensation by Management Level, CMA vs Non-CMA
The median total compensation increases by management level, except in Europe and Asia/Pacific. In North America and South America, the following is reported:
People in middle management earn 43% more than people in lower management
People in senior management earn 26% more than people in middle management
People in top management earn 23% more than people in senior management
At least in the U.S., it is well worth climbing the ladder, as you are almost guaranteed to make more the higher up you are in a company.
Additional Compensation and Bonuses
It's worth mentioning that accounting and finance are fields in which additional compensation and bonuses can significantly increase your earning potential. In this survey, 72% of people who responded report earning additional compensation that includes profit sharing (12%), bonuses (62%), and overtime pay (9%). The Americas had the highest median rates of additional compensation, at $12,000.
CMA Survey Results: Hours Worked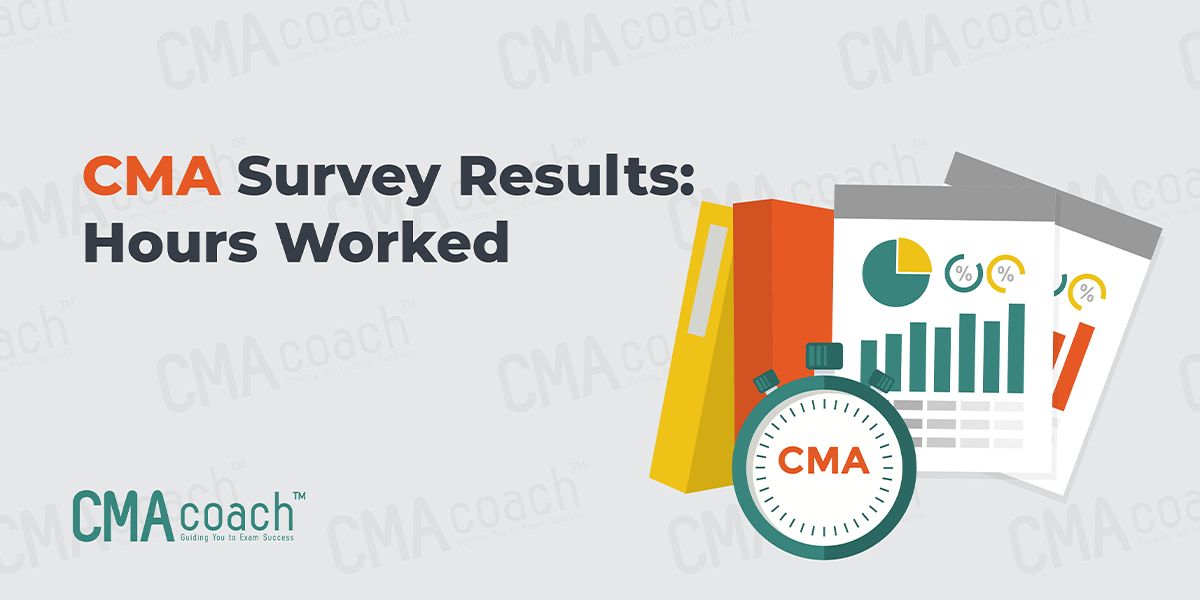 Recent news about working conditions in accounting and finance has put many hopefuls on high alert. How many hours will you work as a CMA? This varies widely and completely depends on the kind of job you work for and who you work for. One of the best things about becoming a CMA is that you do have a lot of flexibility. That said, it can be helpful to see how many hours CMAs work, on average, in countries around the world. Here is the data from the survey:
Mean Hours Worked

in 2020

Mean Hours Worked

in 2019

All countries
45
43.4
Globally (excluding the United States)
44.1
42.3
Americas
46.1
45.9
Asia/Pacific
43.7
41.7
Europe
44.3
44
Middle East/Africa/India
44.9
43.8
The Benefits of Becoming a CMA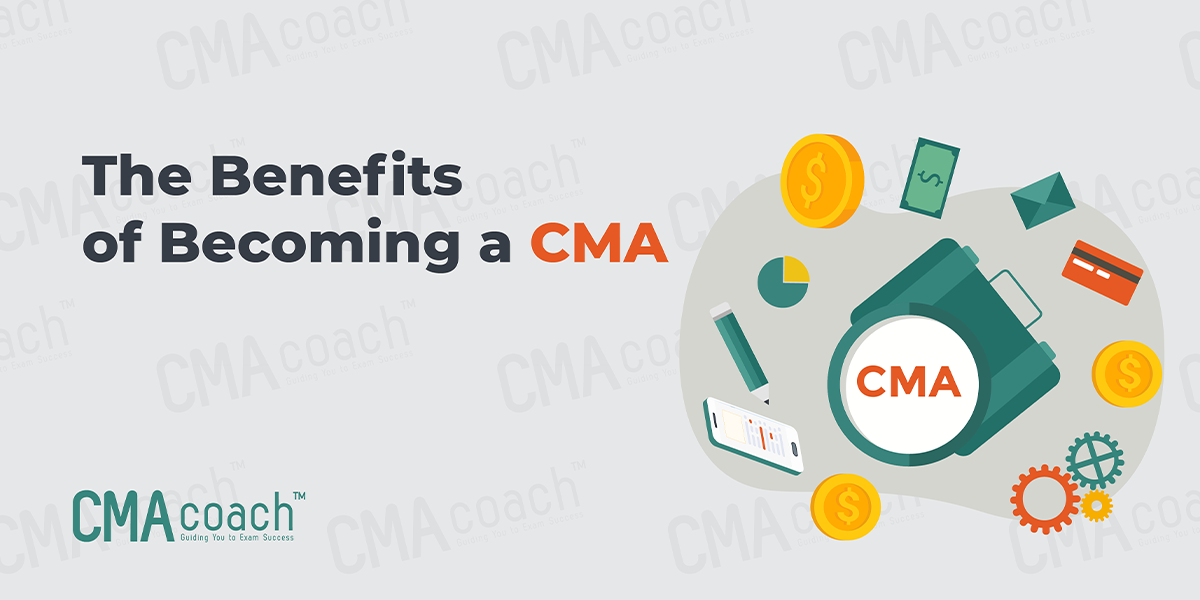 The IMA survey asked respondents about five key benefits common to people who hold CMA certifications. More than 50% responded in the affirmative, that the CMA affords them the following benefits and opportunities:
The CMA creates career opportunities for me
The CMA has a positive impact on my salary
The CMA strengthens my ability to move across all areas of business
The CMA gives me more confidence to perform my job at a higher level
I would recommend the CMA to a friend
The only outlier is that only about 40% of respondents in Europe agreed that the CMA has a positive impact on their salary, but if you remember, that is the region with the least amount of respondents and survey data.
90% of respondents in the IMA 2022 salary survey say they would recommend CMA certification to a friend. That's an outstanding endorsement and one with which I would completely agree.
Now I want to know, does this survey influence your decision to earn your CMA designation? If so, what aspects, in particular, jumped out at you? Share in the comment section below.
Don't hesitate to reach out if you are interested in learning how to add the CMA to your resume as well. I would be happy to coach you on your journey towards a fulfilling and profitable CMA career.
Sincerely,