This year marks the fifth annual CMA Salary Survey. The IMA conducts a survey across its global membership and compiles all the results.
Each survey examines several factors including compensation in relation to qualification, management level responsibility, age and gender pay differences, as well as many other salary trends and employment related factors. They even take into consideration how global and national politics could be affecting the CMA salary data.
I must say, a lot has changed since I first shared the 2015 survey results. For starters, in 2015 only 11% of the survey responses were usable (approximately 2,570 usable responses). This year 5,208 responses were usable and came from 78 countries around the world. That is more than double the amount of usable responses.
Obviously a lot has changed in 4 years, so let's dive into some of the biggest highlights from the 2019 global cma salary survey.
CMA Salary and Compensation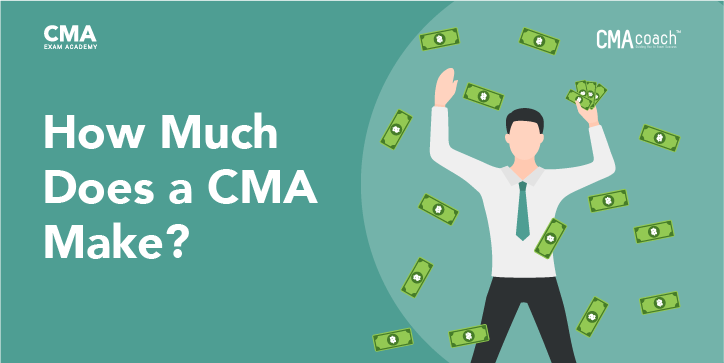 The global mean and median salary of CMAs has declined quite a bit since 2015, where they were $65,868 and $49,410 respectively. Now, the global mean and median salaries are $54,401 and $40,000.
Don't be too alarmed by this data though. Author Shannon Charles attributes these figures to the increased number of responders aged 20-29, and of course to the number of non-USA respondents. Traditionally speaking, CMAs located in the USA make significantly more than those around the globe.
For a full look at how your location affects a CMA salary, have a look at the table below:

As you can see from the table above, the Americas still have the highest mean total compensation ($118,439) among the regions, and the Middle East/Africa region continue to experience the lowest median total compensation not too far ahead of them.
CMAs in Europe make the next highest Certified Management Accountant salary with an average total compensation of $77,713.
Gender Gap Variations
In the past several surveys we have seen a rather large pay gap between genders, especially in Asian and Middle East/Africa, which greatly impacts their numbers.
What's interesting about the 2019 report is that while there is still some gender pay disparity, we are seeing that gap closing.
In fact, women between the ages 20 to 29 and 30 to 39 in the Middle East/Africa region, actually, have a slightly higher median total compensation than their male peers.
You can see the full global gender pay gap broken down in the chart below:

The Influence of the CMA Designation: CMA vs Non-CMA Compensation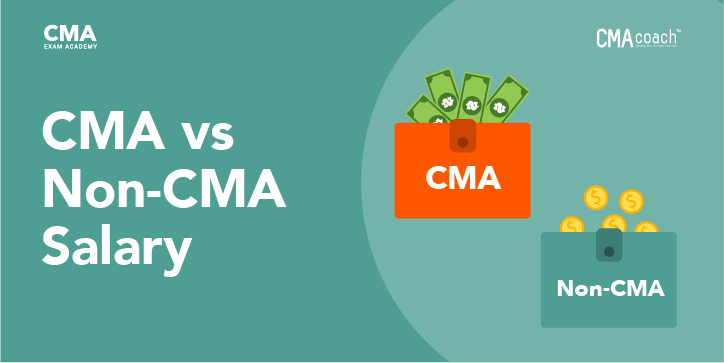 Here's the good stuff (and what you probably want to know if you haven't already signed up to take the CMA exam) — will earning your CMA designation actually affect your salary?
The answer is yes. Significantly.
Today CMAs earn 117% more in median salary and 118% more in median total compensation than their non-certified accounting peers.
This is a massive increase and further proves the importance of earning your CMA certification.

CMA vs CPA Salary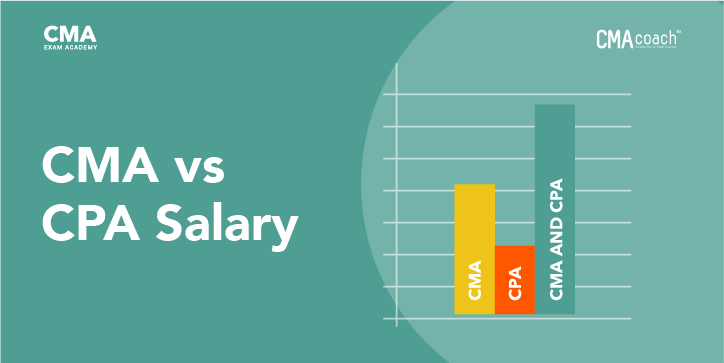 A lot of people ask me if earning your CMA designation is better than getting your CPA. I also hear a lot from CPAs wondering if it is worth adding the CMA to their resume as well and the answer is 'Yes!'
To begin, CMAs earn 31% more in median total compensation, while individuals with just their CPA earn 22% higher median total compensation than their non-certified peers.
Having both designations has even bigger perks. People with both the CMA and CPA designations earn 50% higher median total compensation. That's a lot of extra money!
Obviously I am a big fan of the CMA, but it turns out so are a lot of other CMAs. In fact, 78% of respondents across all regions have found that earning the Certified Management Accountant certification has allowed them to move across all areas of business.
Additionally, 72% believe that having their CMA has strengthened their job security, and 76% of all respondents believe that it has provided them with career opportunities not otherwise available to them.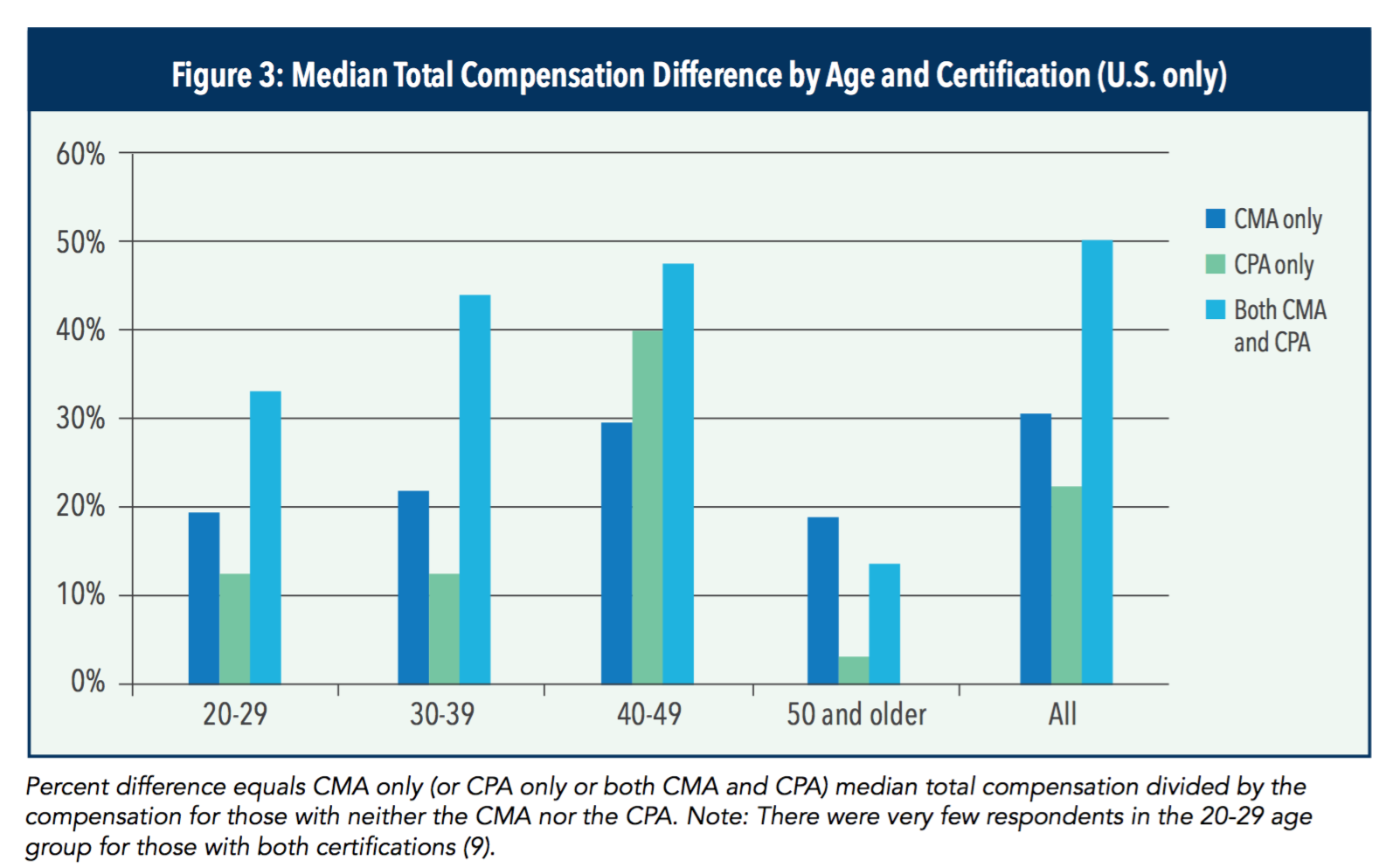 CMA Salary Depending on Management Level
Statistics show that CMAs are often older than non-CMAs. This is in large part because they are required to earn a Bachelor's degree, earn years of work experience and, of course, pass the CMA exam.
CMA candidates also tend to have more experience in the field and are already in higher management level positions while they work towards their CMA certification.
The good news is, you don't have to have decades of accounting experience to earn more than your non-certified peers. According to the 2019 salary survey, entry level CMAs still earn much more than entry level non-CMA employees. The median total compensation for an entry level CMA is $50,000 while a non CMA's salary is only $20,570.
Similarly, if you consider the pay variance between Senior level management of CMAs versus Non-CMAs it is quite drastic as well. As you can see in the chart below, senior management CMAs earn $90,000 in total compensation annually, while non-CMAs earn just over half of that with $47,000.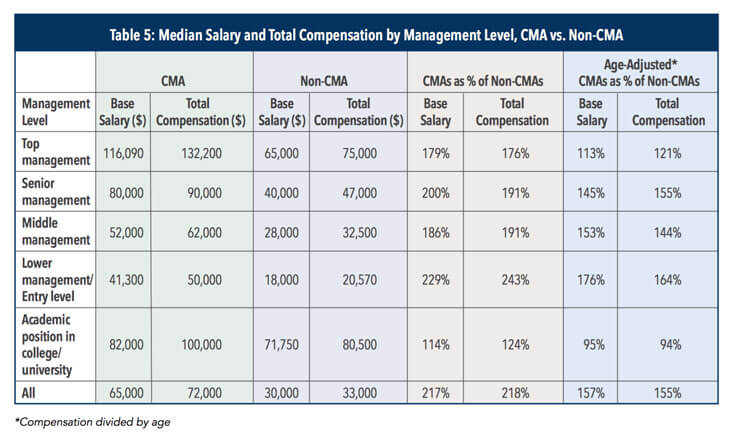 For a full read of the 2019 Global Salary Survey, click here.
Now I want to know, does this survey influence your decision to earn your CMA designation? If so, what aspects in particular jumped out at you? Share in the comment section below.
Don't hesitate to reach out if you are interested in learning how to add the CMA to your resume as well. I would be happy to coach you on your journey towards a fulfilling and profitable career.
Until next time,