Each year the IMA conducts a salary survey and compiles the results. The survey is a collaboration of its global members' data and examines several factors including compensation in relation to qualification, management level responsibility, gender pay differences, as well as many other salary trends and employment related factors.
These high level results give CMAs around the globe the opportunity to assess the value of education and certification, and how this can affect their future compensation.
If you've never checked out one of their survey's before, this is how it works. Throughout October and November 2015, 23,373 survey invitations were sent to IMA members all over the world. There was an 11% usable response rate, of which all the members were considered full time or self employed and over 20 years old.
Here are a few of the biggest highlights we found in the 2015 salary survey:
CMA Salaries and Compensation
In terms of global salaries, overall they are much lower than previous years. This may be attributed to the fact that more global members respondent, whereas previous years were more U.S.-centric.
The global mean and median salaries are $65,868 and $49,410 respectively. These numbers are influenced by the significantly lower salaries earned by Middle East and North Africa regions. Other salaries were relatively stable in comparison.
America and Europe boast the largest salaries, while Egypt remains being the lowest compensated members across the globe.
For a more in depth look at salary by region, have a look at the following table.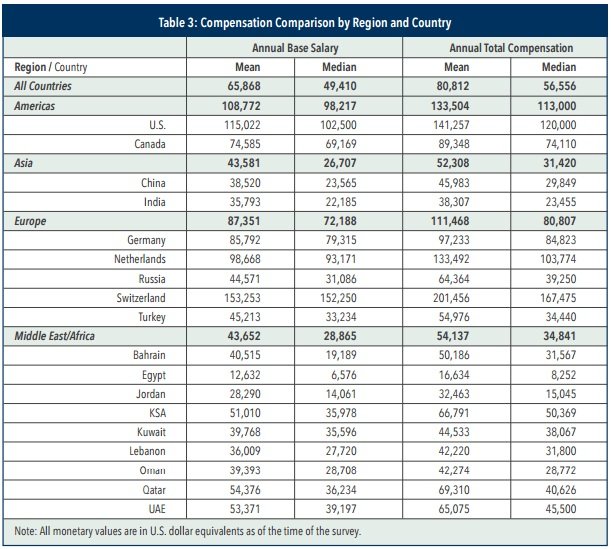 (Source: IMAnet.org)
Gender Gap Variations
The pay gap between males and females has been a hot topic in the last few years, and though compensation levels in this respect have not changed much, there has been a slight narrowing this past year. The biggest gap closure is for women within the 20-29 year old range. The median compensation value is 98% of their male counterparts.
The lowest compensation level is for women aged 40-49 years with a mean and median salary of only 74% and 83% of their male counterparts. Of course, these numbers are influenced by regional aspects, with women in Europe, the Middle East and Africa earning significantly less.
The Influence of the CMA Designation
Here's the good stuff (and what you probably want to know if you haven't already signed up to take the CMA exam) — will earning your CMA designation actually affect your salary?
The answer is yes. Significantly.
Around the world, CMAs earn approximately 61% more than their non-CMA peers. This just goes to show you how much employers value the knowledge and skills required by CMAs in the workforce.
Several respondents noted that they received more salary compensation after earning their designation. One in particular, got a 33% raise simply by earning his CMA certificate.
Eighty percent of those who participated in the survey found that having their CMA designation led to greater opportunities and impacted their career more positively. In fact, 78% stated that earning their designation was so they could advance their careers. As we can see from the earning potential, this is a good move.
Education and Compensation
One of the CMA exam pre-requisites is obtaining a 3 year bachelor's degree (at minimum) from an accredited school. Some CMAs chose to continue their education and earn an advanced degree.  In this case, CMAs with an advanced degree earned higher median salaries than those only holding a bachelor's degree.
The median base salary for a CMA with only a bachelor's degree is $50,635, while a CMA with an advanced education earns a median base salary of $78,550.
This difference is especially apparent when you consider education and compensation in the Middle East, Africa and Asia. The earning potential for CMAs with an advanced education ranges between 59-68% more compensation based on this factor alone.
Other Variables
Perhaps one of the most interesting finds during this years survey comes from the actual respondent information. For the first time ever, the number of Chinese respondents exceeded that of U.S. respondents. This just goes to show how much the global reach of the IMA has grown.
The 2015 salary survey polled many other factors including compensation for responsibility, job satisfaction, work-life balance, hours worked and desire to change jobs. The willingness of IMA members in sharing their personal data for this survey has given future CMAs a look at the true opportunities available to them should they choose to become a CMA.
For a full read of the 2015 Global Salary Survey, click here.
Now I want to know, does this survey influence your decision to earn your CMA designation? If so, what aspects in particular jumped out at you? Share in the comment section below.  
Until next time,