Is it possible to get accounting certifications without a college degree in accounting, or will you have to go back to school?
You can, in fact, become an accountant without an accounting degree. If your bachelor's degree is in something other than accounting, having at least two years of work experience can qualify you to take the CMA exam. If you don't have any bachelor's degree, there are accounting certifications you can get instead that will qualify you.
So, if you are a detail-oriented numbers person, and think a career in accounting might be perfect for you, there are several paths to success. If the only problem is you don't have an accounting degree, don't let that hold you back from exploring CMA Accounting and making a career move.
Let's break down some of the ways you can become an accountant without a degree.
Originally published July 6, 2016, this article was updated and republished on Dec. 16, 2020.
Become a Management Accountant
If you have a college degree in a field other than accounting, or you are in the process of getting one, pursuing a CMA certification may be a good choice.
It's a certification issued by the IMA that opens a lot of doors in business and finance. CMA careers include high-level accounting positions and executive roles like CFO. The typical salary for a CMA is considerably higher than without these credentials.
The CMA education requirements allow candidates with any 3 or 4-year bachelor's degree, but the degree can be completed any time within 7 years of passing the qualifying CMA exam. Whether you studied business, psychology, or anything else, as long as you graduated from an accredited institution, you are eligible.
Obviously, the CMA study material will be easier to master for someone with a finance and accounting background, but if you prepare for the exam properly, you too can pass.
Better yet, taking the CMA exam fast tracks your career because you learn the skills and knowledge that once was only acquired from years of working experience.
Now, instead of spending 3, 5, even 10 years of working to learn the ropes of the industry, you can jump ahead by devouring the CMA exam curriculum. As a result, the CMA work experience requirement is only 2 years in a relevant full-time position. You have seven years after passing the CMA exam to meet this requirement.
If you are looking for an accounting job, a CMA certification is a great way to get your foot in the door with high-paying, high-profile jobs at any firm or business. The CMA certification requirements are accommodating, so the only real limitation is yourself.
Can You Get Certified as an Accountant If You Don't Have a Bachelor's Degree of Any Kind?
You'd be surprised how common this is, but more good news — there are exemptions.
If you want to become a CMA without a degree, some alternative accounting certifications, listed here, are recognized by the IMA as an equivalent.
The first exemption is available for candidates who are fully qualified ACCA members. The Association of Chartered Certified Accountants is an international accountancy qualification that is recognized across the world.
There is a substantial difference between CMA and ACCA certifications. However, the IMA and ACCA have a mutual agreement allowing fully qualified ACCA members to qualify for the exam regardless of whether or not they hold a bachelor's degree.
To become ACCA qualified you must complete and pass 14 papers in total. There are several papers that offer exemptions based on past educational experience. You can learn more about the ACCA and how to become qualified at ACCAGlobal.com.
The second exemption is stated in the CMA Handbook. Candidates who do not hold a bachelor's degree can plead their case to the IMA and explain why past educational or work experience, and any other credentials they may have, qualify them. For details on the education qualifications or alternatives, see the CMA Handbook from the IMA.
If accepted, the IMA will allow you to take the CMA exam without holding a bachelor's degree.
Showcase Your Related Skills
How else can you become an accountant without an accounting degree? On top of earning credentials like the CMA, you will want to highlight any related skills.
Any experience you have with finance or accounting based software, examples of bookkeeping or detail-oriented work, and so on can be valuable when applying to accountant positions.
If you have attended any seminars or conferences that were accounting-related, you will also want to mention these on your resume. This sort of experience can really appeal to potential employers.
Accounting Certifications Without a College Degree
There are numerous accounting certifications or qualifications that can be pursued before you have a college degree. Most of them require you to get a degree at some point, but you can take a qualifying exam and move toward certification before your studies are complete.
All of this gives you time to make strategic decisions and shift into an accounting field before or even without an accounting degree. Here are some examples of accounting certifications you can test for before you have completed your degree:
CMA: Certified Management Accounting. You can sit for the CMA exam before you have a four-year degree, although the CMA education requirements will require you to get a degree.
EA: Enrolled Agents. You can take the EA exam without an accounting degree.
In recent years, some regulatory bodies have made allowances for substituting work experience for a degree. For example, you can become a Certified Internal Auditor (granted by the Institute of Internal Auditors) with seven years of verified experience to replace education requirements.
If your goal is to be a professional accountant, as a CPA or CMA, you can still work in an accounting office before you're finished. For instance, you may be able to work in collections, tax preparation, or bookkeeping at an accounting firm while you work toward a college degree in accounting or study for your exams.
Can you be an accountant without a degree?
You can't be a certified accountant like a CMA without a bachelor's degree. However, you may be able to work in the accounting field as an accounting clerk. You can also begin the CMA certification process before you complete a degree or even if you have a degree in a different field, by passing the exams and gaining the required work experience.
Accountant Jobs Without a Degree
When you want to work in accounting without a college degree, you have numerous options. Some of them include the listed options above, which are accounting firm jobs that don't require a professional certification or license.
Additionally, you may be able to work as an administrator at an accounting firm, accounts receivable or payable clerk, and other supportive roles.
These positions will enable you to learn more about the industry. If you're unsure which career path to pursue, CPA, CIA, or CMA, working while you decide will give you first-hand knowledge and connections.
Taking Your Career to the Next Level
Accounting and finance is a great industry to go into if you are looking for a stable career. Now, more than ever, is the best time to work towards an accounting certification like the CMA. Employers are in desperate need of the skills and knowledge CMAs possess, yet there is a lack of qualified people to fill these positions.
Although it's a difficult test, there's a low barrier of entry to register and take the CMA exam. You can start to earn your designation with the right study plan and CMA review course, whether or not you have completed the education and work experience.
Don't let your lack of an accounting degree hold you back from a promising career as a management accountant. For more information on how I can help you go from zero accounting background to becoming a Certified Management Accountant, visit CMA Exam Academy.
Thanks for reading!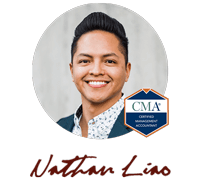 Hi, I'm Nathan Liao (aka the CMA Coach)! In the past 7 years, over 35,000 CMA candidates came knocking at my door seeking guidance. And just like them, I'm here to show you how you can pass the CMA exam on your first attempt without wasting money or time. Click here to learn more about me and the awesome team behind CMA Exam Academy.