Becoming an accountant is not typically hyped up as an exciting career path — but it's a more dynamic field than you might know. Many highly-paid and ambitious careers are built from a foundation in accounting.
That's because accountants are indispensable for any company.
Career paths if you become a CMA include corporate executive positions, managing assets, heading up an accounting department, or even consulting as a virtual CFO. And that's just one type of accounting specialty you can choose.
There are a few different paths you can take to become an accountant, depending on your interests and career goals. Read on to learn how to become an accountant, including what kind of education you need, how long it will take, and the kinds of jobs you can get.
Originally published in 2016, this article was updated and republished on March 3, 2021.
Steps to Becoming an Accountant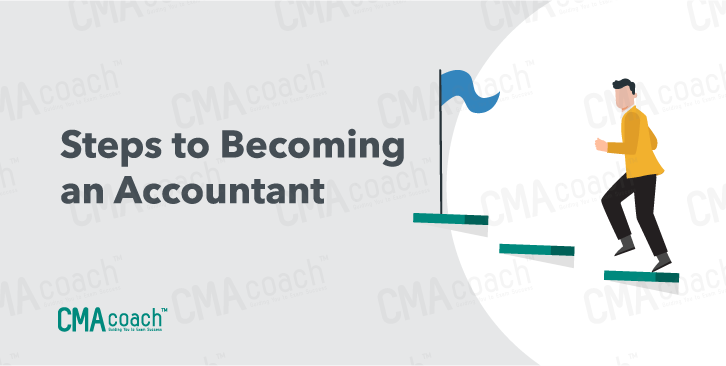 While there are some non-traditional alternatives, most people follow these steps to become an accountant.
Step 1: Sign up for accounting education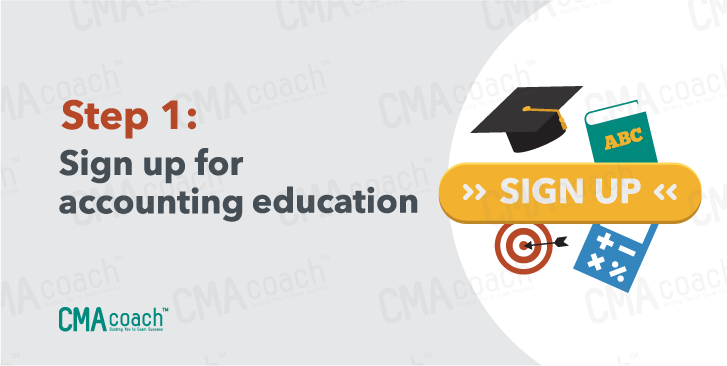 First and foremost, you need to get your academic ducks in a row. Accountants are highly trained professionals, and that training starts in college.
You may start out at any kind of school, even doing a diploma program or getting an associate's degree as a foundation. But you have a long-term plan that includes, at minimum, a bachelor's degree.
Most professional accounting certifications have educational requirements that include a bachelor's degree, and some specifically require an accounting or finance degree. CMA certification requirements are for any bachelor's degree from an accredited school, whereas CPA requires an accounting degree.
As you take this first step, know that there are several accounting program specializations for four-year or post-graduate degrees. You may wish to pursue:
Forensic accounting
Accounting information systems
Taxation accounting
MAcc, or masters in accounting
Anyone who wants to become an accountant needs to be analytical, good at math, organized, and detailed. You should also be comfortable with technology.
The accounting degree you decide on may be part and parcel of your broader career goals.
Step 2: Choose your career path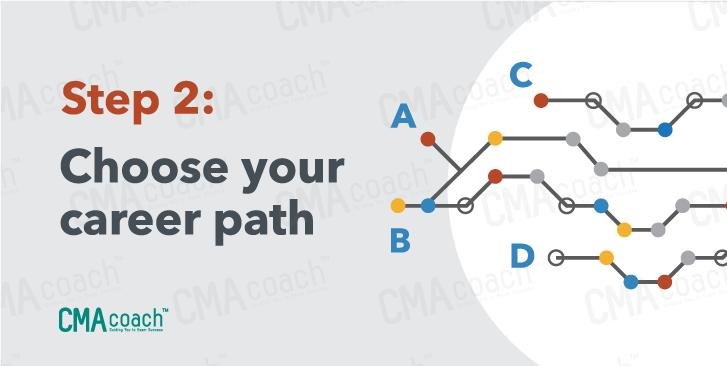 The goals you set should include a clear path toward your dream accounting job.
For instance, if you want to become a CFO, there are additional steps that will set you up for c-suite access. If you have a vision for accounting in a non-profit or government context, different connections and credentials may be required.
Knowing what your end goal is will help you reverse-engineer a strategy that gets you where you want to go.
Step 3: Find an internship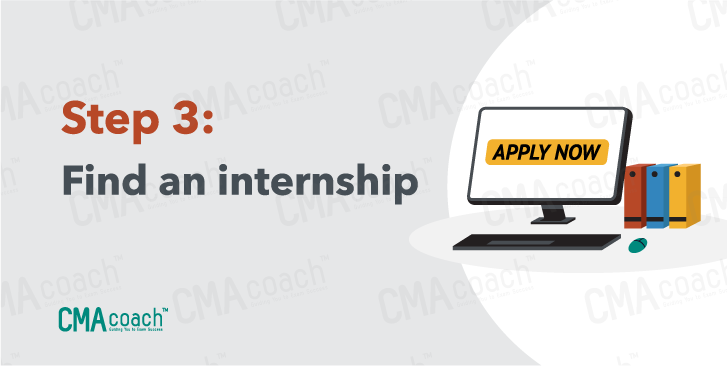 As you study to become an accountant, you don't have to put everything else on pause. A bachelor's degree is definitely a prerequisite to getting a job in accounting. But don't waste those four years.
Find an internship and start making high-quality, industry-related connections. The network you build during these years can be invaluable once you try to find a job as an accountant.
Step 4: Finish your bachelor's degree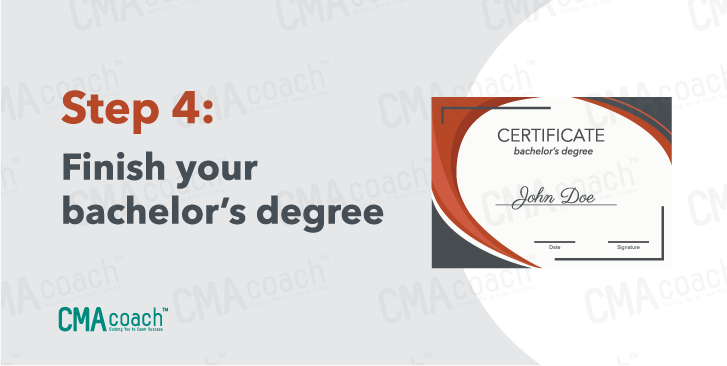 Pass all of your classes and finish your bachelor's degree in accounting. It should go without saying that better grades will serve you better. This isn't just from a resume or recommendation vantage point — you might need those marks if you apply for a more advanced degree later in your career.
Besides your educational goals, how well you learn (and can apply) accounting concepts sets you up for success as you start an accounting job.
Step 5: Find your first accounting job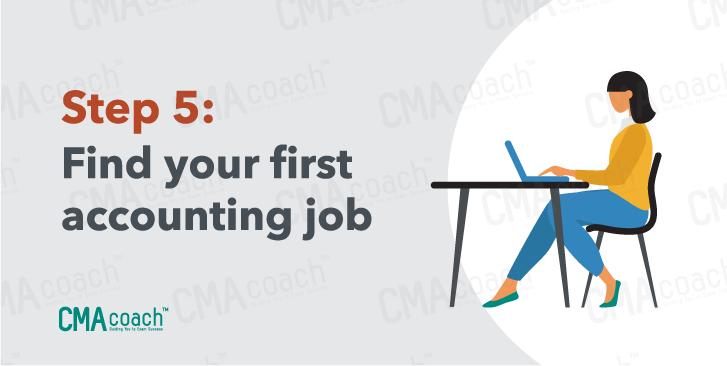 The good news is that this step has gotten a lot easier since HR departments, headhunters, and digital platforms have overtaken the hiring process.
Regardless of where you live, you should have easy access to plenty of accounting jobs online. You may even be able to do screening and eligibility questions and get through stage one of a hiring process completely remotely.
The first accounting job you get may not be your long-term goals, but it should be related. For instance, if you want to become a CFO, look for a position with room for advancement. You may be able to find a job as a virtual CFO (sometimes called a fractional or outsourced CFO) with a small company. This can give you valuable experience to segue into higher-profile roles in the future.
Besides being in line with your career goals, consider whether your position will help you qualify for the certifications you want to pursue. The CMA requires 2 years of full-time experience in a qualifying role, so you'll want to start the clock as soon as you can. Skills required for CMA include accounting, leadership and management experience.
Regardless of where you start, take your job seriously, build your professional connections, and learn as much as you can. Each accounting job you get is a stepping stone for future success.
Step 6: Get a certification to further your career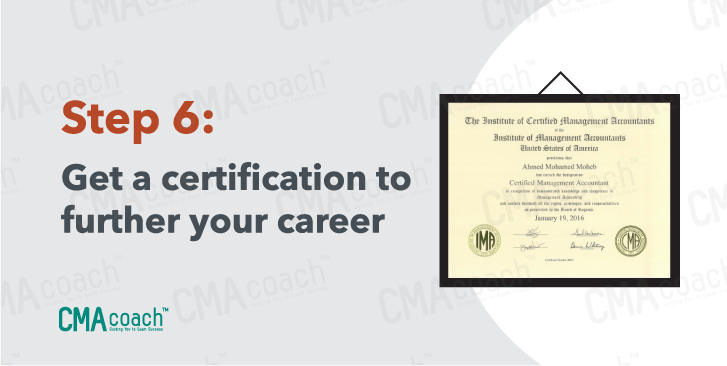 Speaking of your goals, there are plenty of ways to augment or enhance both your abilities and credentials as an accountant. Often, this is done through obtaining accounting certificates or titles like the Certified Management Accounting (CMA) certification.
What is the CMA? It's considered the gold standard for financial leaders and is often something that the highest-ranking accounting professionals have earned.
Getting certified can involve significant investments of time and money, and some people wonder if it's worth it. When you look at CMA salaries compared to accountants without it, you'll be convinced.
Fair warning though, taking the CMA exam isn't easy. You'll have to spend a lot of time studying and possibly pay for a CMA exam prep course to help you iron out your weaknesses.
How Long Does it Take to Become an Accountant?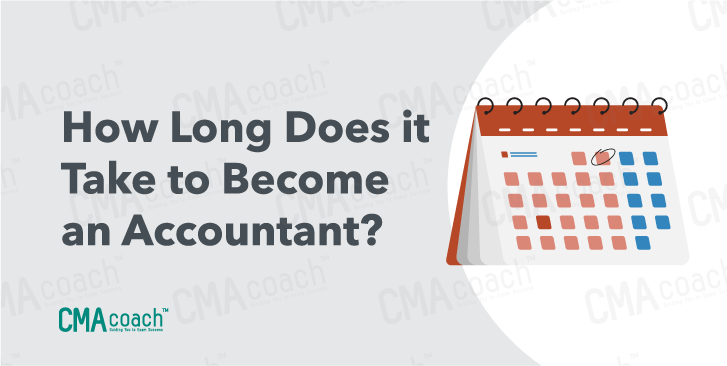 A bachelor's degree is usually the minimum requirement for an accounting job. That means it takes at least four years to become an accountant. Of course, someone with just a bachelor's degree (and just out of college) will only be eligible for entry-level accounting jobs.
While that may be a great place to start, a little more time for education and experience will land you higher paying and higher ranking accounting jobs.
Here are some examples of what's possible when you invest more time in education, certification, and more:
Right out of college: With four years of college and maybe an internship, you can get an entry level accounting job with your bachelor's degree.
After a master's degree program: Adding an MBA means six years of school instead of four, and should also include internships and work-related experience. After a master's degree, you will be eligible for entry level accounting jobs, but may also be eligible for some mid-range accounting jobs.
After earning a CMA: The CMA certification can be earned even before you graduate from college, so it doesn't necessarily add to your four year timeline. It does, however, distinguish you as a leader in financial management and significantly raises your earning potential. CMA career opportunities include becoming a Director of Data Analytics, a Treasurer, or even a CFO within your organization.
Of course, there are infinite variables to these accounting career scenarios. Some people take longer to finish college or pursue post-graduate degrees that take more time. One of the key factors in the accounting job you end up with is whether or not you pursued any additional certifications or credentials.
Accounting Certifications to Further Your Career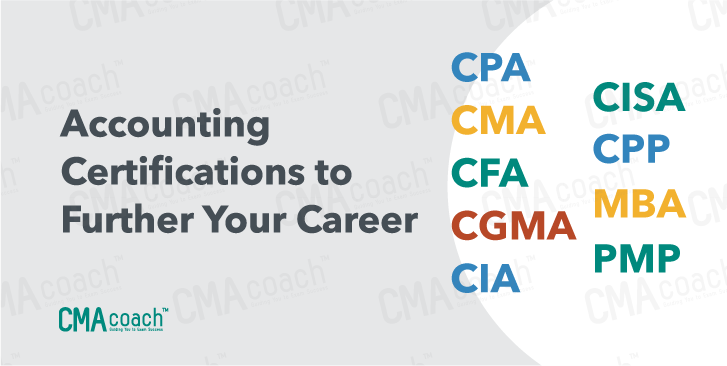 Accounting certifications can provide you with a niche in which to practice accounting. For instance, a CPA will probably get different accounting jobs than someone with a CMA or an MBA in finance.
Both in perception and actual qualification, these titles can further define your career path as an accountant. Read on for more information on what they each entail and provide.
CPA (Certified Public Accountant)
A CPA is perhaps one of the most familiar designations for accountants. Here's how to become a CPA:
Pass all four CPA exam sections
Be a member of the AICPA
Obtain required education (a bachelor's degree or equivalent credit hours)
Fulfill work requirements (varies by state, but usually one year)
Become licensed in your state
Maintain licensure
As a CPA, you will find plenty of job opportunities, from large accounting firms, government, non-profit, or even running a small private practice.
CMA (Certified Management Accountant)
A CMA is a financial leader who can oversee strategy, is a key decision-maker, and is often a top-ranking accountant at a company.
You can find everything you need to know about passing the exam and getting certified in my CMA exam study guide.
To become a CMA, you must:
Become a member of the IMA
Fulfill education requirements (bachelor's degree)
Fulfill work experience requirements (two years)
Apply for certification
Maintain the CMA with continuing professional education
CMAs often are employed as controllers or CFOs in companies.
CFA (Chartered Financial Analyst)
A CFA is not an accounting designation, but a charter that is often pursued by people with an accounting background. It's geared towards finance-sector roles, like portfolio management or investment banking.
To become a CFA, you must:
Have a bachelor's degree
Pass CFA exams (three levels)
Fulfill 4 years of work requirements
Apply to become a charterholder with the CFA institute
CGMA (Chartered Global Management Accountant)
The CGMA designation, issued by AICPA, is a direct competitor of the CMA certification. If you want to get into management accounting, the CMA is generally considered a better choice.
If you do want to get the CGMA, here are the basic steps:
Be an AICPA member
Pass the CGMA exam
Fulfill 3 years of work requirements
Maintain the CGMA with annual fees and continuing professional education
CIA (Certified Internal Auditor)
A CIA specializes in internal auditing and is certified through the IIA. To become a CIA, you must:
Have a bachelor's degree and character reference
Pass the CIA exam part (three parts)
Fulfill work experience, which may be up to three years in a relevant internal auditing position
Maintain the CIA with continuing professional education
An IIA membership is recommended but not required to take the CIA exam. CIAs work specifically in internal auditing, although they can do this at any kind of company.
Read this article to compare CMA vs CIA.
CISA (Certified Information Systems Auditor)
Although it's not an accounting designation, CISA might be of interest to accountants who want to specialize in the IT and security side of things. People with a CISA designation are qualified to audit, monitor, control, and assess a company's business systems and IT systems.
To become a CISA, you must:
Be a member of the ISACA
Pass the CISA exam
Fulfill work experience, which must be in CISA job practice areas
Apply for certification
Maintain the CISA with continuing professional education
CPP (Certified Payroll Professional)
A CPP is a payroll professional. They are certified through the American Payroll Association. To become a CPP, you must:
Meet one of three criteria, which will include APA courses on specific subject areas
Pass the CPP exam
CPPs can work as payroll analysts, payroll specialists, and payroll technicians.
MBA (Master's of Business Administration)
An MBA, while not a designation, is a post-graduate degree that can help you land-higher level positions. It's not uncommon for the CFO of a large company to hold both an accounting designation like CMA and an MBA in finance.
To get into an MBA program, you will need to write the GMAT and apply to a school of your choosing. Then, you will take courses and finish the degree.
MBAs are considered elite business leaders. When the MBA is in finance, that's a good combination for accounting success.
PMP (Project Management Professional)
PMP is a globally recognized qualification that validates project management expertise. It may be handy as an added credential in an accounting job. Accountants are often required to manage staff and projects. To become a PMP, you must:
Get a four-year degree
Fulfill requirements: 36 months of project management and 35 hours of project management training OR a CAPM certification
Maintain the certification with professional continuing education
PMPs can manage projects in any industry.
Jobs With Accounting Degrees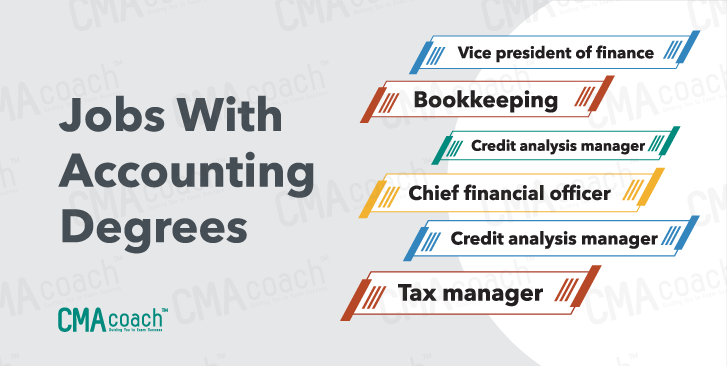 There are a variety of jobs you can get with an accounting degree. Jobs with accounting degrees include:
Bookkeeper
Tax manager
Accounting professor
Credit analysis manager
Personal financial advisor
Corporate controller
Cost account manager
Treasury analyst
Finance director
Credit analysis manager
Financial analyst
Compliance analyst
Compliance officer
Tax accountant
Auditor
Auditing clerk
Payroll clerk
Accounts receivable clerk
Billing clerk
Cost accountant
Cost estimator
Budget analyst
Government accountant
Accounting software developer/accounting IT
Accounting manager
Forensic accountant
Vice president of finance
Chief financial officer (CFO)
Can a CMA become a CFO of a large company? Absolutely, with the right training and experience, you can climb to a top C-level position with an accounting background.
The goal of any job is, of course, to find something you enjoy doing that is intellectually stimulating, upwardly mobile, and helps you feel accomplished.
If you need guidance or coaching on your way to an accounting career, I am always here to help! Drop a comment and I'll help you navigate.