Hey there candidate, Nathan here. 
So here's the deal – you studied so hard for months, finally passed the CMA exam, but now that you have your new certification, you aren't sure what to do with it.
Well, this week I have asked CPA Talent, Bob Berchtold, to weigh in on this very subject. Don't be fooled by his title thought – he works with new CMA's just like yourself and is sharing some of his top strategies to help you land the job you deserve as a CMA.
If you're serious about truly cashing in on your new CMA certification then read on below:
Introducing Bob Berchtold
Hey CMA Coach readers! I'm Bob Berchtold – the founder and lead resume writer at CPA Talent. Now don't let the name fool you. I work with clients from all over the accounting world, especially new CMAs just like you.
I'm really excited Nathan has asked me here today to share a few of my top resume secrets for folks who have just passed the CMA exam.
Today you'll see:
Why now is the perfect time to use your CMA certification to get a better job

How to create a resume that effectively markets your skills and experience

And I'm in a good mood today, so stick around to the very end for a little surprise
I Passed the CMA Exam, What's Next?
Congratulations, you've just passed the CMA exam! So… What's next?
Why did you spend countless late nights and weekends studying to pass the exam?  I'll go out on a limb and guess it has something to do with finding a better job. More challenging/rewarding work, better hours, a shorter commute, and of course a higher salary.
You don't get a lot of opportunities like this. The fact is you have a powerful new tool in your professional arsenal, and you have way more options than ever before.
According to the IMA Salary Report: Not only do CMAs earn 63% more than non-CMAs, but you can expect an "increase in demand for management accounting services," and "increasing rewards available to talented and diligent young business professionals."
You want to use the CMA as a springboard to a better job. And I'm going to help you with that today. First we'll briefly look at why right now is the best time to look for a new job. Then I'll show you a few of the secrets my clients have been successfully using to start your job search off right. These will save you hours of frustration of learning everything on your own.
How the CMA Helps Your Job Search
You may not realize it yet, but you're more valuable now that you're a CMA. Unfortunately your current company usually won't (or can't) recognize this value and reward you for your hard work.
Lucky for you, there is always another company nearby that will recognize your talents, skills, and experience for what they are. Especially since your CMA certification lets you show them tangible proof that you have what it takes to do a great job.
Don't limit yourself to just looking for the same role at a new company. Now is also a great time to make a career change. You have a compelling story for why someone should take a chance on you, and companies will be more willing to give you a shot at a new role.
By passing the CMA you've proven you can set your mind to something, work hard, and follow through. That's exactly what hiring managers are looking for if you're making a career change.
Market Yourself with Your Resume
As accountants we hate to admit how important marketing is. We're biased toward believing that doing a great job is all that matters. But the best candidate doesn't always get the job.
If you can't sell yourself, being the best doesn't matter. Your resume is the most powerful way to sell yourself in a job search. Use it to present the best version of yourself.
Everything in your resume must be 100% true. But that doesn't mean you have to include everything you've ever done. Your first instinct is to cram as much info as you can into your resume. Do this and you'll overwhelm hiring managers and make it hard to read/understand the important stuff.
You only have so much room on your resume. Choose to fill it with useful information. Include only what a hiring manager thinks is important and leave everything else off your resume. This way the important stuff is easy to find, not lost in the clutter.
It's completely ethical to tailor your resume to only include the information the reader wants. The hiring manager will appreciate that you've made her job easier by reducing clutter. Honestly, it's just plain lazy not to do this.
Having a focused, clean, and easy to read resume is the #1 thing you can do to get more interviews. So let me show you how to get there.
How Should An Accounting Resume Look?
Use a tried and tested format for your resume. Leave the 'hottest trends' and flashy resumes to the graphic designers and waitresses. Here's the least you need to know to write a great resume:
Single Page

Reverse Chronological Order (newest jobs at the top)

Classic fonts like Times New Roman or Arial, 10pt – 12pt font size (Learn more about resume fonts)

No 'Summary' unless you have extra space to fill

Never use an 'Objective Statement'

Don't over-use bullet points
The best resume format for accountants is deceptively simple. For each job, include:
A paragraph (3-6 sentences) of your general job duties

A few (1-3) bullet points to call attention to important accomplishments
Write the duties paragraph in present tense, and the accomplishment bullets in past tense. Repeat for every job you include on your resume.
How Can I Save Time Writing My Resume?
I like to compare writing your own resume to changing your own oil. It's not rocket science, and given enough time and effort anyone can learn to do it. But it is a specialized skill that requires a lot of time and practice to avoid embarrassing mistakes.
The fastest and easiest way to make your resume great is talking with a professional resume writer who specializes in helping accountants like you. Look for someone who understands your industry, and knows how to market your knowledge, skills, and experience to get you more accounting/finance interviews.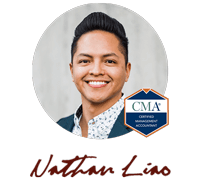 Hi, I'm Nathan Liao (aka the CMA Coach)! For the last 10 years, over 82,000 accounting and finance pros came knocking at my door seeking guidance and help. If you're also aiming to conquer the CMA exam on your very first try—without wasting away time or money—you've found your ultimate guide. Dive in deeper to discover more about me and the dedicated team that powers CMA Exam Academy. Click here and let's embark on this journey together!