"Too many of us are not living our dreams because we are living our fears." Les Brown
I'm so happy that the CMA Coach Study Guide will be available soon for all of you to use along with your other CMA prep material. Here's a picture of it. What do you think?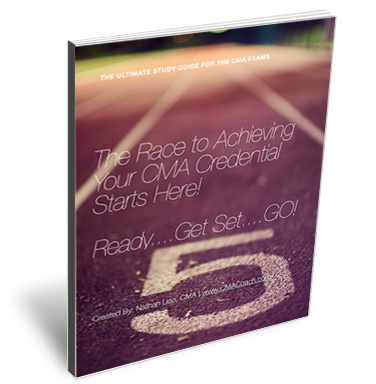 How Will You Benefit from Using this Guide?
| | |
| --- | --- |
| | A step-by-step guide on what to study and how to study. Most candidates get frustrated at not knowing what they should focus on. This guide takes the guessing game out of the equation. Now you can focus your energy on actually studying. |
| |  Learn & use the best studying technique that is proven to help candidates retain at least 80% of what they learn. Not only that, you'll be able to recall facts and figures instantly. This is a key skill to have if you want to pass the first time. |
| |  Learn how to successfully prepare for the essay portion of the exams. The essay portion represents 25% of the total score. If  you are not well prepared for this, your chances of passing diminish significantly. |
| |  Learn techniques and exam tips that I've used to pass the first time. From preparation all the way to exam day. |
| | I will share with you my personal experience and all the habits that I had to develop to successfully prepare for the exams, and pass both on my first try. |
| | A detailed study plan that will help you be very efficient with your time so that you may see more of for your friends and family. |
| | A weekly study plan that will help you stay focused and disciplined. Don't take a chance at passing the exams by studying on your own. Learn from those who have done it successfully. Tony Robbins calls this type of learning, "Modeling." It works! |

The Sneak-Peek
Now, you may be wondering what's inside this very helpful guide. I'd like to give you a sneak-peek to the first few pages  that includes the table of contents. This will give you a good idea of what's inside.
With passing rates as low as 35%, would you rather take your chances and prepare for the exam on your own? Or would you rather use a proven method that helped me pass both CMA exams on my first try? 
This is the most comprehensive CMA study guide of its kind. I've poured so much energy into it with you in mind. The whole purpose of this guide is to help you pass each CMA exam the first time, just like I did.
If you are ready to see what's inside, click on the following link: CMA Study Guide
Final Words
What did you think about the guide? Did you like it? or not? It's OK, you can be honest 🙂
What's important is that it'll help you prepare for your exams by keeping you focused and on target.
The complete study guide will go up on Friday after I finish tweaking a few things and preparing the landing page for it.
Please share this post with your friends and family who may also be interested in using this valuable tool. Don't forget to come back on Friday to get your copy and start preparing for your exams.
Cheers,
Nathan