Fret not!  You can use a calculator during the CMA exam!
But there are some rules and restrictions regarding which types of calculators you are allowed to bring.  Let's take a look at them now so you can be prepared with the right calculator when exam day comes around.
According to IMA's CMA Handbook, calculators for use during the exam must:
be small-battery or solar-powered electronic calculators
be restricted to a maximum of six functions: addition, subtraction, multiplication, division, square root, and percentage are allowed.
not be programmable
not use any type of tape
Candidates may use the following calculators:
Texas Instruments BA II Plus
HP 12c
HP 12c Platinum
Hewlett-Packard 10BII
But which calculator should you choose?  Here are some pros and cons for each model to help you decide:
Texas Instruments BA II Plus
Pros:
$26 on Amazon
Very straightforward and user friendly
Many statistical features
Cons:
Might take more keystrokes to complete the same tasks as HP models
Less sensitive keyboard
HP Models
Pros:
Fewer keystrokes to accomplish tasks
Sturdy keyboard
Cons:
Older models
More expensive
Not as user friendly as the Texas Instruments BA II Plus calculator
As long as you keep these rules in mind when selecting a calculator to practice with and use during the exam, you'll be alright.
Oh! And make sure that your calculator has fresh batteries on exam day! A dead calculator is definitely not what you need in the middle of your test.
Check out these tutorials on YouTube:
Texas Instruments BA II Plus
HP 12c
HP 10B II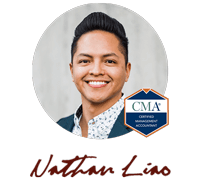 Hi, I'm Nathan Liao (aka the CMA Coach)! In the past 7 years, over 35,000 CMA candidates came knocking at my door seeking guidance. And just like them, I'm here to show you how you can pass the CMA exam on your first attempt without wasting money or time. Click here to learn more about me and the awesome team behind CMA Exam Academy.