In January 2012 the AICPA and CIMA joined forces to create a new designation; the CGMA, or Chartered Global Management Accountant. Both are management accounting certifications, pitting the CGMA in direct competition with the CMA.
So how can you determine which is best suited for you? This is an important decision as you become an accountant and pursue certifications to advance your career.
Below I'm going to outline key elements of each designation so you can make the decision between CGMA vs CMA. Or you can also watch this video:
The History
The CMA exam has been around for more than 40 years. It has long been considered the designation of choice for those going into management-related accounting fields. You can learn more about what CMA is in our comprehensive article on this certification.
The CGMA on the other hand was created only a couple of years ago with the intention of extending the global reach of CMA recognition.
The CGMA is powered by the AICPA and CIMA, two of the world's largest associations for public accountants and management accountants and you can actually attain this designation through either pathway, but the eligibility and requirements differ.
Eligibility and Requirements
This is one of the more critical aspects when considering CGMA vs CMA.
The CGMA is only available to members of AICPA and CIMA. If you follow the AICPA pathway you must be a member, as well as hold your CPA certification. Additionally, you are required to have 3 years of management accounting work experience and pass the CGMA exam.
Should you choose to go down the CIMA path you are required to have 3 years of management accounting work experience, as well as be a member and pass certain CIMA exams including the CIMA Business Accounting certificate.
If you have experience in public accounting, you may supplement one of the three required years of experience with public accounting.
Unlike the CGMA where you have to be a member of either the CIMA or AICPA, there are fewer restrictions on the CMA. Eligibility is not restricted to members of IMA and anyone can join as long as they have a bachelor's degree.
Regardless of which pathway you choose, as of January 2015, all CGMA candidates must now take the same final exam.
CMA candidates are also required to have relevant work experience, but they only need two consecutive years of managerial experience.
The range of work experience can include everything from public or non-public accounting, budget preparation, information system analysis, financial management, management consulting, research, and even teaching.
If you are unsure if your work experience will be deemed eligible, please email the administrators as they will be able to let you know.
Understanding the CGMA Designation Fraud Allegations
One particularly distressing point that I would like to discuss the CGMA is that when it was first developed, the AICPA basically sold the certification for a fee. Simply put, thousands of CPA members were able to buy this designation, without ever having to take or pass an examination.
Besides being incredibly unethical, what this means is there are thousands of practicing CGMA's who don't possess the actual knowledge or skills. This is a real issue because there will be even more clients who will hire these individuals based on this supposed accreditation when in fact, the accountant never earned it.
As you can imagine, the IMA and its designated CMAs were not impressed with this at all. It is very disappointing to know that there are so many people marketing themselves as having a laudable credential when it was really just a money grab for the AICPA.
Thankfully now, all those who wish to have the CGMA title must earn it by meeting the requirements and passing the exam.
Is the CGMA designation worth it?
CGMA may be worth it as an additional certification to your existing CPA or CMA status. However, because of it's past fame, the CGMA still lives under the shadow of these other certifications. IF you're wondering whether to choose between a CMA or CGMA for your first certification, definitely choose the former.
Are Employers more likely to hire CMAs or CGMAs?
As we rolled into 2015 it became clear that there was a rising need for employees holding the CMA designation, but even before then, it was fairly successful in the US.
As for other parts of the world, it is incredibly successful, but there are very few who actually hold the designation. This is due to the recent introduction of this designation in that country.
The CGMA designation is still very young, so it's not surprising that many countries aren't as supportive of it. It will require a lot of work to build its reputation to compete against the CMA designation. This is definitely something to consider if you plan on working abroad and want to go through as a CGMA. You may also want to remember that you must have your CPA license before going for this designation.
The breadth of management accounting topics tested on the CMA exam far outweighs that of the CGMA's. Simply put, if your ultimate goal is to acquire management accounting knowledge and skills to further your influence in the workplace, the CMA designation is the way to go.
The decision to choose CGMA vs CMA is yours though. After considering its requirements and career opportunities, make a decision that suits your goals.
If you choose to go in the direction of the CMA then be sure to check out my CMA Exam Academy to help you pass on the first try!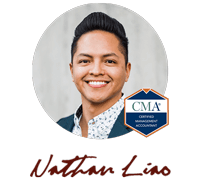 Hi, I'm Nathan Liao (aka the CMA Coach)! For the last 10 years, over 82,000 accounting and finance pros came knocking at my door seeking guidance and help. If you're also aiming to conquer the CMA exam on your very first try—without wasting away time or money—you've found your ultimate guide. Dive in deeper to discover more about me and the dedicated team that powers CMA Exam Academy. Click here and let's embark on this journey together!