A lot of people are curious about the level of difficulty associated with the CMA exam. After all, if the pass rates are any indication, it's safe to say that the majority of candidates find it incredibly tough.
The CMA exam can be difficult for different reasons. But it isn't merely a matter of difficulty, as much as students tend to lack proper guidance. There is an abundance of quality CMA study material you can use and plenty of comprehensive CMA prep courses. But a big chunk of passing the exam is having a solid study plan, confidence, and time management. With enough effort and proper preparation, the CMA exam difficulty will not phase you or hamper your ability to pass.
How Hard is the CMA Exam?
The CMA exam is very difficult and it will test your intellectual limits. The industry average CMA pass rate for both sections is only 45%, meaning less than half of the people taking the test will pass. The CMA exam is notorious for its rigor and difficulty, and if you want to pass, you need to prepare.
So, how hard is the CMA exam? To look at it objectively, there are 3 ways to consider the CMA exam difficulty, so let's break it down.
Top 3 Reasons Contributing To The CMA Exam Difficulty
Curriculum
Compared to some other financial and accounting  exams, like the CPA and CFA, the scope of material covered is much narrower.
As you know, the CMA exam is comprised of 2 parts. Part 1 focuses on financial accounting, including planning, budgeting, forecasting, as well as performance and cost management, and internal controls. Part 2 includes financial statement analysis, corporate finance, decision analysis, risk management, investment decisions, and professional ethics.
If you were to compare the CMA exam curriculum to that of a CPA, you would notice that not only is the CPA exam broken up into 4 parts, but that it also covers auditing, business law and taxation.
Additionally, the CMA exam doesn't dive into the same amount of detail as some other exams, so this should help ease some of the burden you feel when studying.
Pass Rates
Statistics show that only a few dedicated ones are lucky enough to pass the CMA exam. And by few, I mean only 35% for Part 1 and 49% for Part 2.  Not surprisingly, those statistics can make writing this exam even more daunting.
If you look deeper into these numbers you can see how the reduced eligibility requirements may affect this. What I mean is that to write the CMA exam, you only require a bachelor degree and it can be obtained from any discipline in any country. This means you don't have to have any background knowledge in finance or accounting, which may be contributing to the low pass rates. 
If you however, have a background in this area, I believe you already increase your chances of passing on the first try!
Exam Composition
As I mentioned above, the CPA exam is broken down into 4 parts, whereas the CMA exam is only 2. Many people find that because there are only two parts, the amount of information covered in each part contributes to the difficulty. It means that you have to study more subjects for each section in order to improve your chances of passing.
While this very well could contribute to the CMA exam difficulty, there are several ways you can tackle this, such as following a specific study plan to ensure you cover each topic with the necessary amount of depth and time.
The key is to prepare. Follow my proven CMA exam study guide and pass both parts on your first try.
But first, I want to know what you are finding the most difficult about preparing for the exam. Comment below and let's see how I can help you.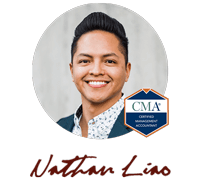 Hi, I'm Nathan Liao (aka the CMA Coach)! For the last 10 years, over 82,000 accounting and finance pros came knocking at my door seeking guidance and help. If you're also aiming to conquer the CMA exam on your very first try—without wasting away time or money—you've found your ultimate guide. Dive in deeper to discover more about me and the dedicated team that powers CMA Exam Academy. Click here and let's embark on this journey together!