Originally posted on CMAexamAcademy.com

This article will be updated regularly.
Last updated on February 5th, 2021
You've probably had many conversations by now about COVID-19, so I will not go deep into the topic. However, I'd like to focus on its impact as it relates to your plans to become a CMA.
Due to the unprecedented spread of this coronavirus, the World Health Organization (WHO) and Centers for Disease Control and Prevention (CDC) are recommending social distancing and a sudden halt to non-essential events and activities. They specifically state that most educational institutions should plan for distance and online learning.
No matter where you are in your CMA review course, your exam plans may need to change.
Prometric COVID-19 Updates
Update 03/17/20:

Prometric is the organization that facilitates the CMA exam. On March 17th, they issued an update about their test-taking facilities. In accordance with the CDC guidance, Prometric will be temporarily closing its test centers both in Canada and the United States. These nationwide closures started on March 18th and will be in effect for 30 days. They intend to re-open testing centers on April 16th.
Update 04/10/20:

Prometric will extend the closure of test centers in the U.S. and Canada through April 30th, with a planned resumption of testing on May 1st.

The re-opening of testing centers in other parts of the world will differ in dates. For more information about centers in your city, click on this link to look up Prometric's closure list.
Update 05/17/20:

Around 200 Prometric test centers in the US and more around the world have either reopened or will reopen within the next few weeks for essential testing only, which includes the CMA exam. Tap here for the complete list of reopened test centers.

The closure of the remaining test centers in the US and Canada has been extended through May 31st.
Update 06/27/20:

The majority of Prometric test centers have now reopened in North America, UK, Ireland, and more across the world.

Test centers will be operating under strict social distancing guidelines during the pandemic:

The procedures will require test takers to bring and wear a mask during the entirety of their time at the test center. Entering the test center without a mask will not be permitted.
Update 07/26/20:

 According to Prometric Test Center Policies, masks with exhale/one-way valves are prohibited to use at the testing center, due to the lack of viral particle filtration provided by these masks.

Candidates will also not be permitted to test if they fall into any of the following categories:

Have been diagnosed with COVID-19 in the past 14 days;
Have been exposed to someone diagnosed with COVID-19 in the past 14 days;
Are experiencing flu or cold-like symptoms;
Have returned from travel to a highly infected area in the past 14 days.

To review the full list of Prometric testing procedures and restrictions, check the links below:
North America Testing Procedures
Global Testing Procedures
Update 08/14/20:

Until further notice, candidates are required to wear medical masks or cloth face coverings during the entirety of their time at Prometric test centers.

Keep in mind that if you forget to bring your mask to the exam, you will not be allowed to enter the test center and you also won't be eligible for a free reschedule.

For additional details, visit Prometric's COVID-19 update page and their comprehensive FAQs page.
Update 07/26/20:

CMA exam rescheduling fees resume on August 1st. The exception is candidates whose exams are canceled due to test center closures or regional restrictions – they will receive one free reschedule for their exam.

Additionally, candidates who cannot take the exam due to COVID-19 illness will be able to request a refund through Prometric's contact form.
Update 08/14/20:

Updated exam cancellation and rescheduling policy:

✔ You can cancel your exam appointment 30 days or more in advance at no charge

✔ You can also cancel your exam appointment within 30 days of the scheduled appointment date, but you'll be charged a $50 rescheduling fee

✔ After canceling your exam appointment, you can reschedule either for the current testing window or for the January-February testing window at no additional cost. You won't be required to pay for another exam registration fee

✖️But, if you cancel your appointment less than 72 hours before your exam, you will forfeit your exam fee and will need to purchase a new registration.
Update 12/16/20:

The May-June testing window has been extended to include the month of April. This testing window will now run from April 1, 2021, through June 30, 2021.

Registration for the April-June testing window closes on June 15, 2021.
Update 01/05/22:

Prometric will no longer require candidates or test center personnel to wear masks unless required to do so by building management or local government mandates. In light of recent trends and mask mandate changes around the world, along with updated guidance from leading world health organizations, Prometric will not require masks to be worn in test centers, however we will continue to allow and encourage the wearing of masks regardless of mandate or vaccination status.

Prometric has released a detailed video showing the procedures candidates will go through at the test center. Watch it here to know what to expect on the exam day.
Do Prometric closures impact your CMA exam?
Prometric will be issuing emails to everyone who has an existing appointment or scheduled exam. In this email, people will receive information about how to reschedule their test. No fees will be incurred as a result of this process. Prometric is working directly with testing organizations, such as the IMA.
Where do I find IMA updates about COVID-19?
The Institute of Management Accountants is an important professional association. When you are starting out on your journey to becoming a CMA, you will find information online at The Association of Accountants and Financial Professionals in Business. You can visit IMAnet.org for information about scheduled exams. This organization is publishing regular, industry-specific news and updates on its website as well.
The second exam window, May-June, has been extended, but more on that in a minute.
What should you do as a CMA candidate during COVID-19
Here are a few reminders and recommendations. These are based on current information about COVID-19 and the CMA exam.
2020 exam prep advice

• The May-June exam window is being extended to July 31st. Registration for this window will remain open until July 12th.
If the pandemic continues, candidates who have paid for their exam will be able to rebook it for the September-October window without a penalty.
UPDATE 04/15/20: The September-October testing window will open early – from August 1st to October 31st.
Scheduling for August dates will be available soon. Registration for the September-October window will remain open until October 15th.

• If you have already paid your exam fee and have also booked your exam date, you can either keep it or postpone it to another date in the window or to the next window. The IMA will waive its rescheduling fee.
If you plan to reschedule it, please reach out to the IMA directly to start the rescheduling process.
UPDATE 07/26/20: rescheduling fees resume on August 1st, 2020.

• Some CMA candidates have already paid for their test and others will wait to pay until after the Prometric centers are officially open again in their city. This is a personal decision you will make at your own judgment.
• This is a good time to start studying or keep studying for the CMA exam. Self-quarantine creates an environment with fewer distractions, you can be hyper-productive and utilize your time to prepare.
• Staying active and busy even during social isolation can offset feelings of anxiety or panic. The Anxiety and Depression Association of America recommends routines and rituals to reduce these feelings. Studying can be a great routine to continue through self-quarantine or until the coronavirus subsides.
• If you are taking an in-person CMA test prep class, ask your instructor for online classroom alternatives immediately.
The CDC reminds everyone that there is no vaccine for COVID-19, as of today, and has the following general recommendations:
The best prevention is to avoid exposure
Practice social distancing by staying six feet away from people in public
Cover your mouth or nose entirely when you sneeze or cough
Wash your hands for 20 seconds every time you have been in the public
Use a hand sanitizer with a minimum of 60% alcohol
Don't touch your nose, mouth, or eyes if you haven't sanitized your hands
Avoid contact with people who are sick
If you are sick, stay home unless you need urgent medical care and wear a facemask in public
Regularly clean and disinfect your home and possessions
Let's all band together and do our part to stop the spread of the virus. Together, we will defeat it!
Studying for the CMA exam during the pandemic
So, your exam may be rescheduled and the world, in general, is in a unique season due to this pandemic: where does that leave you? Your goal for becoming a CMA is unchanged and you still have to work toward this goal with intention and dedication. Some strategic choices need to be made as you study for the CMA exam during this pandemic.
To stay on track for becoming a CMA, implement the following suggestions as they best fit your specific needs:
Stop watching the news 24/7. I get it. It's important to stay informed, but new developments don't occur every hour. Instead, use that time in more productive ways. Explore my comparison of the best CMA review courses on the market. Pick the one that best reflects your needs and study style and start preparing for the exam.
If you haven't started the CMA process yet, become a member of the IMA first. You can do this as a professional, student, or academic.
Start studying for the CMA exam using a proven method. While everyone learns differently, our 16-week framework has provided the best benefit to students. This approach maximizes every minute you spend studying to optimize retention and help you pass the test.
Watch Prometric's video on what to expect on exam day, so you feel more confident and prepared for the big day.
Complete your professional experience and educational qualification forms and submit them to the IMA for processing.  If you don't have professional experience yet, you can accomplish it within seven years of passing the CMA exam.
If you're a college student, this would be a great time to pursue the CMA and have it under your belt before you graduate.
Remember that this pandemic will pass. What you do with your time now can set you up for a brighter future. Continuing to pursue your CMA is going to pay off. The IMA's global salary survey reports a median income that is 36% higher than national averages. Globally, the compensation you can receive as a CMA is consistently above average pay for other skilled careers.
How is CMA Exam Academy responding to the pandemic?
We are grateful in times like these that our globally distributed team has always worked remotely. The impact on the day-to-day operations of the organization has been minimal.
Existing students enrolled in our program will continue to receive the same level of coaching support and resources as they normally have been. New students can be assured of the same.
As the CEO of this small business, I'm committed to continuing uninterrupted support to our students while also ensuring that each team member, and their families, can safely rely on their monthly paycheck during this crisis.
To our existing students, our entire team is here for you! And to new students, we greatly appreciate your business. You're in good hands.
If you have questions or need clarification about anything in this post, drop them in the comments section below.
Wishing you and your loved ones health and safety.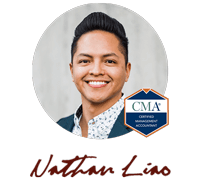 Hi, I'm Nathan Liao (aka the CMA Coach)! In the past 7 years, over 35,000 CMA candidates came knocking at my door seeking guidance. And just like them, I'm here to show you how you can pass the CMA exam on your first attempt without wasting money or time. Click here to learn more about me and the awesome team behind CMA Exam Academy.