OVERALL RATING: ★★★★★
ExamMatrix CMA Review uses computer-based adaptive learning to help students identify their weakest subjects and help CMA candidates pass the exam the first time through.
The adaptive learning method is an intelligent software that learns your strong and weak areas based on your exam simulation performance, and adapts the new exam simulations to focus more on your weak areas.
The entire Exam Matrix CMA review course starts you off with an assessment phase in the course. This is the base-line that the system will use to determine your competency in the various topics covered in the exam, and create exam simulations that will help you work on your weak areas primarily.
Prior to ExamMatrix, this course was called MicroMash and was released in 1986 as the first computer-based CMA review course. Since inception, this review course has always been on the cutting-edge in software exam review technology.
As with any review course, it has its strengths and weaknesses. Let's take a closer look at them.
ExamMatrix CMA Strengths
1. Exam Simulation Close to the Real Thing
It's very important to practice mock exams in the same format as it will be presented to you on exam day. ExamMatrix does an excellent job at providing the candidate a simulation that very closely resembles the exam.
2. Editorial Support
ExamMatrix includes editorial support with your purchase. What does this mean? It means that you can email their editorial support staff and ask for help with any questions that you may have about the content of the textbooks and test bank. This would be the equivalent of the Personal Counselor feature in Gleim's CMA review course.
3. Adaptive Learning Method
This is the secret sauce in ExamMatrix's CMA review course. This is the main feature that sets them apart from the rest. This method adapts to you and helps you focus on the weak areas so that you will perform better in the real exam. ExamMatrix attributes much of the success of the candidates who've passed the first time to this adaptive learning method.
4. Performance Tracking System
With your purchase, a performance tracking system is included to help you track your progress and guide you in the areas that need the most focus.
5. Retired Essay & Multiple-Choice Questions
ExamMatrix has a total of 2,401 multiple-choice questions and 28 essay questions in their test bank.
6. Customizable Study Plan
ExamMatrix has the only study plan module that is completely customizable to fit your schedule. What I really like about this feature is that it'll create a custom study plan based on your exam date, how many hours a day you can allocate to studying, and how many days per week. Simply amazing!
7. Money-Back Guarantee
ExamMatrix offers a money-back guarantee if you don't pass the exam. For those of you who need that type of guarantee, you will only find it with ExamMatrix and Gleim. All other publishers don't offer it. However, there are rules to qualify for their guarantee, and are extensive. Be sure to read them before making your purchase.
ExamMatrix CMA Weaknesses
1. Accounting Background Necessary for Faster Learning
The textbooks are concise and to the point, which is great for candidates with a background in accounting, finance, or business. If you have this background the review course will accelerate your learning which  is a strength, but for those without this background, the learning speed will be slower. If ExamMatrix had a CMA Assumed Knowledge Guide as a supplement, I think it'd be very useful for the candidate.
2. No CMA Assumed Knowledge Guide
ExamMatrix does not have a CMA assumed knowledge guide to help candidates understand concepts at a deeper level. A guide of this type is even more important for those candidate who don't have a strong background in Accounting and Finance.
3. Time-Limit on Test Simulation
In the near future, the entire ExamMatrix system is going online. If you purchase it today, you will need to download it to your computer. It's not web-based yet. Once it is though, the time-limit on the entire system will be of 18 months. Other publishers offer unlimited access.
4. Limited Supplemental Resources
There's a lack of supplemental resources such as flash cards, bibliography, or an exam tips guide. However, it has a glossary and many candidates have used it as a flash card module.
5. No Audio or Video Materials
ExamMatrix does not offer audio or video materials. I wish they did as it would complement their review course nicely and be very helpful to those candidates who would like these tools for further review of the material.
6. Software Intuitiveness
From all the CMA review course software I've used, I would conclude that ExamMatrix is not the most intuitive. However, it is the nicest to look at. It takes time to learn to navigate and understand what each button is for. What I did like however is that they offer almost daily live webinars for new users.
I took one of these webinars and it made all the difference. I understood what every button did and how to navigate through the software. After you purchase your Exammatrix course, I HIGHLY recommend that you join on one of their live webinars. It'll save you time and help you make the most of their course.
My Suggestion
The ExamMatrix CMA Review Course is a state-of-the-art computerized simulator and it includes the Rigos CMA textbooks. The Adaptive Learning Method of ExamMatrix is light-years ahead of any other CMA course provider and will help any CMA candidate conquer those weak areas and pass the exam.
If you have a background in accounting, finance, or business and prefer an accelerated studying program, look no further. ExamMatrix is the right CMA review course for you. This review course is also the most economical. It also offers a pass or money-back guarantee.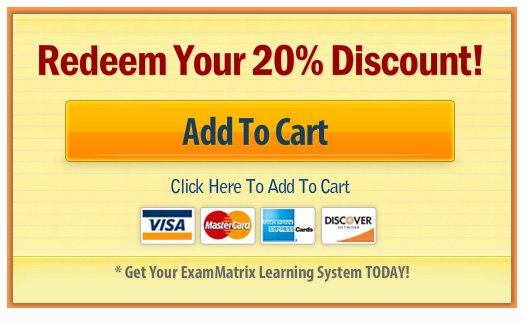 Want to read about other CMA Reviews?

Summary
Reviewer
Review Date
Reviewed Item
Author Rating