The new Wiley CMAexcel learning system is a great resource if you are serious about passing the CMA exam on your first try.
Wiley is known for creating comprehensive series of self-study modules that give candidates all of the tools they will need to pass the CMA test on the first try. And get this students, Wiley believes in you so much that they even offer an exclusive 10% discount on their review course. Just remember to use coupon code CM14C during checkout.
With the IMA by its side, the Wiley CMAexcel learning system has an edge over the competition.
While you will have access to some of the best test prep out there, do not fall under the misconception that because Wiley is partnered with the IMA that you will have access to the actual test questions. Wouldn't it be nice if that were the case though?
What will You Get from Wiley CMA?
The Wiley CMA excel review course is a complete textbook and online test bank with over 2000 multiple choice questions. You will have access to all of this for a period of two years from your date of purchase, if you purchase both parts. Otherwise the access is for one year per part.
When you purchase Wiley CMA excel, you will be provided with a grade book so you can track your progress, and this is available to you 24/7. This grade book gives you the opportunity to practice, go over the modules at your own pace, and see where your weaknesses lie.
Including plenty of examples and references, practice essay questions with examples of answers and and extensive CMA glossary this review course sets its candidates up for success that some other programs may not. And not to mention their super useful flashcards.
Is it a Good Tool to Help You Obtain Your CMA Certification?
All of the notes are easy to read and allow you to build on each subject for maximum understanding.
It is considered to be one of the most expensive review courses on the market, however it does pride itself on quality.
This is a self-study resource. You will not have access to a teacher or counselor should you need any support. However, if you are looking for an online instructor-led course that uses the Wiley CMAexcel learning system, check out www.cmaexamacademy.com
Wiley  prides itself on it's in-depth content and matching it's cma exam practice test simulation as close to the real thing as it possibly can. It is top of the line in getting candidates prepared for the actual exam.
Not only does this review course resemble the cma exam, it also gives you tips and tricks along the way so you can conquer those exam jitters and be the most prepared, well-rounded candidate in the room.
What Are the Candidates Saying about Wiley CMA?
Candidates who have used the Wiley CMAexcel review love it. It would appear that only candidates who required the help of a personal counselor had any sort of negative review. But like I said, check out this online CMA instructor-led course if you need help.
Many candidates mentioned that even with a limited background in accounting they were able to pick up the lessons and terminology because of the focus on learning. They also said that access to the online test bank, along with helpful tips and pointers, eased exam day jitters and allowed for them to walk into the exam feeling confident and prepared.
What more could you want from a review course?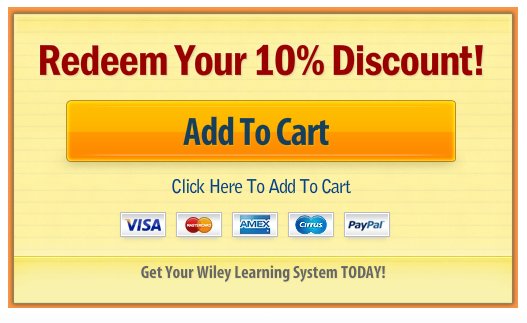 That is all for now. I hope you found this review helpful. If you have any questions about Wiley's new CMA system, don't hesitate to drop a comment below.
Also, if you haven't checked out my list of Best Tools for CMA Candidates, it's worth your time.
Until next time,