Wiley CMA Review combines excellent technology and quality study materials in their user-friendly CMA review course.
Their CMAexcel course provides you with free electronic updates and comes with unlimited access until you pass so you never have to worry about them expiring or being outdated.
Wiley CMA is the only review course endorsed by the IMA. In fact, it replaced the previous IMA system, the CMALS.  Let's review the pros and cons in more detail:
Wiley CMA Strengths
1. Multiple-Choice Questions in Textbooks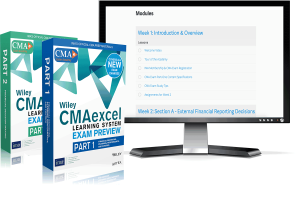 Unlike the other learning systems, Wiley CMA includes over 175 multiple-choice questions and 53 retired essay questions in the textbooks. This is a great way to test your knowledge as you study without having to buy a test simulation bank right away.
2. Packet of Essay Questions
In addition to the essay questions that are included in the textbooks, the learning system also includes a packet of retired essay questions to continue practicing your comprehension and speed.
3. Exam Simulation Close to the Real Thing
Their online exam simulation resembles to the actual exam giving the candidate an opportunity to get acclimated to the exam format.
4. Performance Tracking System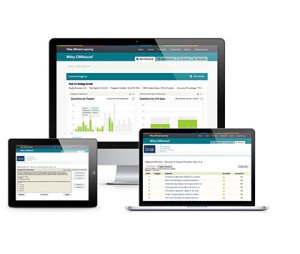 It includes a system that tracks your progress and helps you understand the areas that you are proficient in and the areas that need more attention.
5. Supplemental Information
With the purchase of the system, you also get exam tips, a glossary, and a bibliography.
6. In-Depth Content
The content is presented in an organized manner and is detailed enough for all levels of competency.
7. Exclusive 10% Discount
Wiley CMA has graciously extended an exclusive 10% discount to you, a member of the CMA Coach community. To redeem your discount, simply use the coupon code CMACOACH during checkout.
Wiley CMA Weaknesses
1. No Money-Back Guarantee
Among the top 5 CMA prep courses, only Gleim and CMA Exam Academy offer a money-back guarantee.
2. No 1-on-1 CMA Coach
Unlike CMA Exam Academy, Wiley does not offer a personal counselor, and unlike Hock, they don't have a forum for additional support. But if you are convinced that Wiley is the best but would also like a personal counselor, check out CMA Exam Academy.
3. The Price Tag
The cost of Wiley's review system is the most expensive costing $1,795. However, Wiley has offered an exclusive 10% discount to you, a member of the CMA Coach community.
4. Online Simulation Exam Limit
There's a two-year limit from the date of purchase to access and use the exam simulation.
My Suggestion
Wiley CMA review course is fully backed by the IMA. Wiley also has been publishing review courses for the CPA exam for over 40  years. There's something to be said about that.
For $1,795 (after the 10% discount), you get their entire set that includes the textbooks for both parts, the exam simulation for two year,  an interactive online self-study course, and supplemental guides and information.
The material is suitable for candidates who need a detailed review of the content in the exam and who need extra practice multiple-choice and essay questions.
Don't forget to use coupon code CMACOACH during check out to redeem your exclusive 10% Discount.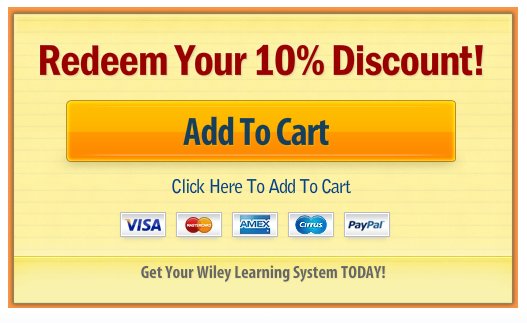 Want to read about other CMA Reviews?

---
Wiley CMA Course Information
| Rank | Wiley CMA Course Strengths  |
| --- | --- |
| 1. | Multiple-Choice Questions in Textbooks |
| 2. | Packet Of Essay Questions |
| 3. | Exam Simulation Close To The Real Thing |
| 4. | Exclusive 10% Wiley CMA Review Discount |
| 5. | Performance Tracking System |
| 6. | In-Depth Content |
Summary
Reviewer
Review Date
Reviewed Item
Author Rating