At the beginning of each new year the IMA releases the CMA exam pass rates for the previous year. On January 5, 2016 the 2015 stats were released and you may be surprised by the results.
As you know, you must pass two separate exams in order to earn your CMA designation. Part One of the CMA exam consists of financial reporting, planning, performance and control, and Part Two covers financial decision making.
In 2014, the average pass rate for Part One was 35%, while 49% passed Part Two. So how did we fair in 2015?
Good news, pass rates have risen, though not significantly.
For Part One of the exam, the average pass rate was 36%. Though only a 1% increase, seeing the trend rise is never a bad thing.
As for Part Two, 55% of candidates passed their exam. Up 6% from the previous year, we are very pleased with this finding.
But what do these rates me and what factors could have influenced them? Let's take a deeper look.
Factors Influencing Pass Rates
There are four major regions that we consider when looking at CMA candidates; Asia Pacific, Europe, Middle East and the Americas. Since 2012 we have seen a rise in the number of passing grades for the CMA across the board.
Take a look: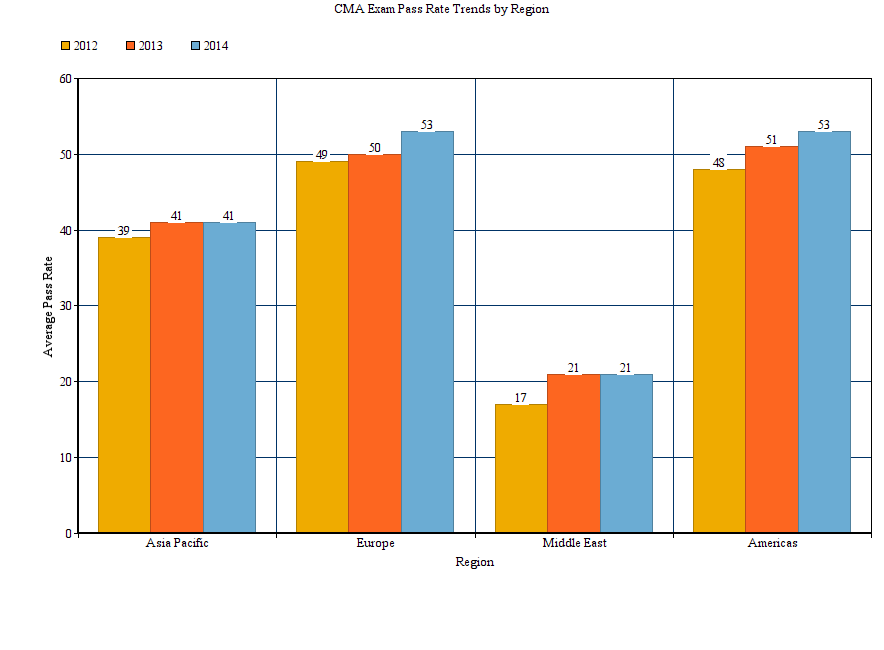 These particular pass rates are for Part One of the CMA exam and cover data from 2012-2014. What's most noticeable is how low pass rates are in the Middle East in comparison to other regions.
Europe and the Americas are fairly even, and Asia Pacific is not too far behind them.
Some factors that may influence the passing trends is the language in which candidates must take the exam. In all but Asia Pacific, candidates are required to write the CMA exam in English, regardless of their mother tongue.
The majority of candidates speak English as a first language in the Americas, and in most countries in Europe students are taught English early on. This  may give them an unfair advantage over their Middle Eastern counterparts who often do not learn English until later in life.
Unlike these 3 regions, Chinese candidates in the Asia Pacific region are eligible to take the exam in their local language.
The CMA exam can be tricky for English as a Second Language candidates because the wording can be complex on many of the questions. If you do not have a good grasp on the language you will likely struggle to comprehend its true meaning. In this case, my recommendation is to practice your English reading, writing and comprehension skills as much as possible prior to taking the exam.
Another contributing factor to the exam pass rates is the low barrier of entry, which I've mentioned before. Due to the fact that the IMA makes taking the exam accessible to anyone with a bachelor degree, there tend to be a number of test takers who don't take it seriously.
These fairweather CMA exam candidates are hoping for the best, but do not put in the time, effort or study hours required to get a passing grade, which begs the question, should the requirements for taking the exam be more stringent?  That's a thought for a whole other post though!
One final factor that may be causing lower pass rates is that many candidates choose to self study only. While self studying is great for some, these individuals are few and far between. Most candidates require guidance and a structured approach to their studies. This is why instructor led coaching programs are so beneficial, like my CMA Exam Academy. With a combination of self study, instructor led tutorials and all access to someone who has actually been through the process, you increase your odds of passing on the first try.
If you were to look only at the worldwide passing rates, you would likely feel discouraged from taking this exam. By analyzing contributing factors such as region, first language, and preparation for the exam, you begin to see more positive trends.
The CMA exam is not impossible to pass. In fact, it is quite the opposite. With the right preparation and a positive attitude, you can pass on your very first try.
Preparation starts with a detailed study plan and a solid review course. Learn more about how the CMA Exam Academy can put you on track to pass on your first try too.
Until next time,