Update 09/02/14: Winner List
First of all, thank you all who participated in the giveaway! It was a total success to say the least. I've written your names on pieces of paper and threw them into a bowel. Then I picked three random winners. Are you one of them? Continue reading:
Winner #1: Kara Monteongo
Winner #2: Ruben Dorado
Winner #3: Hassan Abbady
Congratulations to the three of you! You now have everything you'll need to pass the CMA exam in 2015 🙂
In order to redeem your prizes, please send me an email (using the same one you used to enter the contest) and include your full name and shipping address. We'll get the Wiley materials shipped over to you within 2 weeks. 
Details about access to CMA Exam Academy will also follow. 
Hello CMA Candidates!
The last exam testing window of 2014 starts in just a few days! For those of you preparing for it, best of luck! We all wish you exam success.
If you are not taking the exam this year, I have fantastic news for you that'll help you prepare for the 2015 exam.
There are many changes coming to the exam in 2015 and using new 2015 edition textbooks will make all the difference.
As a side note, DO NOT use editions prior to the new 2015 editions. Those are outdated and will not help you prepare adequately for the 2015 exam.
The 2015 CMA Exam Giveaway
We have two sponsors in today's giveaway. Wiley CMAexcel and me through my flagship course, CMA Exam Academy.
| | | |
| --- | --- | --- |
| |  and | |
3 winners will be chosen, and each one will receive the following giveaway package absolutely free:
1. A complete 2015 Wiley CMAexcel Learning System including flashcards + Textbooks + Online Intensive Review + Test Bank for Part-One and Part-Two. A $1,111 Value.
2. Complete access to the 2015 CMA Exam Academy instructor-led video course taught by me for Part-One and Part-Two. A $1,794 Value.
3. The 2015 CMA Coach Study Guide full of exam tips and strategies for Part-One and Part-Two. A $125 Value.
4. The 2015 CMA Coach Exam Formula Guides packed with the formulas you'll need to memorize to pass the Part-One and Part-Two exam. A $200 Value.
That's a whopping $3,230 value absolutely FREE! This is all you'll ever need to pass the exam in 2015 and become a Certified Management Accountant.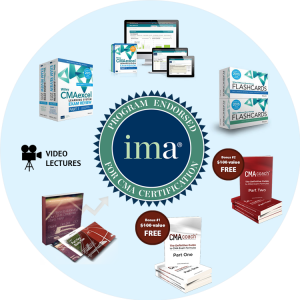 Giveaway Rules
The rules to enter the giveaway are very simple:
At the bottom of this page, post a comment telling me 3 features of Wiley CMAexcel you like the most, and 3 features of the CMA Exam Academy online prep course you like the most.
Like this page on Facebook by using the Facebook Like button at the bottom of this page.

Only ONE comment per person will be counted towards the drawing. Multiple comments by the same individual will count as one so please only submit one.
All 3 rules must be met to enter the giveaway. If you miss one of them, unfortunately, your entry won't count.
This is a worldwide giveaway. It doesn't matter where you live. We'll ship your prize anywhere in the world.
When is the deadline?
The deadline to submit your comment at the bottom of this page and also LIKE this page on Facebook is September 2nd at 12pm PST.
Wiley CMAexcel will ship the prizes within a week or two from closing the giveaway to three very lucky winners.
CMA Exam Academy will provide free access credentials to the three winners when class for the 2015 Jan/Feb exam begins in mid to late September.
Best of luck to all of you!